City Paints Crosswalks, Bumpouts at Herkimer and Locke
The City has already begun installing the one-year pilot project at Herkimer and Locke to create a more pedestrian-friendly design, after City staff met with Tactical Urbanism representatives.
By Ryan McGreal
Published May 28, 2013
The City has painted ladder-style crosswalks and bumpouts at Herkimer and Locke as part of a pilot project to give the intersection a more pedestrian-friendly design.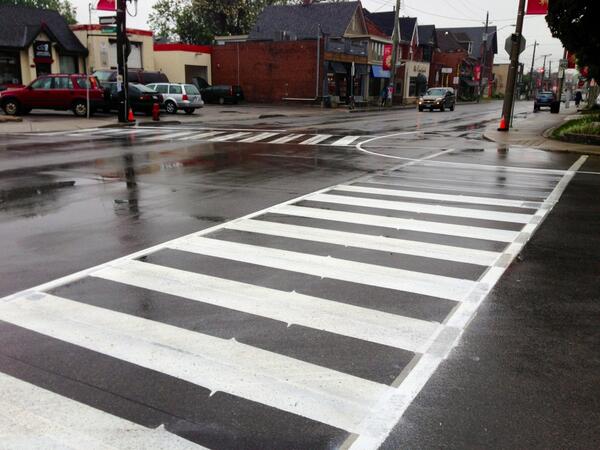 Crosswalk hatches and painted bumpouts at Locke and Herkimer (Image Credit: Jason Leach)
The pilot follows an act of tactical urbanism in which local residents used pylons to create bumpouts at the southwest and northeast corners. Senior City staff met with representatives from the city's Tactical Urbanism movement and agreed to implement the changes more officially.
The next step is to install bollards to protect pedestrians from automobiles in the busy, aggressive intersection. After a year, the City will review the pilot and decide whether to make it permanent.
A similar pilot is also planned on Longwood Avenue.
Tactical Urbanism
Tactical urbanism is a movement based around the principle that citizens can kick-start neighbourhood transformation through low-cost, low-risk actions that make immediate changes, can be measured for impact, and can provide lessons learned for an iterative process of making the changes more permanent.
The concept came to Hamilton in a workshop and public talk by Mike Lydon that was organized by the Hamilton Burlington Society of Architects.
The act of "intersection repair" at Herkimer and Locke was one of the actions that came out of that workshop. Other actions were painted crosswalks at Cannon and Mary, an outreach project at the Delta and a friendly demonstration at Upper James and Mohawk.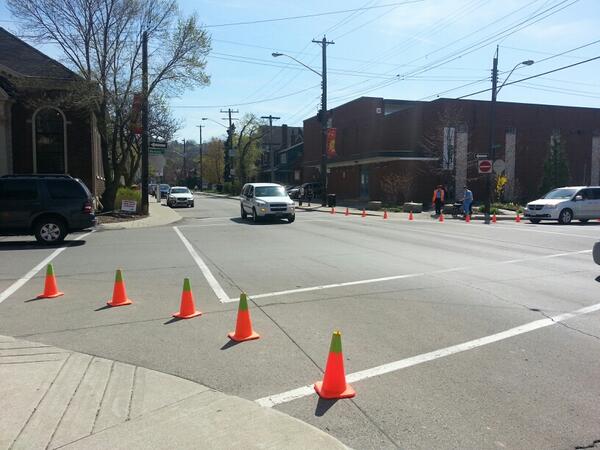 Guerrilla bumpouts at Herkimer and Locke, removed by City workers (RTH file photo)
However, the pylons were removed within a week, and on May 7, Public Works General Manager Gerry Davis circulated a memo calling the actions "illegal, potentially unsafe ad adding to the City's costs of maintenance and repair." He notified the police of the citizen acts and warned that they carry "potential liability and risk management claims to both the City and the individuals involved."
But Davis also wrote that the City is "willing to work cooperatively with citizens and citizen groups to address their traffic concerns and suggested improvements," and this pilot project is an encouraging step in that direction.
When the "guerrilla bumpouts" were still in place, I asked the long-time crossing guard what she thought of the project. With immediate enthusiasm, she said, "I like it!" The guard did not know who had installed the cones or why, but she was highly supportive, saying it makes the corner a lot safer.
The traffic calming "really controls the traffic. It was getting scary," she said, noting that the bumpouts force the cars to slow down instead of racing aggressively through the intersection.
Post a Comment
You must be logged in to comment.