It's Oh So Quiet
The closure of Beckett Drive demonstrates just how pervasive through traffic normally is: loud, intimidating, dangerous and relentless.
By Ryan McGreal
Published June 14, 2013
The City has closed Beckett Drive for three months to strip down the many-times-patched escarpment access and rebuild it from scratch.
The access will be closed for the next three months. Large signs and barriers block the access on Queen Street at Aberdeen and on Garth Street at Fennell Avenue.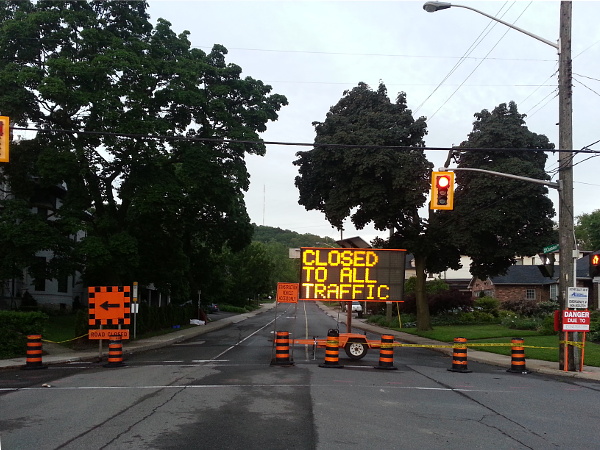 Queen Street south of Aberdeen is closed for the summer
Before the closure, City staff and commuters worried about what would happen to the approximately 21,000 cars that drove the access on an average day.
The good news, as anyone who understands how networks work could have told you, is that people quickly figured it out. Through some combination of shifting routes, shifting trip times and shifting trip destinations, all of the traffic has been accommodated.
According to Public Works spokesperson Kelly Anderson, the city isn't formally tracking traffic volumes but staff "have been out observing traffic conditions as a result of the closure. The only congestion appears to be on the West 5th access, as predicted." She concluded, "the impacts have essentially stabilized."
This squares with anecdotal comments from commuters who generally have generally reported at most a day or two of confusion followed by the discovery of alternate arrangements that work.
Of course, some streets have seen increased traffic. I've received a report from a resident on Herkimer that traffic volumes are up east of Queen as commuters navigate to the Jolley Cut and the West 5th.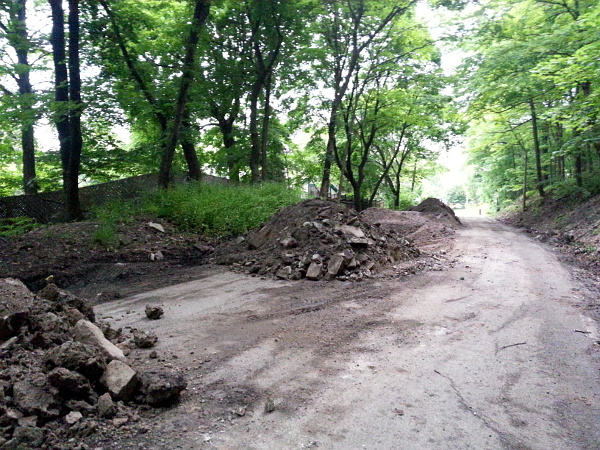 Piles of rubble on Beckett Drive
Other streets have seen traffic volumes decline. I expected Aberdeen Avenue between Queen and Longwood would be quieter without the through traffic going between West Hamilton and the West Mountain.
What I didn't expect was that traffic volumes on Aberdeen would essentially collapse. I assumed there would be a noticeable reduction, but most of the traffic on Aberdeen has simply disappeared.
I had no idea just how much of the traffic running through Kirkendall on Aberdeen is cut-through traffic, passing through the neighbourhood from somewhere else to somewhere else. I certainly didn't think it was most of the total.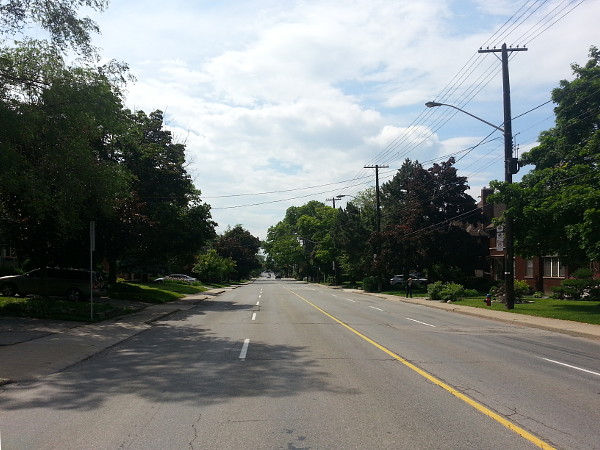 Aberdeen Avenue, late afternoon on a weekday, looking desolate
Another thing I didn't expect: I assumed it would be a bit quieter with the access closed, but I had no idea how more profoundly calm and peaceful the whole neighbourhood would become. It's almost spooky.
Living in the city, you quickly tune out the steady roar of automoible traffic that surrounds you. I had long since stopped noticing the steady wash of noise coming from both Aberdeen and Beckett until it ceased.
Because the drone of through traffic is gone, dogs in neighbouring yards can actually hear each other again. This has led to more back-and-forth canine communication chains, Twilight Bark style:
It's not surprising, then, that so many people in Kirkendall have expressed the wish that the access never re-opens to automobile traffic.
Tempted as I am by that prospect, I recognize that people need to be able to get around, and that our newfound neighbourhood tranquility comes at the cost of some inconvenience to others.
However, what this experience has already brought home to me in a deeply personal way is this: traffic is even more harmful than you think.
The harms that come from automobile traffic are well understood: stress, higher blood pressure, causes heart and lung disease, increased LDL cholesterol, and possibly even damage to cognitive ability.
We also know that through traffic is more dangerous to pedestrians than local traffic. As a study by McMaster University geography professor Niko Yiannakoulias recently demonstrated, neighbourhoods with more through traffic have higher rates of child injury in collisions.
At a deeper level, when you build a city for driving, more people will drive longer distances more often. The inverse is also true: when you build a city for walking, cycling and transit, more people will walk, cycle and take transit more often.
So we must add the opportunity cost of displaced walking and cycling trips to the bill: missed exercise, missed fresh air, missed stress relief - and missed peace and quiet.
In the short term, people can and do shift their transportation patterns in response to the choices available to them. As Swedish transport planner Jonas Eliasson demonstrated in a TED talk on congestion:
Travel patterns are much less stable than you think. Each day people make new decisions, and people change and the world changes around them, and each day, all of these decisions are sort of nudged ever so slightly away from rush hour car driving.
In the longer term, a city built around active transportation, the mixing of different uses (so destinations are closer together) and a de-emphasis on vehicle lane capacity as the solution to every problem is a city in which people start to make different choices not only about how to get from point A to point B but also about where to live, where to work, and how to structure their daily life.
The three-month closure of Beckett Drive is an opportunity for us to give that proposition some serious thought.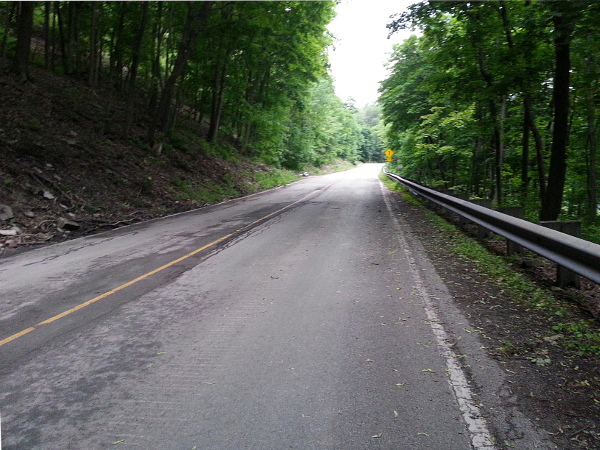 Beckett Drive, quiet at last
Post a Comment
You must be logged in to comment.