Gore Property Owner Refuses to Share Engineering Report
If the engineering report on 18-28 King Street East showed the buildings are structurally unsound, wouldn't the property owner want to show it off?
By Ryan McGreal
Published August 15, 2013
this article has been updated
Wilson-Blanchard had an engineering report prepared on the buildings at 18-28 King Street East when the company agreed, in January, to preserve the front third of the building at 18-22. That report is complete, but the company refuses to share it publicly.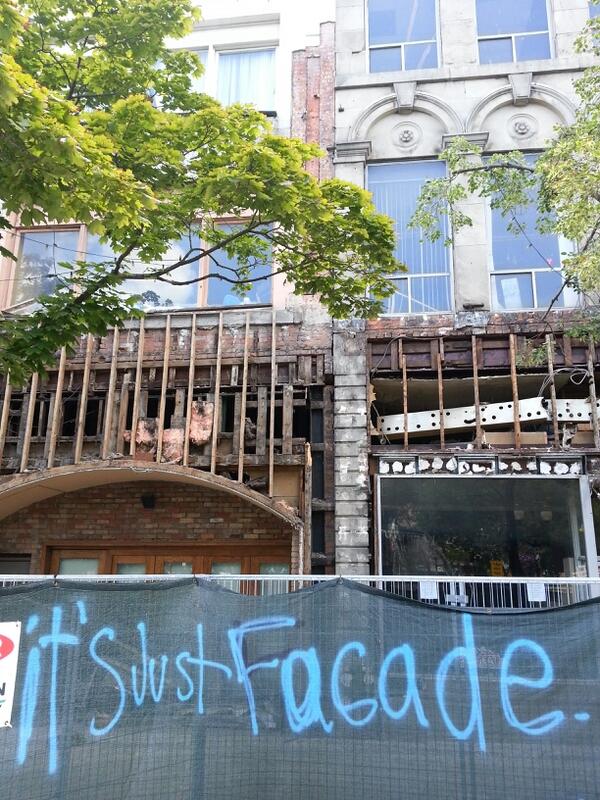 Graffiti sprayed on the fencing in front of 18-28 King Street East (RTH file photo)
RTH contacted Robert Miles, principal at Wilson-Blanchard and David Blanchard's partner, by email to ask for a copy of the report. Miles replied, "No. It is not necessary at this point."
Blanchard has claimed that the buildings are structurally unsound but has produced no evidence to support this claim. The City is planning to conduct an independent audit of the engineering report, but it is not yet clear who will undertake it, what the terms of reference will be, or when it is due to be completed.
In a follow-up email, RTH wrote, "If the report confirms the claim that the buildings are structurally unsound, that will support your argument that they should be demolished."
Miles replied, "We are passed [sic] this point. The facades are all we are dealing with."
The property owner recently negotiated an agreement with Councillor Jason Farr to remove "historical facade elements" from the buildings, then demolish the buildings entirely - including all of 18-22, which the company had previously agreed to partially retain.
If and when a new building is completed, the facade elements would be attached to the new buildings, the facades would be designated under the Ontario Heritage Act and the company would be eligible for heritage preservation grants from the City.
The owners have mused about a large-scale commercial development, or maybe residential, or maybe some combination of the two. However, there is currently no development plan. As Blanchard said in an interview earlier this year, the only reason they want to demolish now is because interest rates are low and they want to be able to finance a plan quickly if it comes together.
Council Won't Act
As we keep pointing out on RTH, City Council has the power right now to issue an intent to designate the buildings and revoke the demolition permit. However, Councillor Farr has been negotiating from a position of weakness because Council as a whole does not particularly care about heritage, especially downtown.
Some councillors dispute this. In a recent email response to an outraged citizen, Councillor Brad Clark wrote:
We have voted to designate heritage buildings. We have advocated for tax breaks for heritage building owners to encourage retention and maintenance. We have voted to streamline the City's Heritage Registry. We have voted to salvage and preserve heritage facades.

And yes as a last resort, we have voted to demolish buildings where the structure safety is in question. Nothing is black or white in heritage building assessment. We do our best on every decision.
In a follow-up reply, Clark noted that the last seven buildings the City has designated were in 2007 and 2008. In other words, Council has not designated any buildings in the past five years.
Over the same time, Paul Wilson of CBC Hamilton reports that Oakville has designated around 50 buildings in its historic downtown core.
Missed Heritage Opportunities
Council has squandered several opportunities to protect heritage buildings in the past several years, and it has also granted exemptions to heritage rules in a manner that clearly indicates heritage is not a priority.
Council had an opportunity last year to approve a November 2012 motion from the Heritage Committee to add 18-28 King Street East to the city's Register of properties of cultural heritage value or interest, but chose not to.
(Note: this July, Council voted to add all the properties facing Gore Park except 24-28 King Street East to the Register. The motion is in GIC Report 13-014 [PDF]. You can download the current list of properties [PDF] on the inventory.)
Council also had an opportunity to approve an August 2012 motion from the Municipal Heritage Committee to put a hold on any demolition permit for Sanford School and ask the HWDSB to hold an Expression of Interest regarding adaptive reuse of the school.
They chose instead to refer the motion back to the planning committee - even though there were developers interested in buying the property and HWDSB chair Tim Simmons eventually admitted the Board had never actually tried to sell it.
In 2008, Council's lack of commitment to its own heritage during the City Hall renovations motivated heritage consultant E.R.A. Architects to resign in disgust.
When heritage advocates pointed out that the City's vote to ignore its own heritage rules would encourage heritage property owners to follow suit, renovation committee chair Councillor Ferguson happily agreed: "I would suspect that Council would come on side with [the property owners]."
In 2006, Council voted to approve the demolition of the Lister Block, a building that actually was designated under the Heritage Act and had been determined to be both structurally sound and a good candidate for adaptive reuse. So much for only approving demolition "where structural safety is in question."
If not for the last-minute intervention of the Ontario Government, the building everyone celebrates today would have been demolished. Yet this time around, the Ontario Government refuses to intervene - even though our own Gore Park is the public face of Ontario's Places to Grow framework.

Screenshot, Places to Grow homepage
Council Needs to Demonstrate Commitment
I want to believe that Council does its best when it comes to decisions about heritage, but Council's track record does not give me much cause for enthusiasm. It's encouraging that Council has voted to try and do a better job of managing the city's inventory of buildings of interest, but that comes too late to save the face of Gore Park.
A commitment to substantially saving the heritage of 18-28 King Street East - not just "historical facade elements" but actual heritage preservation - would go a long way toward demonstrating Council's goodwill and enhance its credibility on the promise to address heritage more proactively in future.
Councillor Farr and McHattie would be able to achieve a much better outcome for 18-28 King Street East - for the property owner as well as the community as a whole - if they had the support of the rest of Council to use its legislative tools and prevent this needless and foolhardy destruction of Hamilton's built heritage.
I have been told that if Council designates the buildings, the developer may decide to let them continue to languish instead of selling them. However, it seems preposterous that we will allow the owner to destroy the buildings - and then reward them with heritage grants! - to avoid the risk that the owner will continue to neglect them.
When people point out that the interiors of 18-28 King Street East look dilapidated - and I have no doubt that they do - I remember that the Lister Building was once used as a setting for Hell in a film shot in Hamilton. I also think of the many building interiors I have seen on nearby James Street North, before and after they were restored and renovated for adaptive reuse by hard-working investors and entrepreneurs.
We already have a clear and successful model for how to revitalize downtown Hamilton, and block-busting demolition is not it.
---
Update: This article originally stated that Council chose not to add the Gore properties to the city's Register of properties of cultural heritage value or interest when a motion was presented last year. However, Council voted this July to add all the buildings facing Gore Park except for 24-28 King Street East. The article has been updated to include this. You can jump to the added paragraph.
---
Tell Council and the Province to designate the Gore and protect these buildings from demolition:
mtrmclco@ontario.ca, mchan.mpp.co@liberal.ola.org>, Bob.Bratina@hamilton.ca, Brian.McHattie@hamilton.ca, Jason.Farr@hamilton.ca, Bernie.Morelli@hamilton.ca, Sam.Merulla@hamilton.ca, Chad.Collins@hamilton.ca, Tom.Jackson@hamilton.ca, Scott.Duvall@hamilton.ca, Terry.Whitehead@hamilton.ca, Brad.Clark@hamilton.ca, Maria.Pearson@hamilton.ca, Brenda.Johnson@hamilton.ca, Lloyd.Ferguson@hamilton.ca, Russ.Powers@hamilton.ca, Robert.Pasuta@hamilton.ca, Judi.Partridge@hamilton.ca, kevin.finnerty@ontario.ca, Peter.armstrong@ontario.ca, tamara.ansoncartwright@ontario.ca, tmcMeekin.mpp@liberal.ola.org, ahorwath-co@ndp.on.ca
Post a Comment
You must be logged in to comment.