Who Has the Right of Way at an Uncontrolled Crosswalk?
Many drivers assume they have the right of way at uncontrolled crosswalks, but both drivers and pedestrians have a shared responsibility to accommodate each other.
By Ryan McGreal
Published August 28, 2013
Last week, I posted an article about Cannon Street in which I noted that drivers were not respecting the newly painted zebra crossings on Cannon at Elgin and Smith streets.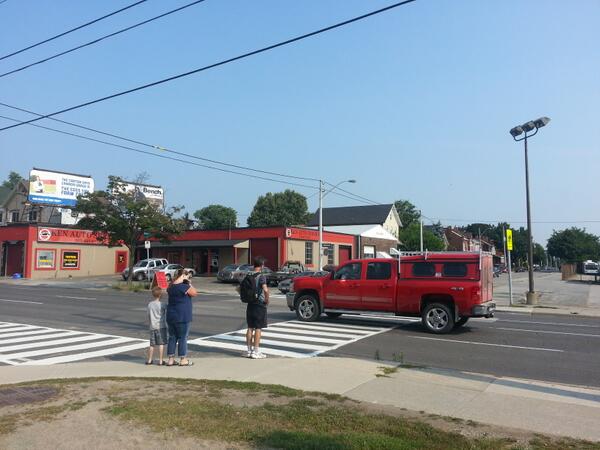 Family trying to cross Cannon Street at Elgin
There was some discussion and uncertainty about what the law actually says about pedestrians crossing at uncontrolled crosswalks, i.e. intersections where there are no stop signs, traffic lights or pedestrian crossovers (PXOs).
In my article, I quoted section 144(7) of the Highway Traffic Act, which states:
When under this section a driver is permitted to proceed, the driver shall yield the right of way to pedestrians lawfully within a crosswalk.
Combined with the Act's definition of a crosswalk as any intersection of two streets, this seemed to indicate that drivers must yield to pedestrians at an uncontrolled crosswalk.
Yet several municipal governments - including Hamilton - and even the Ontario Traffic Council of municipal engineers and officials claim that drivers don't have to stop for pedestrians, and pedestrians have to wait for "safe gaps" in traffic to cross an uncontrolled crosswalk.
I contacted the Ontario Ministry of Transportation (MTO) to ask for clarification. Bob Nichols at the MTO was very helpful in responding to me.
Nichols confirmed that there are four types of intersection in which the Act specifically requires motorists to yield to pedestrians:
Pedestrian crosswalk at a Stop or Yield sign;
Pedestrian crosswalk that is part of a traffic control signal system;
Pedestrian crossover (PXO) as defined in the Act; and
Marked school crossing with a crossing guard on duty.
He pointed out that Section 144 "specifically addresses traffic control signals and pedestrian control signals, i.e., these are controlled crossings." In other words, it does not apply to uncontrolled crosswalks.
Section 135 deals with the right of way at uncontrolled intersections but only addresses right of way among drivers, not between drivers and pedestrians. In fact, nowhere does the Act explicitly state the respective responsibilities of drivers and pedestrians at an uncontrolled crosswalk.
According to Nichols, responsibility is "shared between pedestrians and drivers.
Pedestrians must ensure that drivers have seen them and that drivers are stopped, or are about to stop, before entering the roadway. Drivers need to exercise due diligence in the care and operation of their vehicles, to properly respond to the presence of pedestrians.
In practice, on a street like Cannon, this seems to mean that drivers don't believe they ever have to stop for pedestrians, and pedestrians must wait to cross until they can get across the street without encountering any cars.
However, the law actually does confer responsibility on both the pedestrian and the motorist at an uncontrolled crosswalk. In a follow-up response, Nichols clarified further:
If a driver is approaching an uncontrolled intersection and a pedestrian is already at the intersection and trying to cross it (meaning the pedestrian has not yet begun crossing), the driver is not lawfully required to yield.

If the pedestrian has already started crossing in the intersection, the driver does have to yield. The pedestrian, however, has to make sure there is a safe gap in the traffic before starting to cross.
In other words, the pedestrian does not have to wait for a gap in traffic that is big enough to get all the way across the street, but does have to wait for a gap in traffic that is big enough for drivers to be able to yield once the pedestrian has begun to cross.
Of course, on a street like Cannon this gets pretty academic. For one thing, a driver travelling unimpeded down a one-way multi-lane thoroughfare in a pack of synchronized traffic may not feel that it is safe to stop, even for a crossing pedestrian. In the past week I've heard several unpleasant anecdotes from drivers who were honked at by other drivers for yielding to pedestrians.
Also, as we know, the effective maximum penalty for a driver who fails to yield and kills a pedestrian is a $500 fine. It is theoretically possible to be charged with careless driving under section 130 of the Act:
Every person is guilty of the offence of driving carelessly who drives a vehicle or street car on a highway without due care and attention or without reasonable consideration for other persons using the highway and on conviction is liable to a fine of not less than $400 and not more than $2,000 or to imprisonment for a term of not more than six months, or to both, and in addition his or her licence or permit may be suspended for a period of not more than two years.
However, such charges are notoriously hard to prove and defendants can usually plea-bargain down to a failure-to-yield and a $500 fine.
Ultimately, the only thing that will make Cannon Street safer and more welcoming for pedestrians is to tame the automobile traffic by repurposing the right-of-way to support walking and cycling as well as driving.
At four one-way lanes, Cannon has way too much lane capacity for the automobile traffic it carries today. With a more humane street design that provides safe, dedicated space for pedestrians and cyclists, the current automobile traffic volumes will go down even more.
Air pollution will go down, walking and cycling will go up, the street will be safer and more convivial for the families who live on and near it, and local businesses will have a real chance to prosper and thrive.
See also:
Post a Comment
You must be logged in to comment.