York Ripe for Revitalization Without Demolition
York faces a golden opportunity to be revitalized, in large part due to the strong, stable residential community living there right on the doorstep of this street.
By Jason Leach
Published September 23, 2013
Great news: the Mustard Seed Co-Op has found a home on York Boulevard between Locke and Inchbury.
I was at the unveiling on Friday night, and it was interesting to hear the organizers talk about how difficult it was to find a suitable heritage building that could meet all the needs of a modern grocery store.
Most of us would probably agree that the 'modern' buildings on York from the 1970's are pretty boring and ugly. Yet the rendering below shows how a quick renovation can bring some life and great design to such a building.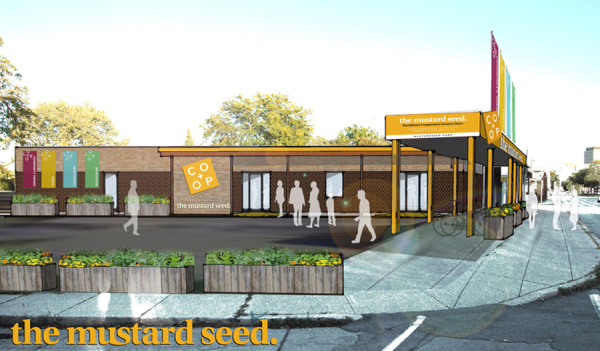 Mustard Seed store rendering
Now imagine a larger renovation, including adding three stories of residential space above the store? Would anyone say that a mixed-use, four-storey building on a major street isn't suitable or dense enough?
Hamilton and Toronto were built on the backs of main streets with this exact design. Look at King Street in Hamilton or Queen in Toronto: a solid streetwall of two- to four stories along their length.
One of the things that allows such streets to be vibrant and full of shoppers is a stable residential neighbourhood immediately adjacent to the retail street. Look at Locke South in Hamilton: one- to three stories along its entire length, yet booming with people and vibrancy.
King Street in Westdale and downtown Dundas are two more great examples.
Narrow, four-storey mixed-use buildings would be ideal for York Boulevard, and would not require homes to be demolished in order to create huge parking lots needed for 10+ storey buildings.
Look at this project on Marine Drive in North Vancouver:

Marine Drive mixed-use project (Image Credit: Sharp & Diamond Landscape Architecture)
York can become a vibrant retail street again, but not by demolishing the stable residential element that exists immediately adjacent to the strip.
In fact, doing so will create a 'buffer' of parking lots between the stable neighbourhood and retail street. As we've seen downtown on King Street, people aren't so keen to walk past long parking lots to get to a 'main street'.
Residents just off Locke, Ottawa or Queen Street in Toronto routinely walk around the corner to the various shops and services. This should be our aim for York. One of the main keys to making it happen is to calm the actual street itself. York should look something like this:


York Blvd Rendering (Created with Streetmix)
This is the true test of how serious we are about creating vibrancy along York - changing the lane configuration, adding trees and protected bike lanes. This is one of the few major streets in the downtown area with a wide design, allowing for plenty of room to create a balanced, interesting street.
Demolishing century homes for ten-storey buildings is not the answer to York, just as it is not the answer for Locke, Queen East in the Beaches or King Street in Westdale.
York faces a golden opportunity to be revitalized, in large part due to the strong, stable residential community living there right on the doorstep of this street. We'd be crazy to damage that strong neighbourhood fabric in the hopes that it will somehow help the street.
The good news is that Ward 1 Councillor Brian McHattie seems to agree. Councillor McHattie has informed us that he will be presenting a motion at the Oct 1 meeting calling for the low-density zoning designation to remain on the homes south of York.
Councillor McHattie agrees with Strathcona residents that retaining and nurturing this stable, successful residential district is vital to the health and vibrancy of the neighbourhood. The outpouring of calls and emails from Strathcona residents over the past several days is a great indicator of how valuable these historic, tree-lined streets are.
Please show your support for this new motion by sending an email to Councillor McHattie and Vanessa Robicheau - City Clerks Office, 1st Floor, 71 Main Street West Hamilton, Ontario.
Post a Comment
You must be logged in to comment.