Bratina Takes Yet Another Potshot at City's LRT Plan
The Mayor never misses an opportunity to undermine and discredit the City's official light rail transit plan, which Council approved unanimously and the Province has promised to fund.
By Ryan McGreal
Published October 24, 2013
This week, the City launched its pilot project of a new dedicated transit lane on the north side of King Street from Mary Street to just east of Dundurn Street, and Mayor Bratina is already using it to discredit Hamilton's east-west light rail transit (LRT) plan.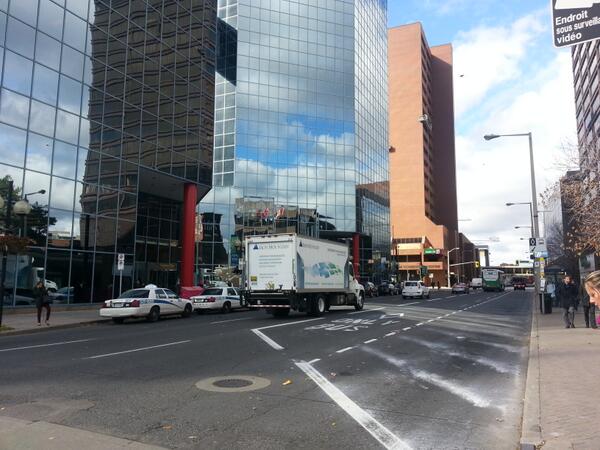 Transit Lane on King Street just west of James (RTH file photo)
The full $300,000 cost of the pilot is being paid through the Metrolinx Quick Wins fund, and it will help the city prepare for the east-west B-Line LRT that Council unanimously approved and Metrolinx has agreed to fund once the Province approves an investment strategy for the Greater Toronto and Hamilton Area Regional Transportation Plan.
Today's Spectator quotes Mayor Bratina joking last night that Hamilton should tell Metrolinx, the provincial transit agency, that "we finally have some congestion" after the introduction of a new transit lane on King Street.
This is a reference to Bratina's ongoing argument that Hamilton doesn't need to invest in higher-order transit because, as he says, we are already a "20-minute city" for drivers - as if the excess lane capacity and enervated street life of our multi-lane, one-way lower-city thoroughfares is something to be proud of.
Bratina then went on the Bill Kelly Show on CHML today and said that if people are upset about congestion on King with the transit lane, they should just wait until Main, King and Queenston are ripped up to install the planned LRT.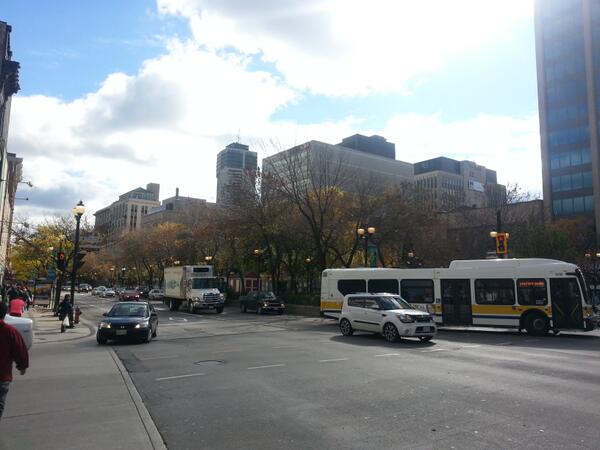 Traffic was free-flowing on King at James Street on midday (RTH file photo)
Pattern of Undermining LRT
Bratina's pattern of undermining Hamilton's LRT plan at every turn goes back to early 2011, not long after he was elected mayor. The undermining has often been overt and aggressive, as during the summer of 2011 when he claimed the city was "not hearing any kind of clamour from the public" and "no solid interest" from developers, that LRT was "not a priority" and would only make sense "if somehow a million people move to Hamilton over the next five years".
Bratina also told then-Premier Dalton McGuinty that LRT was not a Council priority, allowing the Premier to wiggle out of his own 2007 promise to fund LRT in Hamilton, and went on to claim that the province had not actually promised to fund LRT after all.
During this time, City Manager Chris Murray suspended the Rapid Transit Office and Bratina claimed the city had to choose between LRT and all-day GO service. Other Councillors questioned the email, which Murray sent out right before going on summer vacation.
Metrolinx was caught unaware by the city's abrupt change in focus and clarified that both all-day GO and LRT "are viable and can co-exist. Hamilton's current rapid transit situation is not an 'either-or' scenario."
Meanwhile, Bratina was also busy misrepresenting successful LRT systems in other cities, arguing point-by-point against LRT to neighbourhood associations and residents, and claiming he didn't know where infill development along the LRT line would go.
Yet Another Fiasco
After that extended fiasco, Bratina's overt opposition cooled, but he still refused to champion LRT until he received clear Council direction to do so.
Once Council unanimously approved the final Rapid Ready LRT report this past February, Bratina then said he would start to champion LRT.
But instead, he just continued to undermine it, manufacturing controversy by claiming falsely that Hamilton would have to choose between LRT and extending all-day GO train service to Stoney Creek, and dismissing the Metrolinx regional transportation plan on TVO program The Agenda with Steve Paikin - a cringe-worthy performance that saw Caledon Mayor Marolyn Morrison dress him down for his parochial approach to regional transit.

Caledon Mayor Marolyn Morrison, calling out Mayor Bratina (Screen capture from The Agenda)
In the new furor that ensued, Bratina kept form and dug in deeper, rationalizing his refusal to keep his own promise to champion LRT by making the absurd claim that the Rapid Ready report did not actually endorse LRT.
When Council challenged him on his interpretation of the report, all hell broke loose in a meeting that led to an integrity commission investigation (still outstanding). Bratina allegedly spoke aggressively to City Manager Chris Murray after Murray responded to a request for clarification by articulately defending Rapid Ready as a clear, straightforward endorsement of Council's commitment to LRT.
Ironically, Bratina himself has often referred to a 2012 LRT study by the McMaster Institute of Transportation and Logistics (MITL), which concluded that LRT in Hamilton can succeed but needs a strong political champion - a role Bratina has steadfastly refused to fill, even when directed by Council to do so.
Post a Comment
You must be logged in to comment.