School Board Mistakes Assets for Liabilities
With any sort of serious effort to add additional revenue streams, the Board could very easily augment fluctuating enrollment and excess capacity by leasing and renting out access to its assets.
By John-Paul Danko
Published October 25, 2013
this article has been updated
As someone who owns several businesses, I have been struggling to understand how the Hamilton-Wentworth District School Board (HWDSB) can be so casual about closing and then immediately and permanently disposing of its schools.
The only explanation that I can fit to this bizarre, self-destructive course of action is that the Board actually considers its schools to be liabilities and not assets.

Queensdale School: a liability?
Schools from a Business Perspective
For a moment, let's think about schools from a business perspective. Say you own a large commercial property. You don't have a mortgage and for some amazing reason, you don't even pay property tax. All that you have to do is pay for is regular maintenance.
(You also have a huge, bloated and expensive management structure costing you a fortune in overhead, but we'll get to that in a moment.)
Further, because of some brilliant foresight by your business' founders nearly 100 years ago, your property also happens to be in a fabulous location, surrounded by potential clients.
Can you think of anyone that could screw up a business opportunity like that? It's practically a foolproof situation - but apparently not when the Board is involved.
Business Solutions for Declining Public School Enrollment
Now let's hypothesize that your sales have been slowly slipping for years. Your future sales projections show that your long-term sales are going to drop about 30% lower than your production capacity and then will stabilize there long term (analogous to the Board's enrollment and capacity projections).
What's worse is that you also have several local competitors that have been very successful in reducing your market share over the years, while you have done essentially nothing to attract new clients.
As a business owner, an immediate three step course of action should be obvious.
1. Your marketing strategy is failing - you need to attract more clients away from competitors.
I have seen and heard ads for private schools, religious schools, even separate schools - but I have never once seen an ad for the public school Board. Why would the Board just assume that parents of students would seek out a public school and enroll their kids there by default?
At our neighbourhood school (Queensdale) we lose a significant number of potential students to our local separate school (St. Peter and Paul) and to the Board's relatively local single stream French immersion school (Norwood Park).
Something as simple as a neighbourhood targeted Adwords or Facebook campaign in coordination with time sensitive print, TV and radio advertising would do wonders to drive enrollment that is currently being lost to competing school boards.
2. Your overhead is killing your profitability - you need to improve efficiency.
Things like a bloated management structure, elaborate unessential office facilities and spending capital on new construction rather than maintaining current assets creates a drastically inflated level of overhead, which in turn kills profitability.
In the case of the School Board, an obvious solution to high overhead would be to utilize the facilities that the Board already has (which are again already owned and paid for except for the small cost of regular maintenance) instead of proceeding with building brand new, very expensive schools and office buildings.
As a structural engineer, I have done hundreds of rehabilitation versus replacement net present value financial analysis for various multi-million dollar public infrastructure projects. Rehabilitation is almost always favorable over replacement because the net present value of regular repairs and maintenance spreads out costs like a mortgage, as opposed to the giant onetime cost of new construction.
Yet somehow these basic mathematical financial principles do not apply to the Board. (I am sure it wouldn't be that hard to find some significant efficiencies within the Board's management structure, either.)
3. Your product is outdated and no longer desirable.
If a product is not currently selling as well as it once did, clearly there is something wrong with the product. The Board has systematically underfunded maintenance on schools for so long that it is hard not to blame parents for looking for alternates.
Two recent examples are Sherwood Secondary School and Linden Park Elementary - both of which are in terrible shape because of a deliberate strategy by the Board to withhold regular maintenance. Both schools suffer declining enrollment as a result.
In another example, the three elementary schools recommended by the Board to close in the Central Mountain Accommodation Review Committee (ARC) - Queensdale, Eastmount Park and Linden Park are the only three schools on the central mountain that do not currently have full day kindergarten. Again, all three suffer declining enrollment because their competition offers a better product.
Further, in the case of Queensdale, the closest local competing school St. Peter and Paul also offers French immersion which is another very attractive incentive for parents to avoid the public school system.
You may have noticed a trend evolving here. Schools that the Board currently wants to close (and ones that barely escaped closure like Sherwood) are systematically denied maintenance and programming that would make them more attractive to parents, and then the poor condition is used to justify their closure.
It is very disturbing to imagine that the Board has actually taken deliberate steps to sabotage enrollment in order to justify school closures, but there are many indications that this is exactly what is happening.
Business Solutions for Excess School Capacity
Again, thinking about schools as business assets instead of liabilities: once you have focused your marketing campaign to attract new clients (students), you have made a serious effort to cut overhead (by repairing and utilizing the full capacity of facilities you already own and trimming a bloated management structure), and you have done everything possible to improve the desirability of your product (maintenance and programming), the next step is to look for additional revenue streams.
As a business owner, I live and breathe for additional revenue streams. I wake up in the middle of the night thinking about different ways to make more money from the assets that I already have. Unfortunately, searching out additional revenue streams is not even remotely considered by the Board.
The truly sad fact is that the Board is actually mandated by the Ministry of Education to look for community partnerships, but there appears to be no serious effort to do so.
In the case of the Central Mountain ARC, the Board sent out a vague form letter to various businesses asking for proposals to use school space with a deadline to reply by September 13, 2013.
No business plan. No proposed rental rates. No listing of available space. No lease terms. No commercial real estate listing. No real desire to actually enter into a business partnership - just a thinly veiled excuse of going through the motions purely to have something on paper that the Board can show to the Ministry indicating they could not find any business partnership opportunities.
Think about how easy it would be to lease school space to local businesses if there was a serious attempt to do so. These are buildings that are only used nine months out of the year and from 9-3 daily.
Many schools - such as George L. Armstrong on Concession, which is a gorgeous historic structure and has an entire floor currently sitting empty - would be perfect for long-term leasing partnerships with professional businesses such as health care professionals (Armstrong is practically right across the street from Juravinski Hospital), insurance companies, accounting firms and so on.
In fact, we even have a very successful example of this exact scenario at Central Elementary School right here in Hamilton. Because of declining enrollment, Central was at one time slated for closure.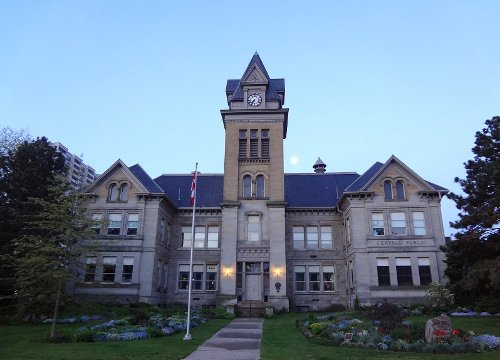 Central School (RTH file photo)
Instead of closing the school, in a rare example of vision, the Board leased the entire top floor to an insurance company. Then, when enrollment increased again - proving the Board's original enrollment projections to be bogus, incidentally - the insurance company left and the Board had the space to accommodate increasing demand.
Other schools would be more suited to after-school, weekend and summer rentals. Think about the growing popularity of fitness classes like Zoomba, yoga, kickboxing, martial arts - the list goes on. A school gym or empty classroom would be the perfect location for these types of businesses to operate.
Better yet, there is already a captive, local ideal client base - all of the parents of the kids attending the school!
Then, of course, there are summer camps and the myriad of children's activities that would kill for the option to access school space on a regular basis - theatre groups, sports groups, art and music groups and so on.
The bottom line is that with any sort of serious effort to add additional revenue streams, the Board could very easily augment fluctuating enrollment numbers and excess capacity by leasing and renting out access to its assets.
Of course, the Board would have to first recognize that its schools are assets.
Last Resort - Consolidation
Once a struggling business has done everything it can to increase its client base, cut overhead and add new revenue streams, its last resort is to consolidate operations.
The reason that consolidation is a last resort rather than a first resort is because it involves divesting of assets in return for a short-term infusion of cash. Once an asset is sold, it is gone forever and if the revenue its sale generates is not enough to significantly rejuvenate a business, the business is just postponing inevitable bankruptcy.
This is to say that permanently selling off assets is a very serious action, and should only be undertaken with a sound, long-term business plan.
I honestly question whether the Board actually understands that you can't sell real estate twice. How else can you explain the Board's recent closure spree and fire sale of school properties? From a business perspective, it's madness - unless of course you think you're selling off liabilities.
The 2014 Municipal Election Can't Come Soon Enough
As we watch the saga at Scott Park unfold, it is hard not to reach the conclusion that the Board trustees and Superintendents are hopelessly out of touch with reality.
How else can you explain a decision to sell a property in 2004 for $650,000, expropriate it for $1,000,000 in 2013 and then spend another $2,000,000 in 2014? And for what? That's $2,350,000, plus the cost of legal fees and construction - for a 165-space parking lot.
This is pure madness.
Fortunately, there is a municipal election just around the corner.
It is no secret that sitting Trustees are often reelected simply on the basis of name recognition. It is our duty as a City to make sure that does not happen again in 2014.
In the meantime, with eight high school closures and three mountain elementary school closures looming, the scheduled closure of Prince Philip school in Westdale and the East Hamilton City ARC, West Flamborough ARC and West Glanbrook ARC currently in progress, as every community across the City needs to explore every action that can limit the amount of destruction that the Board causes between now and October 2014.
The time to stop this farce is now.
Next Public Meeting
The next Central Mountain ARC public meeting is Tuesday, November 5, 6:00 PM at G.L. Armstrong School, 460 Concession, Hamilton, ON L9A 1C3.
If you live in the Eastmount Park community, you had hardly any presence at the first public meeting. You need to rally and attend this meeting!
If you live in the Linden Park community, you've already lost Hill Park, don't let the board take away your elementary school without a fight. Organize and attend this meeting!
If you live in the Armstrong community. Your school is about to get 300 new students by next fall, but not a cent on new renovations or maintenance (except two new kindergarten rooms). You need to mobilize and make sure your school gets fair treatment. Come to this meeting!
If you live in the greater community, closing elementary schools effects the viability of your entire community. Support your walkable community - come out to this meeting!
If your kids go to the separate school board, closing walkable schools effects entire neighbourhoods including you. Raise your voice in support your friends and neighbours - attend this meeting!
---
Update: - updated to add the notice about the upcoming ARC public meeting.
Post a Comment
You must be logged in to comment.