Summary of New Pedestrian Mobility Plan (Part 2 of 2)
The new Pedestrian Mobility Plan is big step for pedestrian safety, equity, economic development and revitalization, but it is missing arguments on some of these key points.
By Sara Mayo
Published November 05, 2013
Yesterday, Part 1 of this report gave an introduction to the city's new Pedestrian Mobility Plan that is being debated by Council this month. This second part will examine the missed opportunities in this plan, the implementation of this plan, and how it measures up against a Complete Streets policy.
Missed Opportunities
In what is one of the weaker aspects of the Plan, there is a lost opportunity in many sections of the plan to make a clearer link between pedestrian improvements like buffers and street trees and overall beautification of our city, and how these help in "Placemaking", which promotes economic development and revitalization.
Hamilton's own Chamber of Commerce has been quite vocal in saying that "walkability is closely tied to quality of life, which in turn is closely tied to the attraction and retention of the highly desirable creative class" - a workforce demographic sought after by many businesses.
In another conspicuous omission, the plan has a section outlining some of the physical health benefits of complete streets, but makes no mention of the growing body of evidence on the benefits of walkability and placemaking on mental health, an urgent issue in Hamilton and across Canada.
Implementation of Routine Accommodations and Countermeasures
One of the Plan's strengths is the level of detail provided about how the Routine Accommodation strategy is to be implemented by City staff. They summary graphic provided below is just a summary of a fairly complete process described in the text of the Plan. The three major implementation steps include:
1. Complete Street Checklist
The process starts with a complete streets checklist that is to be filled with information such as local context (natural, rural, village-hamlet, suburban, urban general, urban core, etc.) and use of the street (neighbourhood, arterial, collector, etc.), current pavement markings, traffic signals, and so on. Strangely, the actual checklist form is missing from the report, so presumably the checklist process also includes the volume of all different types of users.
A Complete Streets approach would also include the assumption that the volume of pedestrians and cyclists will increase if better infrastructure is provided for them. When the checklist is ready, I would hope the city makes it public to increase the transparency of its decision-making.
One important way for the city to increase its accountability would be to release the completed checklists for each project as well. The plan more or less calls for this, via a recommendation to "maintain pedestrian updates on the City website as part of ongoing public outreach."
2. Mobility Advisory Committee
Next, City staff from all relevant departments, including public health, are involved in the decision-making process, as well as a recommended Mobility Advisory Committee made up of residents, the details of which are not yet decided.
Then staff are to apply the 5 "E"s. It is very refreshing to see that, along with engineering, encouragement, education and enforcement, staff included equity as one of the criteria for decision-making.
The Plan defines equity as "addressing community equity issues, such as the mobility of its citizens between the ages of 8 and 80, no matter their abilities". The staff report accompanying the report further adds, "and the neighbourhood initiatives being undertaken to address poverty" to the definition of equity.
3. Pre-Scoring for Outcomes
Finally, all 36 countermeasures are examined to see if they fit for the context and desired outcome. The Plan has pre-scored each countermeasure on a series of outcomes such as natural environment, public health, safety, interface with other modes of transport, creating a culture of walking, and conformity to municipal and provincial policies.
They have also pre-scored "Do Nothing", which gets a -1 score on almost all criteria, for a total score of -17. This is another paradigm shift: now the cost and lost opportunities of doing nothing are now more explicit in the city's decision-making processes.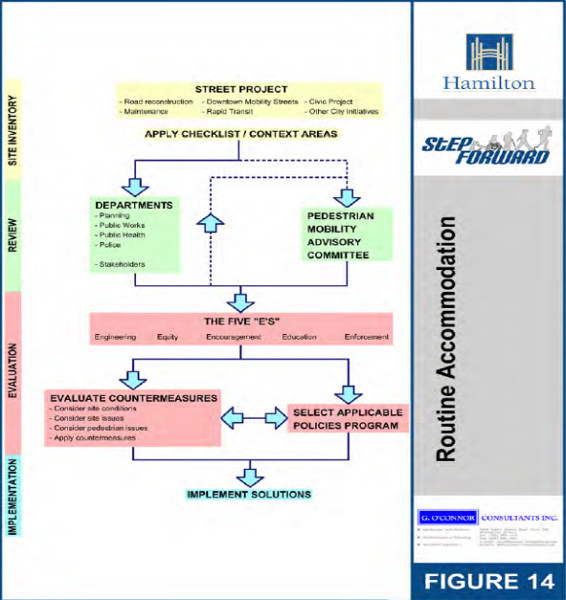 Walkability evaluation process
Where to Start, How it Impacts Budgets
The question of where to focus the most attention and resources to improve the walkability of our city comes up a few times in the report. While the Routine Accommodation strategy will eventually improve streets across the city, the Plan notes that the lower city has many more pedestrian trips and should be a focus for particular attention.
The Plan calls more specifically for City staff to support the implementation of pedestrian improvements in the areas of the city's part of the Neighbourhood Development Strategy. Linking the Plan with neighbourhood development makes sense, since almost all neighbourhood plans already include traffic calming and street improvements.
Using this approach is an important way that the city can help to reduce economic, social and health disparities between neighbourhoods. Treating all neighbourhoods equally would only reinforce these inequalities.
In general, the staff report is a faithful summary of the Plan, which was prepared by a consulting firm (G. O'Connor Consultants Inc.).
One notable exception is that the Plan recommends hiring a full-time Pedestrian Coordinator who can monitor the implementation of the plan. City staff do not recommend to Council that more staff is needed, and say "there are no immediate staff impacts at this time". They do leave the door open to a request at a later time.
Just adding pedestrian-related work to already-overworked staff may not be a realistic strategy if the city is serious about fully implementing this plan.
The staff do include in their recommendations that Council "understand that implementing this plan will add about 2-7% to costs of road projects". However, they don't list any of the economic benefits and savings that can mitigate that extra cost.
Pedestrian Plan and Complete Streets policy
This Plan includes many similar components to a complete streets policy.
In fact, the Plan's central strategy, Routine Accommodation, is an older term developed by pedestrian and cycling advocates and more recently re-branded to the more inclusive and inspiring term "Complete Streets".
Here's a quick overview of how I think this Plan stacks up against the most important Complete Streets elements cited by Complete Streets for Canada:
Complete Streets Elements in Pedestrian Plan

| Complete Streets Policy Element | Pedestrian Mobility Plan |
| --- | --- |
| Strong language and intent | Good |
| All users and modes | Good |
| Applies to all projects | Very good |
| Clear exception procedures | Not clear |
| Encourages connectivity | Good |
| Cites use of latest and best design criteria | Very good |
| States community context | Very good |
| Performance measures | Not clear |
| Implementation plan | Very good |
The main reasons that the City must still adopt a complete streets policy, even if they adopt this Pedestrian Mobility Plan, are:
There is no acknowledgement in this plan that on some streets, there won't be the physical space, the perceived political will, or enough pedestrians to justify the extra costs (in the opinion of City staff) to make changes to better accommodate pedestrians.

A strong exception mechanism in a Complete Streets policy incorporates this reality, but makes sure that exceptions are well documented and approved at a high level, so that the public can better understand why these decisions were made and staff become more accountable for these exceptions when they do occur.

Despite its focus on pedestrian issues, the plan is clearly supportive of transit and cycling as well. A Complete Streets policy, however, is more explicit about listing all users, so that no one is "an afterthought".

Similarly, due to the main focus on pedestrians, not all changes that could improve our streets are listed. The 36 countermeasures documented in the plan are a great start for Hamilton-specific Complete Streets guidelines. Preparing these guidelines in other cities have been key to implementation of Complete Streets.

Lastly, the Plan does not recommend that the City seriously examine its performance measures when it comes to deciding when a street is performing well or not.

Currently, the main measure used is "Level of Service", which is focused on motor vehicles and making sure they can move as fast as possible through our city. The draft Complete Streets that we have prepared lists other measures that better measure how a street helps or hinders all users from getting to their destinations.
The Social Planning and Research Council of Hamilton, along with partners, have been calling for the city to adopt a Complete Streets policy. While the SPRC fully supports this Pedestrian Mobility Plan, a full Complete Street policy remains a priority so that we can reap the economic, social and health benefits that will come from streets that better serve all users.
Post a Comment
You must be logged in to comment.