Christmas Miracle: Council Votes to Designate Gore Buildings
City Council just voted unanimously to designate 18-22 King Street East and protect the buildings from demolition.
By Ryan McGreal
Published December 12, 2013
Almost exactly a year after property owner Wilson-Blanchard submitted a demolition permit for the buildings at 18-28 King Street East, City Council just unanimously voted its intent to designate the buildings under the Ontario Heritage Act and protect them from being demolished.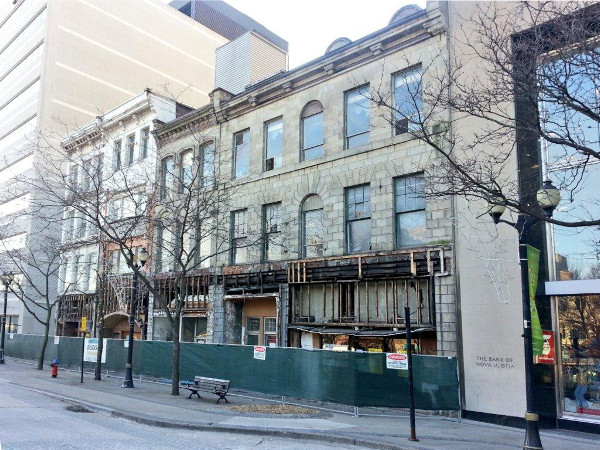 Gore buildings with their facades removed, surrounded by fencing
The surprise motion by Ward 2 Councillor Jason Farr came after talks broke down between the City and Wilson-Blanchard over the fate of the buildings, which have been subject to a demolition permit since January.
There are excellent reasons to designate the buildings: 18-22, designed by the famous architect William Thomas, was built in 1840; the other two buildings were constructed in 1876 and 1875, respectively.
No Construction Plan
Until now, City Council has been reluctant to designate them pre-emptively, arguing that it is more constructive to work with the property owner, who announced a proposal to build a new $120 million development on the block bounded by King, James, Main and Hughson, a block Wilson-Blanchard has assembled over the past 20 years.
The company has yet to provide a plan or financing or any firm details for the proposal, which they first floated in October 2012. The City has offered $1.1 million in heritage grants to preserve the facades and front parts of the buildings, but Wilson-Blanchard said it would cost at least $2 million and they don't want to invest any of their own money in heritage preservation.
Several Canadian studies have concluded that heritage preservation sometimes costs more than demolition and new construction, but delivers better return on investment.
According to Section 30(1) of the Ontario Heritage Act, the demolition permits will be invalidated as soon as the notice of intent to designate is served to the property owner and published in a newspaper. According to Spectator columnist Andrew Dreschel in a tweet posted this morning, the latter condition has already been met.
20 Jackson Parking Lot
The motion to protect the buildings also comes right after Wilson-Blanchard demolished a three-storey building at 20 Jackson Street West and converted the site into an illegal surface parking lot.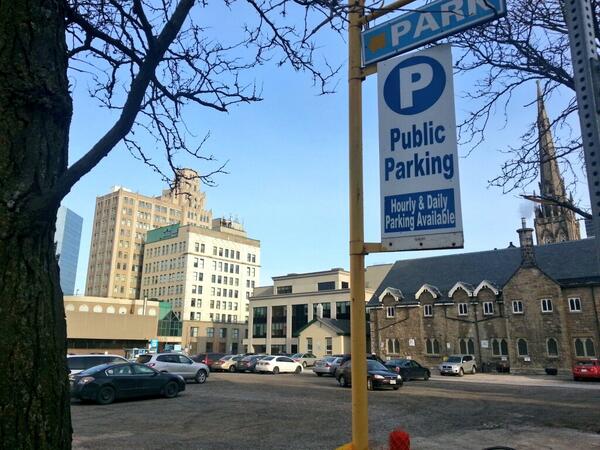 Illegal parking lot at 20 Jackson Street West
Staff confirmed last night that this violates a bylaw against demolishing a downtown building and putting surface parking in its place. Ironically, that bylaw was put in place after the same property owner demolished the Canada Permanent building on James Street South in the late 1990s.
Council also learned that 20 Jackson Street West generated $77,667 a year in property taxes when it was an office building, but just $7,000 as a parking lot.
Wilson-Blanchard has not submitted any redevelopment plan to the City for 20 Jackson Street West.
Next Steps
Earlier this year, Council voted to designate the area around Gore Park as a heritage district, and staff are currently undertaking a review of the city's list of buildings of historic interest with the goal of becoming more proactive about designating and protecting heritage buildings. Council also recently voted to increase the availability of municipal grants to protect and preserve heritage.
However, a number of perverse incentives still encourage property owners to remove value from urban neighbourhoods rather than to add it, including provincially-mandated property tax discounts for vacant buildings and demolished lots.
At the municipal level, a property owner can demolish any downtown building that is not designated under the Heritage Act or zoned for residential use without having any redevelopment plan. Until now, Council has been very reluctant to designate any buildings to protect them from their owners' intent to demolish.
The quick response on 20 Jackson Street West is another shift for the City. When an illegal parking lot went up on the site of the former HMP building at Main and Bay in 2008, a year went by before the City took any action.
When Toronto Chief Planner Jennifer Keesmaat spoke in Hamilton last week, she advised, "In great cities, heritage preservation and restoration is recognized as adding long-term value." The audience gasped when she put up a slide of all the heritage buildings that the City has allowed to be demolished since 1954: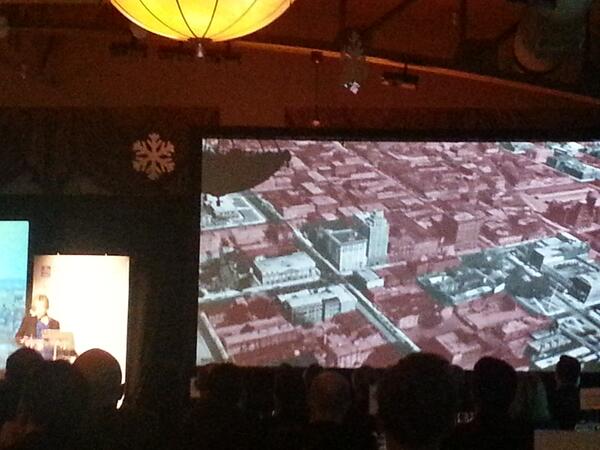 Downtown buildings lost since 1954
Hamilton has made its share of "classic mistakes" in city governance, but it is encouraging to see City Council begin the hard work of fixing them and changing the way decisions are made.
---
One closing request: please email Council and thank them for their leadership in protecting Hamilton's built heritage.
Post a Comment
You must be logged in to comment.