No LRT Funding Announcement After Meeting With Minister Del Duca
The Transport Minister acknowledged that Council has submitted a comprehensive LRT plan but would not provide an answer on whether full capital funding for rapid transit will apply to the city's plan.
By Ryan McGreal
Published July 25, 2014
"I'm not in a position to make an announcement today." That is the message out of today's private meeting among Ontario Transport Minister Steven Del Duca, Hamilton Mayor Bob Bratina, Municipal Affairs and Housing Minister Ted McMeekin and Councillors Russ Powers, Scott Duvall, Brian McHattie and Brad Clark.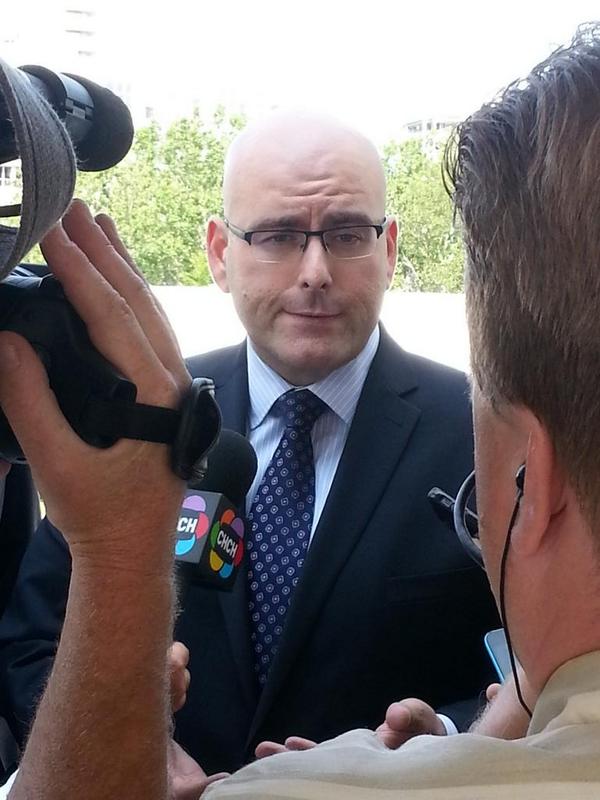 Ontario Transport Minister Steven Del Duca
Asked point blank, repeatedly, by reporter Joey Coleman whether the Province will keep its commitment to provide full capital funding for the City's light rail transit (LRT) plan, Del Duca acknowledged the work that City staff have done to prepare the Rapid Ready plan that Council approved in 2012, but would not be drawn on whether the Province will fund that particular plan.
Instead, he reiterated the party line that the Province will provide 100 percent capital funding for "rapid transit". Asked what he means by 100% capital funding, Del Duca punted again, saying that he will provide clarity on what that means some time in the future.
At least he acknowledged that the City has, in fact, submitted an LRT plan. I guess that's progress. He also finished his song-and-dance about his government's commitment to full capital funding with the statement, "It may very well be LRT."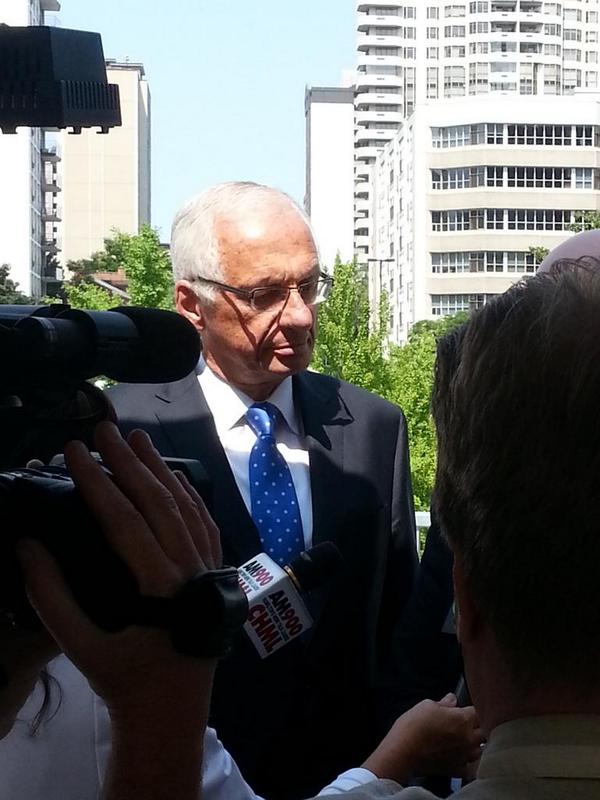 Hamilton Mayor Bob Bratina
Mayor Bratina took only one question before leaving, and his answer was bizarre and incoherent. Coleman asked why Councillor Lloyd Ferguson and Jason Farr were not in attendance at the meeting, as per the Council motion [PDF; see item 7.7] approved on May 8, 2013. The motion stipulates in part:
That the Mayor be directed to include Councillors Farr, Ferguson and McHattie when communicating on Council transit priorities with the Province of Ontario;
Bratina responded that the motion was related to a Chamber of Commerce initiative and refused to be drawn further. He took no additional questions and walked away from the scrum.
So what was actually said during the meeting? An article just published in the Spectator quotes conflicting accounts of what transpired by attendees Clark and McHattie.
Clark said it was made clear Hamilton has more work to do, to make its case for a rapid transit project, but added the specifics will come from Metrolinx and senior provincial staff in the coming weeks or months.

McHattie, by contrast, said the minister praised the work already competed by Hamilton and seemed to think "we've done enough" to take the next step.
Of course, if the meeting was open to the public, we would not have to try and piece together what was said based on the impressions of people who were in attendance.
Councillor Sam Merulla, who is a member of the Mayor's Governance Advisory Committee, refused to attend because he could not get a definitive answer on whether the meeting was even legal.
In a news release issued on Wednesday, Merulla stated, "I don't think it is too much to ask public officials, to not conduct public matters in secret".
Post a Comment
You must be logged in to comment.