Harper Government is Terrified of Data
If the evidence contradicts the ideology, your choice is either to change the ideology or suppress the evidence.
By Ryan McGreal
Published August 27, 2014
There are freak accidents and there are systematic failures, and the question of whether a given incident is an example of the former or the latter tends to become politically charged.
Systematic Regulatory Failure
Consider last year's rail disaster in Lac-Megantic, Quebec, which killed 47 people and destroyed over 30 buildings spanning half of the town centre. Both the Transport Safety Board [PDF] and independent analysis [PDF] find that the disaster is the result of a systematic failure of regulatory oversight by Transport Canada.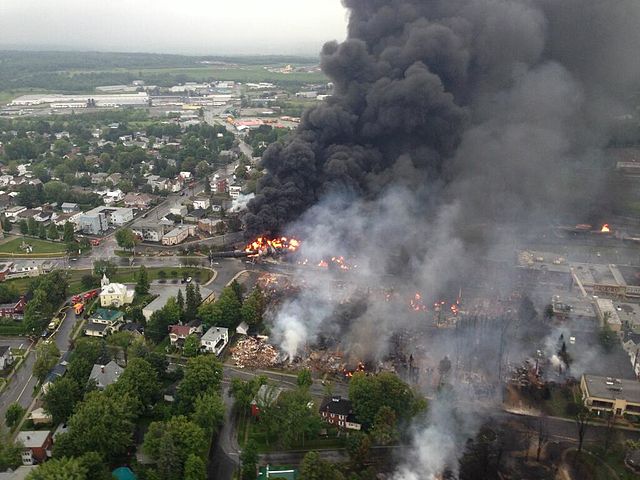 Lac-Megantic train derailment (Image Credit: Sûreté du Québec/Wikipedia)
Even though the now-defunct Montreal, Maine and Atlantic Railway Company had a poor safety record, Transport Canada granted the company an exemption from the rules to allow one-person crews on trains carrying dangerous cargo.
The company was allowed to use old tank cars to transport crude oil even though transportation safety authorities have warned for years that they were at risk of puncture and explosion.
The rules themselves are vague and open to interpretation, and Transport Canada provides severely curtailed oversight and enforcement. The authority doesn't adequately collect or share data on dangerous goods movement or audit the self-regulation of rail companies.
Worst of all, the regulators at Transport Canada are overly sympathetic to the industry's hostility toward regulation and oversight, a hostility shared by the pro-business ideology of the governing Conservative Party.
Despite all evidence to the contrary, Transport Minister Lisa Raitt insists that the rail industry can regulate itself just fine through "voluntary standards" and better training, and that the Lac-Megantic disaster was the result of individual bad actors.
Raitt is advocating a classic train-and-blame response to a systematic problem in a high-reliability industry - a strategy that assigns culpability after the fact but is fundamentally unsuited to the prevention of preventable disasters.
Don't expect this government to answer the rising chorus of demands for a more comprehensive independent rail safety inquiry. They know that it would uncover the extent of the systemic failures that led to the Lac-Megantic tragedy, failures that strike at the heart of the government's laissez-faire ideology.
Systematic Violence Against Aboriginal Women
The Government's nothing-to-see-here approach to rail safety closely parallels its approach to the shocking rate of murders among aboriginal women.
On August 17, the body of 15-year-old Tina Fontaine was found wrapped in a bag and dumped in Manitoba's Red River.
Fontaine grew up in Sagkeeng First Nation and watched her father struggle with cancer before he was beaten to death in 2011. Before her disappearance on August 9, she was in the care of a Child and Family Services agency and had run away several times.
Tina Fontaine's murder is not an isolated incident. According to the RCMP report Missing and Murdered Aboriginal Women: A National Operational Review, 1,017 aboriginal women were murdered between 1980 and 2012.
Aboriginal women are grossly over-represented among murdered women in Canada: they make up only 4 percent of Canada's female population but 16 percent of female homicide victims and 12 percent of missing women.
While the annual number of homicides of non-aboriginal women fell steadily between 1980 and 2012, the number of homocides of aboriginal women actually went up both in absolute terms and as a share of the total.

Female homicides per year, 1980-2012 (Image Credit: RCMP)

Aboriginal female homicides as proportion of total female homicides per year, 1980-2012 (Image Credit: RCMP)
What do all these tragic murders and abductions and disappearances have in common? According to Stephen Harper, nothing.
Each murder is an isolated incident, a one-off crime, a matter best left to the individual police investigation.
Our prime minister is not interested in why an aboriginal woman in Canada is four times as likely to be murdered as a non-aboroginal woman. The very question smacks of sociology, which Harper regards as a dirty word.
By Harper's logic, we should just assume it's a blind meaningless coincidence that, year after year, aboriginal women are murdered at four times the rate of non-aboriginal women.
To be sure, there is some debate over whether a Royal Inquiry per se is the best way to uncover actionable answers to the question of why aboriginal women are so much more likely to be murdered than non-aboriginal women.
However, that is not the reason for Harper's opposition to that particular way of answering the question. He opposes the question itself.
Data Drives Policy
The Harper Government is terrified of data. The reason Harper reflexively denies that individual behaviour happens in a context - the changeable social, economic, cultural and environmental framework that helps shape our choices - is that it absolves his government of any responsibility to address that context meaningfully.
It's not a broken regulatory structure, it's just a fatigued operator working for a careless company. It's not a systematic pattern of marginalization and abuse, it's just the work of isolated criminals.
This is why the government killed the long form census. Evidence drives policy, and if the evidence contradicts the ideology, your choice is either to change the ideology or suppress the evidence.
We know which choice Harper and his government have made. And we have the void of evidence to prove it.
Post a Comment
You must be logged in to comment.