Cannon Street Cycle Track Coming Together
The cycle track runs continuously between Sherman and Hess, and it is physically protected from the automobile traffic by both a space buffer and physical barriers.
By Ryan McGreal
Published September 03, 2014
Installation work is ongoing on the Cannon Street Cycle Track. Judging from how it looks so far, it's going to be even nicer than I had hoped.

Paint and knockdown sticks on Cannon east of Wentworth
Over the past week or so, your humble RTH correspondent has egregiously violated the "Bike Lane Closed" signs on the big orange pylons marking the Cycle Track to ride its full length between Sherman and Hess Street.
The cycle track is not complete yet but Cannon Street already feels like a public space where cycling is safe and welcome.
During a short westbound lunchtime ride today, I passed over half a dozen cyclists already taking advantage of the track to ride eastbound on Cannon.

Cannon already feels nicer
Physical Protection
The two-way cycle track on the south curb lane of Cannon has been painted all the way from Sherman Avenue west to past Bay Street: a thick white outer boundary line, a green line marking the inside edge of a physical buffer space between the cycle track and the adjacent automobile lane, and a yellow line dividing the east- and westbound bike lanes.

Painted cycle track west of Bay
So far, knockdown bollards have been installed from Sherman to just west of Wentworth. They will be extended all the way to the end of the cycle track at Hess.

Knockdown sticks just west of Wentworth
In addition to the knockdown sticks, rubber curbing will be installed along the full length of the cycle track and black planter boxes will be installed along the track east of Victoria Avenue. This work is expected to happen over the next couple of weeks.

Cycle track west of Victoria
Rush-Hour Driving
The planter boxes won't extend west of Victoria because the north curb lane is being retained as a full-width lane for rush-hour automobile traffic.
East of Victoria, the north curb lane has been shrunk in width to an all-day curbside parking lane and the extra space has been used to widen the buffer between the cycle track and automobile lane.

North curb lane reduced in width to all-day curbside parking
West of Victoria, the City determined that the Cannon bus would run late if there are only two driving lanes during rush hour, so the north curb lane has been left full-width to accommodate rush-hour driving. As a result, the buffer between the cycle track and the next automobile lane is too narrow to accommodate planter boxes.
In addition, the north sidewalk will no longer be protected from fast automobile traffic during the time of day when children are walking to school and people are walking to work. As well, local residents will have to move parked cars before rush hour begins.
Bike Boxes, No Left Turn on Red
Several green-painted advanced stop lines, or "bike boxes", are being installed on Cannon at intersections with northbound cross streets.
Advanced stop lines allow westbound cyclists to pull ahead of automobile traffic at red lights in order to make a right turn more safely.

Green painted wedge just east of Sherman marks the beginning of the cycle track

Bike box at Sanford

Bike box at Victoria
At southbound cross streets, the City has installed new No Left Turn on Red signs.

New 'No Left Turn on Red' sign at Wellington
Cycle Track Done Right
The Cannon Cycle Track was approved by Council in a special motion brought forward after the Yes We Cannon citizen initiative engaged thousands of Hamiltonians and demonstrated broad community support for a high quality east-west cycling link across the northern lower city.
Prior to the cycle track, there was literally no good way to ride a bike between Central and Gibson neighbourhoods. Cannon was terrifying for westbound cyclists and illegal for eastbound cyclists.
Barton is the city's 'official' bike route but has no cycling infrastructure whatsoever and is one of the city's most dangerous corridors for bike collisions. Not one of the other east-west streets between Cannon and Barton runs continuously between James and Sherman.
Council approved the cycle track on March 27 of this year after a four-plus-hour debate, and the project was tendered to IBI Group for detailed design.
The project follows best practices for cycle track design: it runs continuously for 3.3 km between Sherman and Hess, and it is physically protected from the automobile traffic by both a space buffer and physical barriers (knockdown sticks, rubber curbing, planter boxes).
Cycle Track Done Wrong
It is impossible to regard the Cannon Cycle Track and not compare the Hunter Street bike lanes, which were designed by the City. The bike lanes are broken by an almost half-kilometre discontinuity across the main commuting destination on Hunter (the GO station) and are separated from automobile traffic with only a thick white line and no physical barrier.
After completing the lanes, the City went back and installed 11 knockdown sticks at a high-danger area just east of Park Street.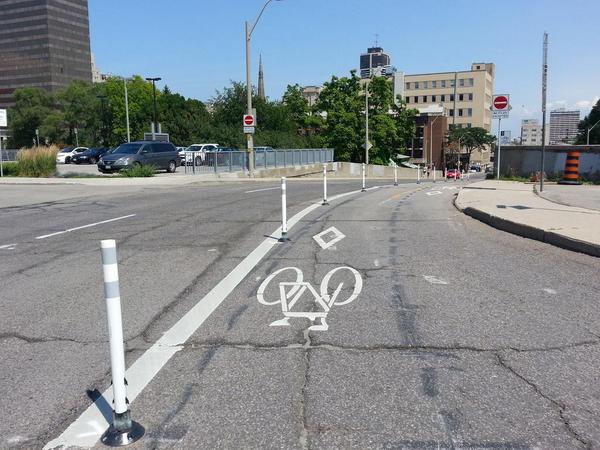 Knockdown sticks on Hunter Street bike lanes just east of Park Street
The addition is a much-appreciated improvement that makes the bike lanes less frightening as the road goes up the rise over the underground train line and veers left. Cars in the next lane were cutting across the bike lanes and pushing westbound cyclists into the oncoming bike lane.
However, it underscores how exposed cyclists remain along the rest of the bike lanes. Stopped and parked cars continue to block the bike lanes in the absence of a physical barrier to stop them, and the lanes remain too frightening for most people to consider using.
With Central School right on the bike lanes at Hunter and Bay, this is a missed opportunity for families to ride their children to school.
Fortunately, this is an easy oversight to fix. The City already installed the first 11 missing knockdown sticks - now all they have to do is install the rest of them.
Post a Comment
You must be logged in to comment.