Reasons to Build the Cannon Street Protected Bike Lanes
On Thursday, City Councillors have an exciting opportunity to approve two-way protected bike lanes on Cannon Street.
By Ryan McGreal
Published September 04, 2013
Cannon Street is a notorious four-lane, one-way thoroughfare blasting through some of the city's most vulnerable communities, bringing high speed automobile and truck traffic right past people's homes and businesses. For decades it has been a poster child for what is wrong with Hamilton's practice of prioritizing fast through traffic over neighbourhood vitality.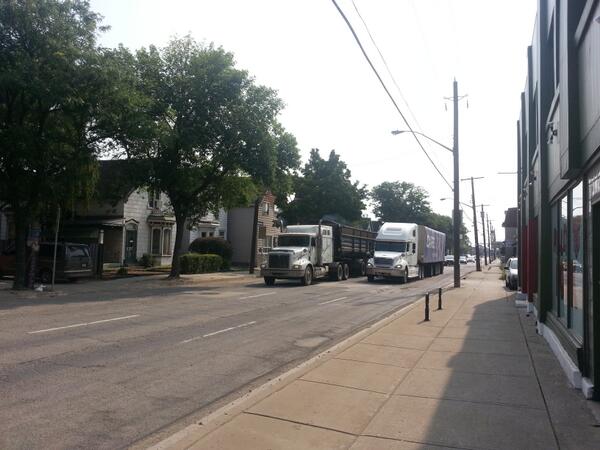 Transport trucks barrel down Cannon Street (RTH file photo)
Back in May, a new campaign launched called Yes We Cannon calling on the City to install protected two-way bike lanes on Cannon Street to connect north-east Hamilton with north-central Hamilton - specifically, to connect the new Stadium with the James North GO Station in time for the 2015 Pan Am Games.
Interest and momentum grew steadily, with thousands of people signing the petition and hundreds of letters to Council.
In August, Ward 2 Councillor Jason Farr introduced a notice of motion to build a two-way protected bike lane between Sherman and Bay Street. The General Issues Committee (GIC, formerly Committee of the Whole) will receive Farr's motion [PDF] when it meets this Thursday at 9:30 AM.
The GIC agenda also includes several delegation requests in support of the bike lanes and complete streets: Justin Jones on behalf of Yes We Cannon, Matt Patricelli on behalf of Young Entrepreneurs and Professionals, Joe Accardi of Green Smoothie bar and accessibility advocate Denis O'Connor.
For several reasons, City Council needs to approve this motion.
Make Cannon a Complete Street
Cannon Street is a dismal, frightening experience today, but it could easily be converted into a complete street with dedicated separated bike lanes in both directions, curbside parking to protect the other sidewalk and safer, slower-moving automobile traffic.
The empirical case for a complete streets approach is strong. The Ontario Coroner recommends it as the best way to prevent pedestrian injuries and deaths, especially among the most vulnerable road users (children and senior citizens).
In addition, complete streets are more equitable than automobile-centric streets, a fact reflected in the City's draft complete streets policy.
Protected Bike Lanes are the Best
Some people still believe that bicycles are only for recreation, but city after city has proven that when you build a continuous network of bicycle infrastructure, people use it to get around. However, the evidence clearly indicates that physically protected bike lanes are both the safest and most effective infrastructure for getting more people to choose cycling.
More people cycling means cleaner air, better public health and even improved retail business. A recent report from Seattle found that replacing curbside parking with bike lanes actually boosted local retail business, a result similar to several cases in New York City.
Plenty of Lane Capacity to Spare
Last year, the City shared some daily traffic volume counts from 2009-2010 at selected locations, including a few on Cannon Street.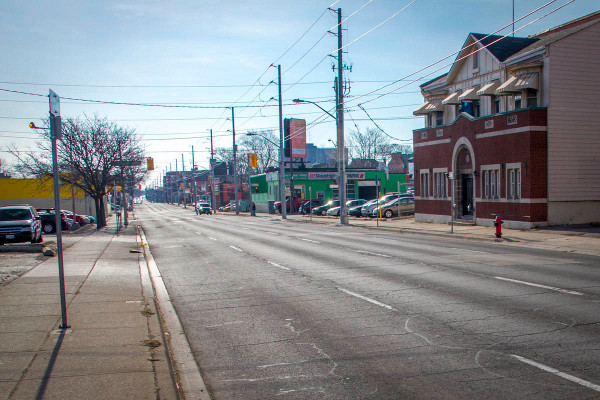 Spare lane capacity on Cannon (Image Credit: Mike Goodwin)
On the east side of Sherman Street, where Cannon is two-way, it carries just 10,800 vehicles a day on four lanes. West of Sherman, Cannon switches to four one-way lanes westbound and carries just 9,100 vehicles per day.
That's around 2,500 cars per lane per day - when a single urban vehicle lane can carry up to 2,000 cars per hour.
Traffic volumes gradually increase as you proceed west, but even at Mary Street has only increased to 16,700 vehicles per day, a total volume for which two travel lanes is plenty.
More Effective Use of Public Space
Cannon Street is currently very wasteful in its use of scarce public space, with four lanes being used to carry relatively little automobile traffic.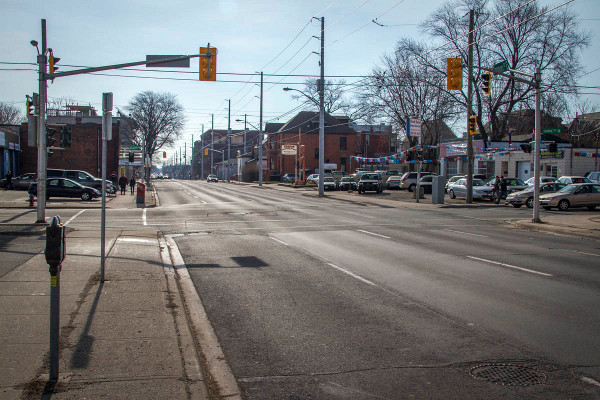 Wasteful use of valuable public space (Image Credit: Mike Goodwin)
Not only does this encourage speeding, but also it's a missed opportunity to make more effective use of the space to fill a big gap in Hamilton's transportation mix.
Dedicated bike lanes will also help reduce the city's road maintenance deficit. Cars and trucks impose orders of magnitude more wear and tear on streets than bicycles, and every time someone chooses to cycle instead of drive on a trip, the lifespan of the city's streets is extended fractionally.
Waterloo Region estimates that each 1 percent modal shift from automobile to bicycle will save the municipality $30 million in road maintenance costs over ten years.
Safer for Everyone
Automobile traffic would move more slowly with just two lanes, but that's a good thing, as fast automobile traffic is the biggest injury risk factor in the city. Protected bike lanes would make everyone safer:
Cyclists will be physically protected from automobiles.
The bike lanes will physically protect the sidewalk from automobile traffic.
Reducing lane capacity will slow automobile traffic, reducing both the likelihood and severity of a collision.
Cycling and walking will increase and driving would decrease as more people choose not to drive for a given trip.
Again, this is proven in city after city that invests in bike lanes: collisions and injuries go down for everyone - including drivers.
Only Continuous East-West Route
Cannon Street is the only continuous east-west route between King Street and Barton Street. There are literally no other ways to travel between James Street North and Gage Avenue North.
In its current configuration, Cannon Street is terrifying to ride on. I've been cycling regularly in mixed traffic for well over a decade and I avoid Cannon like the plague. Protected bike lanes would not only make Cannon a viable cycling route, but more broadly would make cycling a viable way to move through northeast Hamilton.
Supports Bike Share
Earlier this year, Council unanimously voted to approve a bike share in Hamilton. The success of that program will depend in significant part on the extent to which people can ride safely and comfortably between stations.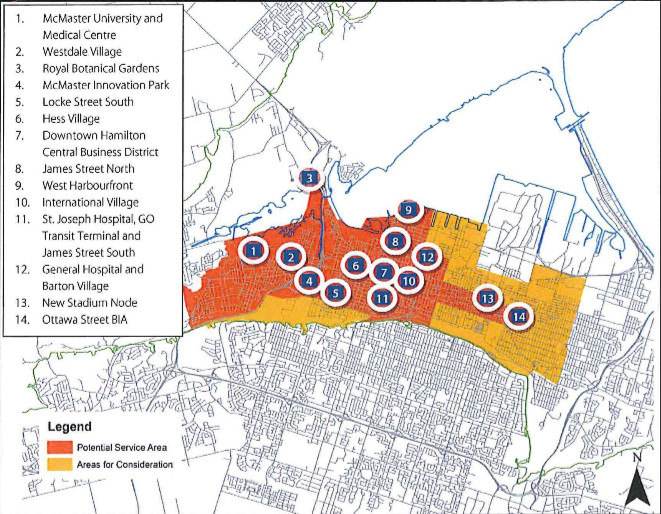 Bike share potential service area map
Hamilton's proposed bike share will provide 300 bikes in 35 stations accessible to 53,000 residents plus 30,000 students and various businesses.
Post a Comment
You must be logged in to comment.