Bus Lane Set Up to Fail?
The city refuses to incorporate changes that would help ensure success while mitigating the issues with parking and automobile traffic flow.
By Ryan McGreal
Published December 08, 2014
Normally, when a city undertakes a pilot project, it does so in order to iterate and adapt the project in response to real-world feedback. With the City of Hamilton's transit-only lane pilot, not so much. Instead, the city's first bus lane seems to have been set up to fail.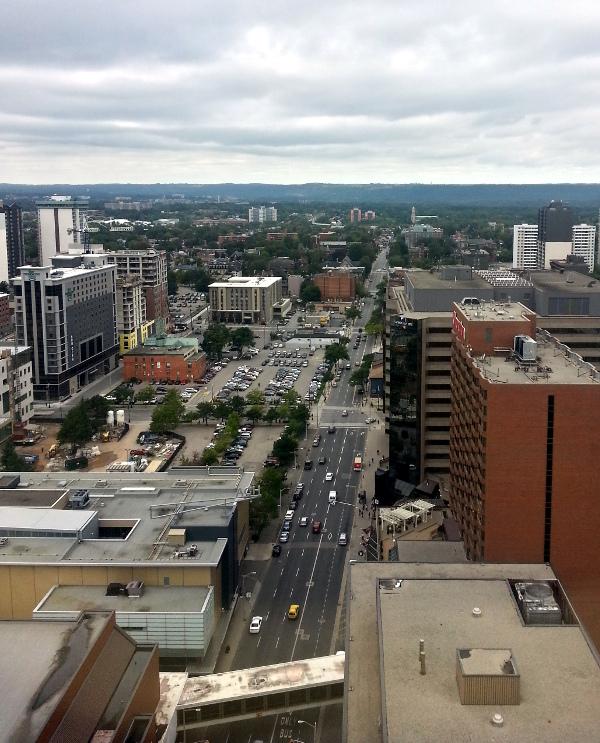 King Street West with transit-only lane (RTH file photo)
The bus lane project cost $300,000 to install, money that was funded by Metrolinx under its "Quick Wins" capital fund. It runs westbound on King Street for two kilometres from Mary Street to just before Dundurn Street.
The lane runs mostly in the north curb lane of King Street. Curbside metered parking on King was moved from the north side to the south side to accommodate the bus lane.
Despite this being a pilot project, the only significant design tweak the City made over the past year-and-a-bit was to eliminate rush-hour parking on the south side of King between Locke and Strathcona, almost immediately after it was installed.
Cycling Excluded
After learning that cyclists would not be allowed to use the transit lane, the Hamilton cycling community advocated for that change to bring the project in line with transit lanes in many other cities.
The City explained that they chose to design it as a "reserved vehicle lane" rather than a "high-occupancy vehicle lane" (which would allow cyclists) because the Cycling Master Plan does not include a bike lane on King, therefore it can't have one. (This is just one of the ways the cycling plan has acted to limit cycling, rather than promote it.)
The bus lane pavement markings disappeared completely over the course of last winter, but the city again decided not to tweak the design to address some easy fixes to include cycling.
Real Problem is King Street
The bus lane has been controversial from the start. Motorists began complaining about the bus lane before it came into effect, and a few property owners on King insisted that their retail tenants post "NO BUS LANE" signs in their store windows.
A story appeared in the Spectator in the end of this past September, quoting retail business owners who claim the bus lane has hurt their business. However, a careful reading of their comments indicates that the real issue they struggle with continues to be the fact that King Street is a pedestrian-unfriendly multi-lane expressway.
Now that the curbside parking is on the south side of King, customers don't want to cross King to visit retail stores on the north side.
According to Diego Almonte, quoted in the story: "I have customers who tried parking across the street and then risked their lives to cross the road and just said, 'we aren't coming back.'"
A downtown street that pedestrians are afraid to cross is not a good street. The bus lane did not cause that state of affairs, and removing it will not fix what's wrong with King.
West of Bay Street, it would be much better to move the bus lane out one lane from the curb and re-instate curbside parking on the north side of King. This would address the legitimate concerns of the business owners on the north side that pedestrians are afraid to cross King to get to their stores.
Evidence-Free Policy
Now Ward 5 Councillor Chad Collins has announced that he wants to give Hamilton drivers "an early Christmas present" by cancelling the bus lane - despite the fact that City staff have not yet produced a report on the pilot.
Many drivers are outraged that they are not allowed to use the lane, but the city's original justification for a dedicated transit lane was that it would improve the speed, capacity and reliability of the city's transit system. The reason for the pilot project was to measure and assess whether that actually happened.
The City's Transit-Only Lane page notes: "During the AM peak period there are as many people riding the HSR along this segment of King St as there are cars and trucks driving this same route."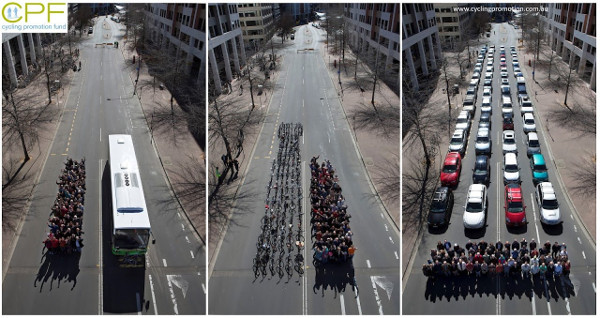 Buses and bikes are an extremely space-efficient use of the road, compared to cars (Image Credit: Cycling Promotion Fund of Australia)
It would be irresponsible to eliminate the bus lane without even bothering to find out whether it succeeded in its goals. Likewise, King Street has become slower for automobile traffic - especially between Mary and James - but policy decisions should be based on data, not anecdote.
I can't help but note that right where King Street gets congested through International Village, Main Street, just 110 metres away, consists of five mostly empty eastbound lanes.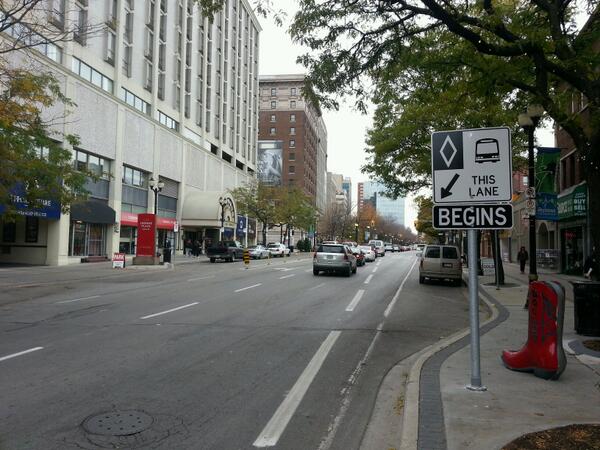 Traffic on King Street west of Mary Street (RTH file photo)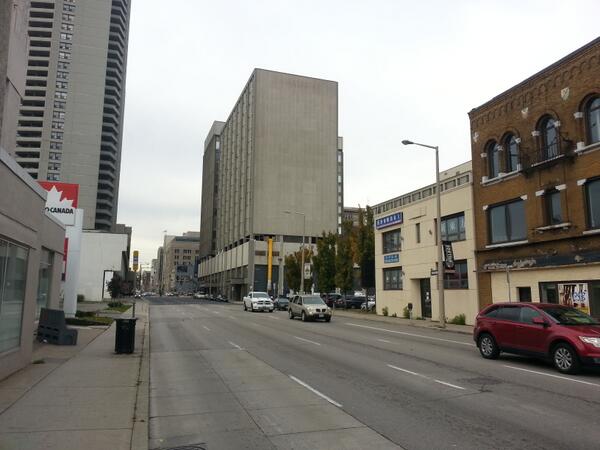 One-way Main Street can't handle the overflow on King (RTH file photo)
If Main Street was a normal two-way street, westbound automobile traffic wouldn't be stuck in the bottleneck on King.
Refusal to Adjust Design
The city's overall unwillingness to tweak the design means a slew of missed opportunities to maintain the lane and address legitimate concerns.
Jason Leach proposed a balanced cross-section for King Street that would retain the bus lane, allow cycling, maintain parking on the north curb and calm automobile traffic - back in July 2013, months before the bus lane was installed.
The city refuses to incorporate any of these relatively simple changes, which would help ensure success while mitigating the issues with parking and automobile traffic flow.
Again, it almost feels like this project has been set up to fail.
Post a Comment
You must be logged in to comment.