Integrity Commissioner Should Resign Immediately
The report on Councillor Ferguson's assault tells the public that legitimate complaints about abuse of power will not be taken seriously.
By Adrienne Havercroft
Published February 27, 2015
I write in regards to the Integrity Commissioner's report respecting the incident at City Hall between journalist Joey Coleman and Councillor Lloyd Ferguson. After reading the report, I find it completely unacceptable, and I think that integrity commissioner Earl Basse should resign immediately.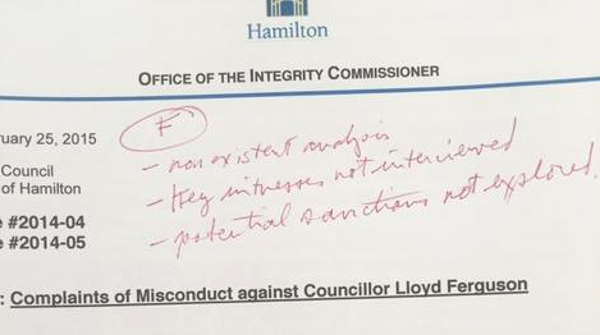 Ontario Ombudsman Andre Marin gives the Integrity Commissioner's report a failing grade (Image Credit: Andre Marin)
The report shows clear signs of bias, which calls into question the integrity of his entire office and due process at City Hall.
To be blunt, the report reads like a rape apology. In the same way that it is inappropriate to ask women who reports rape "what she was wearing" and "how much she was drinking", Mr. Coleman's history at City Hall, what Mr. Ferguson assumed his intentions were and the amount of time he waited to file his complaint should have no bearing on its legitimacy.
In the same way, the idea that Councilllor Ferguson's "long and contentious day" in any way mitigates the seriousness of the accusations are farcical.
While I can understand that these are the kinds of contextual details that might come out over the course of an investigation, their inclusion in the report as relevant details in the context of the complaint is alarming.
In the words of Andrew Dreschel in today's Spectator column, their inclusion "adds a disquieting bias to the findings."
No Victim Interview
Furthermore, I find it unsettling that Mr. Basse did not choose to interview either Joey Coleman, the alleged victim, or former Councillor Brad Clark, who also witnessed the event.
Privileging Councillor Ferguson's version of the narrative over the alleged victim reeks of "old boys" politicking, where those in power are able to circumvent due process by appealing to friends in high places.
It creates the appearance of collusion, which, particularly as it is coming from of the Integrity Commissioner's office, undermines public trust.
Council Should Not Have Accepted Report
Finally, I would also like to express my disappointment in Council's acceptance of this report, with the exception of Councillors Matthew Green and Scott Duvall. This was clearly a biased and fundamentally flawed report and should never have been accepted as the final word on this incident.
Even a very cursory read of it should have indicated that to council members. By voting to accept the report, council affirmed that the investigation represents acceptable due process in our city. As a citizen, I find this both unacceptable and disappointing.
Personally, my concern in this matter is less about what the appropriate consequences should be for Councillor Ferguson in this particular incident (not to say that their shouldn't be consequences, but that I don't feel equipped to comment on what they should be), but what the process surrounding this incident indicates about the checks and balances we have in place at City Hall.
Loss of Faith in Fair Process
A properly functioning and healthy democracy must ensure that if and when those in positions of power act inappropriately, there are legitimate and trustworthy channels available to the public to deal with the issue in a fair and unbiased way.
Based on this incident, the public has no reason to have faith in these official channels. This report and its ratification by Council will discourage others from coming forward in the future to report abuses.
It tells them that their complaints won't be taken seriously, that the alleged perpetrator's version of the events are more trustworthy than the alleged victim, and that the alleged victim's character and history will be scrutinized and critiqued in order undermine the credibility of their claims.
What a sad state of affairs. Shame on you, Hamilton City Council.
Post a Comment
You must be logged in to comment.