No Need to Remove Curbside Parking on Bold and Bay
Removing curbside parking spots will only result in higher vehicle speeds, less protection for people walking, and needless opposition from people concerned about the loss of parking.
By Ryan McGreal
Published March 13, 2015
this article has been updated
Yesterday, Nicholas Kevlahan wrote about a recent public meeting on the planned two-way conversion of Bold and Duke Street, noting that a number of attendees raised a series of objections that were thoroughly addressed by the City staff on hand - with one exception.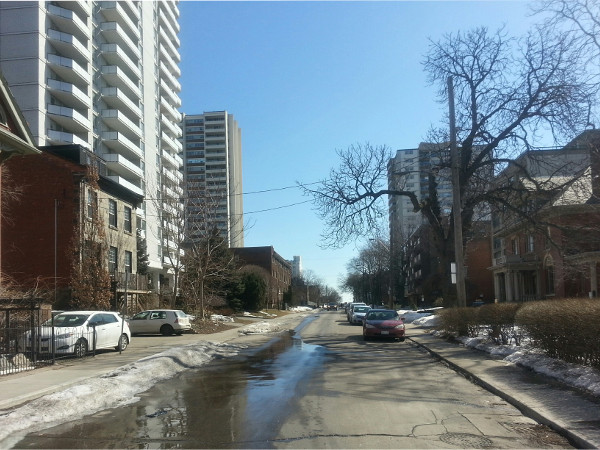 Duke Street
While most of the objections amounted to knee-jerk fear of change, one concern was quite valid and staff did not lay it to rest: the concern that the two-way conversions will result in fewer curbside parking spots.
Under the current plan, approximately 19 spots will be removed from Duke - 12 spots on the north side of Duke between Hess and Caroline, and seven spots on the north side of Duke between Hess and Queen.
The width of Duke ranges from 8.1 metres (26.6 feet) to 9.4 metres (30.8 feet). The width of Bold ranges from 8.4 metres (27.6 feet) to 9.3 metres (30.5 feet).
According to City staff, the City's policy for two-way streets is to allow parking on both sides of the street where streets that are 8.5 metres (27.9 feet) or wider. However, that policy has only been in place for the past ten years and there are many streets narrower than that which have parking on both sides.
Recurring Theme
This is a recurring theme in recent years: to the extent that the city is doing any two-way conversions at all, the tendency has been to remove parking spots out of a misguided attempt to maintain wide lanes.
The City did the same thing last year with the Rebecca Street conversion, which was going to involve the totally needless removal of 13 parking spots.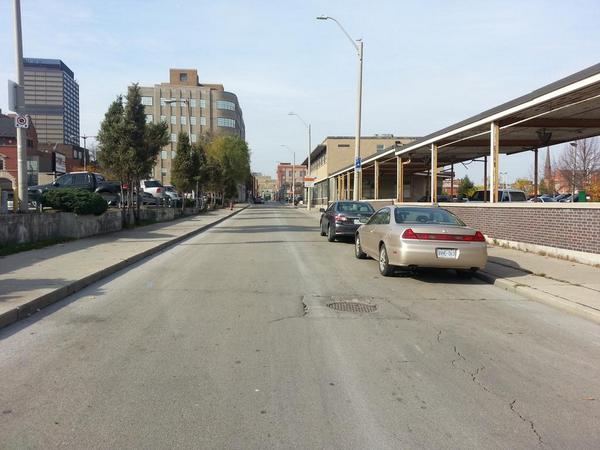 Rebecca Street between Catharine and John before two-way conversion (RTH file photo)
Fortunately, local residents spoke up in support of keeping the parking spots and Ward 2 Councillor Jason Farr got involved to work with staff. In the end, only a few spots were taken out.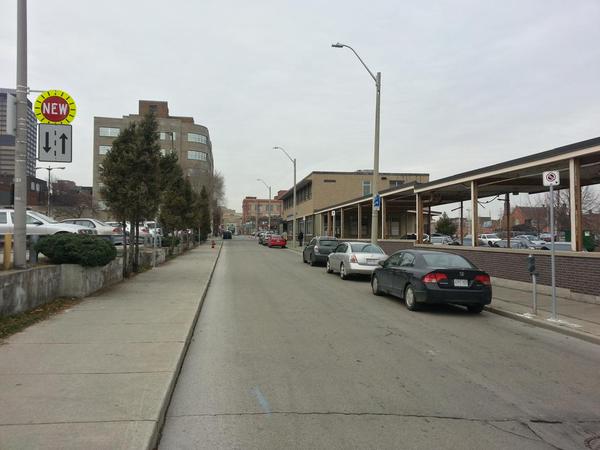 Rebecca Street between Catharine and John after two-way conversion (RTH file photo)
Needless to say, Rebecca Street works just fine as a two-way street, curbside parking and all.
Safer and More Convenient
The relative narrowness of the street means that two cars can't pass each other at a free-flowing speed of 50+ km/h.
That is a feature, not a bug. Calming automobile traffic and reducing dangerous speeding is one of the goals of the two-way conversion, in addition to making the neighbourhood more navigable to people on bicycles and in cars alike.
Two-way conversion also reduces excess driving and turning movements (the most dangerous) from people driving to local destinations who otherwise are forced to overshoot a destination on a parallel street, then make two turns to double back.
Like Rebecca, Bold and Duke have curbside parking on one side, with the exception of Duke between Caroline and Queen, which has parking on both sides. Currently, that means each street has a single extremely wide lane: eastbound on Bold and westbound on Duke.
With two-way conversion, each street will have two narrow lanes, on in each direction. Removing curbside parking to widen those lanes will only result in higher vehicle speeds and less protection for people walking - plus avoidable opposition from local residents who are understandably upset about lost parking.
Residential Side Streets
Bold and Duke are residential side streets. It should not be possible to drive down them at dangerous speeds.
Hamilton has streets that are even narrower than Bold and Duke that function just fine as two-way streets. In fact, some streets are narrower than Bold and Duke and also maintain curbside parking on both sides.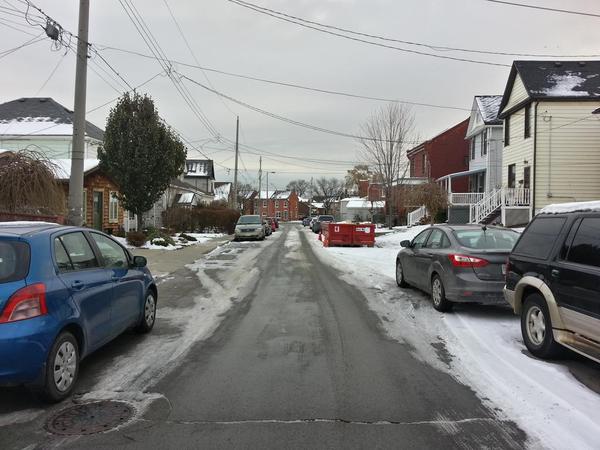 Wood Street: narrow two-way street with curbside parking on both sides (RTH file photo)
On such streets, if two people in cars are approaching each other, they both need to slow down and negotiate past one another. That is entirely appropriate and, indeed, an ideal outcome for a residential street.
Bold and Duke should not be designed for fast through travel. Keeping more curbside parking spots will actually make the streets safer for all users by making it harder to speed and physically protecting more of the sidewalk. It will also alleviate the legitimate concern about lost parking and remove the only serious objection to this conversion.
I urge City staff to revisit the design and restore the lost curbside parking. There is no trade-off here: keeping curbside parking is safer, more convenient and more usable for everyone using these sreets.
---
Update: Updated to note that Duke has curb parking on both sides between Caroline and Queen. You can jump to the changed paragraph.
Update 2: Updated to add more detail from the City on the planned parking spot removals and road widths. You can jump to the added paragraphs.
Post a Comment
You must be logged in to comment.