Open for Artists and Art Lovers in the East End
Sealed Art on the northeast corner of Main and Gage is a great place to take an art break after strolling in Gage Park.
By Shiona Mackenzie
Published April 02, 2015
Julian Brisebois is a budding artist in a family that has been in the business of serving art buffs and artists alike for more than three decades now. From his home on Wexford Avenue, he bikes to his workplace - Sealed Art - housed in an eye-catching, century-old, two-storey building on the northeast corner of Main and Gage.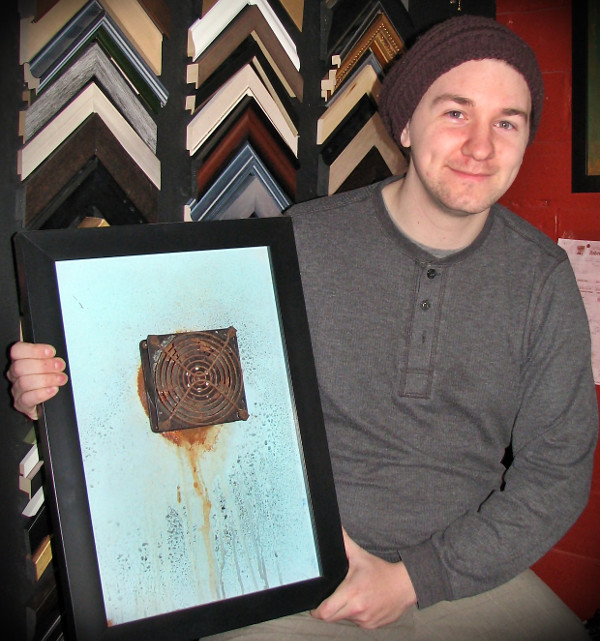 Julian Brisbois
In previous incarnations, the building was a garage, and it was later owned by the Guardian Press. Sealed Art was launched at this location in 1989 by Brisebois's father, Les Stone, who grew up in the neighbourhood and attended Scott Park High School.
"The Crown Point community is an undiscovered gem," says Brisebois, explaining why he enjoys living there, too. "Since I was in elementary school, this area has changed for the better and that trend is continuing. Plus, it's awesome having a beautiful park right across the street from work."
At 25, Brisebois is a man of many talents, deftly handling canvas stretching, mat cutting, and digital printing on paper and canvas, although he now specializes in framing.
He is self-taught. "You never know what people are going to bring in. With shadow boxing, I get to do some interesting and problematic things, like framing a car door, for example. It's challenging to create an attractive structure to hold such a heavy piece."
Sealed Art offers top quality custom framing and plaque mounting at competitive prices. The shop is also known for excellent customer service - there's no urgent need to advertise when new clients from all over the Golden Horseshoe simply walk in, thanks to word-of-mouth referrals.
"There aren't many young people getting into this industry now," Brisebois says. "And we do custom work. So there isn't a lot of competition locally, but if we relied on retail, we'd be toast because things can be made so inexpensively in China."
Brisebois contributes creatively to the bohemian ambience of Sealed Art with his own sculpture and unique art works made of metal and found objects, but he is modest and hasn't tried to sell any of his own pieces. "I don't like to sign my work on the front because I feel it detracts from the art itself."
He is inspired by the art of his cousins, one of whom is oil painter Taha Clayton, who was raised in Toronto but now resides in Brooklyn, New York. Sealed Art is a people-friendly space with a comfortable sofa to sit on while surveying the art-adorned walls and shelves of art books.
In the gallery area, you'll spy powerful paintings of jazz musicians by award-winning artist Linda Towart, whose portrait of Lincoln Alexander hangs in the Hamilton Club.
Some of Paul Elia's giclée prints digitally integrating photography and illustration to create panoramic streetscapes are also proudly displayed.
Brisebois, a self-proclaimed optimist, sees a promising future ahead for local art and business. "Art has been in the Crown Point area forever, but it's understated. People always ask why Sealed Art is not involved in the Art Crawl, but to me, that's to support James Street area artists.
"I'm really happy to see what's happening on Ottawa Street these days, but there is plenty of opportunity for a good place to get a bite to eat to open up west of there. Eventually, I'd like to see some of the space in Sealed Art developed into a café."
Meanwhile, Sealed Art is still a great place to take an art break after strolling in Gage Park.
For more info, see www.sealed-art.com or call 905-549-1458.
A version of this article was published in The Point community newsletter.
Post a Comment
You must be logged in to comment.