Hamilton: Open for Business, Pleasure & Fun...
Hamilton's potential is amazing, but will never be realized unless our city council determines to make the necessary and difficult choices to bring a balanced approach back to our urban neighbourhoods.
By Jason Leach
Published January 14, 2005
...as long as you have a car.
Am I the only one sick and tired of constant speeding cars and trucks in my neighbourhood? If you live in one of those 'quiet' culs-de-sac in the 'burbs, you're probably wondering what kind of neighbourhood I'm living in to have such angst against a simple automobile.
Mind you, go for a walk out of your street and you'll see exactly what I'm talking about. The car is one of man's greatest inventions and favourite toys, yet they're ruining my life, and, dare I suggest, my city!
If I was in most normal cities, my neighbourhood would be described as "a pleasant, urban neighbourhood with historic Victorian rows next to century-old cottages, walking distance to our famous Farmers' Market, historic Gore Park, dynamic Hess Village and trendy Locke Street."
Some 'Progress'
But, this ain't any ordinary city. Hamilton is "progressive." Where else on earth can you roar through the heart of town like a maniac on your way to somewhere else?
One look at a historic photo of King and James in the 1930s or York St. before the "grand renewal plan" will show that we've plummeted into some sort of sci-fi world in time where city streets are simply for fast-moving objects on wheels carrying around one person each and blank, concrete walls to frame the scene.
The reality is that progress has passed us by. Hamilton made some huge mistakes during its development in the mid-twentieth century, and now we innocent folks are paying the price.
Think of this – within a ten minute walk of my front door there are a total of twenty-two lanes of high-speed east-west traffic - and I'm not including side streets. This is simply Aberdeen St., Main St., King St. and York/Cannon St.
That's not all. When my wife and I walk to Locke St. or to the Fortinos on Dundurn St., there are several spots where we must walk in single file - the sidewalks aren't wide enough for two people to walk side by side!
Here's an idea for city hall – why not get rid of sidewalks altogether in the downtown core. That's another two lanes of traffic per street. Imagine how progressive Hamilton would be if King and Main were seven-lane highways instead of only five lanes. Then, surely our economy would boom to life and our city would become Canada's newest renaissance city.
A Real City
It's time for this city to become a real city again. It's time to re-organize our urban transportation network to make transit, walking and cycling just as convenient as, if not more convenient than, driving a car.
I'm no engineer, but I do have a brain. Look at Queen St. or King St. in Toronto: street parking on both sides, one lane of car traffic in each direction and streetcars in the middle of the road with the right of way. And guess what? Business is booming in those neighbourhoods.
Cyclists can get around, the streets are quieter since the cars are moving slowly, and patios are alive with human life – the real soul of a real city. And, having traveled a fair bit, I can assure you that these are features you'll find in all successful cities.
Carfree Cities (http://www.carfree.com/ lists many of the negative side-effects of car-dependent city design:
Kills street life
Damages the social fabric of communities
Isolates people
Fosters suburban sprawl
Endangers other street users
Blots the city's beauty
Disturbs people with its noise
Causes air pollution
Exacerbates global warming
Wastes energy and natural resources
Does any of this sound familiar? If not, you obviously haven't gone for a walk on Main Street recently.
I realize that Hamilton isn't Europe and cars are a necessary evil in North America, but it is possible to have a better balance and to bring new life back to our urban core. Downtown Hamilton was around long before cars. It wasn't built to be a highway. It was built to be a bustling city centre full of people and life.
So, what are the solutions to giving our urban core a bright future? Here are some suggestions, in no particular order.
Ban trucks from Main St. and York St.

We are spending hundreds of millons of dollars in Hamilton right now on new freeways. The new Hwy 6 just opened and Red Hill is moving ahead. As a city, we are doing more than our fair share to make life easier on the trucking industry. Now is the time for city hall to ban trucks from using Main and York ramps to and from the 403.

Build bus-only lanes from McMaster to Eastgate, with a future plan for light rail or streetcars running along this route.

Despite twenty-five years of urban decay in Hamilton, there is still a compact population living in this east-west corridor. Many of these residents live less than a ten minute walk from Main and King Streets.

Widen the sidewalks. People need to feel comfortable while walking downtown.

Plant trees. Lots of trees. Next time you're on Parkdale Avenue, take a look at how different the street looks than Hess Village or Ottawa Street. Trees add beauty and take away air pollution (something we need help with in our city).

Encourage patios and sidewalk displays.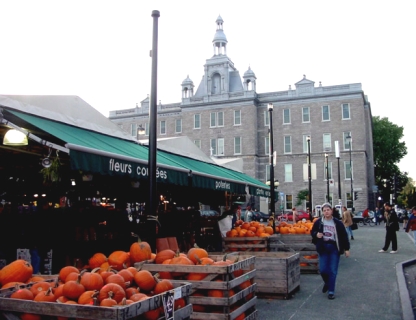 Montréal Market (Photo Credit: Maissonneuve)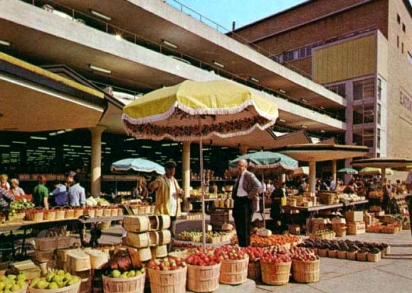 Hamilton Market in the 1960s (Photo Credit: Postcards of Hamilton)
Put bike lanes on every major street, and install lots of bike racks.

Switch many one-way streets to two-way. At the very least, narrow the one-way streets significantly so cars are slowed down and transit can have its own lanes where appropriate.

Turn a couple of our downtown streets into car-free streets. This may be the most import ant decision city council could make regarding for the downtown. Likely candidates:

South leg of King St. at Gore Park – this is our little piece of Europe and has potential as a year-round hub of activity. Patios, music and art festivals all summer and ice sculptures, hot chocolate stands and an amazing festival of lights in the winter.

York Blvd between Bay St. and James St. The area bordered by Cannon, York, Bay and James has a ton of potential as Hamilton's market district and Chinatown. The Farmers Market building needs to be renovated to allow for removable walls in nice weather and street stalls. There are already three Asian markets in this district, but none have outdoor space due to the noisy traffic and lack of sidewalk space.
Imagine a revamped Vine St. with wide sidewalks and Asian banners. Same for McNab St. and Park St. These could become narrow one-way streets with ultra-wide sidewalks and plenty of street parking. A vibrant, cultural market district is born in the heart of our historic core.
Hamilton's potential is amazing, but will never be realized unless our city council determines to make the necessary and difficult choices to bring a balanced approach back to our urban neighbourhoods. Let's put cars in their place and people back in theirs – the streets of our city.
Post a Comment
You must be logged in to comment.