Review: Human Transit by Jarrett Walker
The author's goal is to give us confidence to form and advocate clear opinions about the kind of transit we want and how that can help create the kind of city we desire.
By Gerry Balt
Published June 24, 2015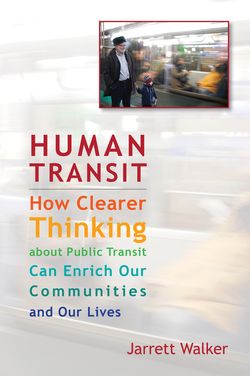 Jarrett Walker, Human Transit
RTH writes frequently about transit. A book that could further increase knowledge and understanding of transit issues is Human Transit, written by Jarrett Walker, a consultant specializing in transit service design since 1990. His goal is to give us confidence to form and advocate clear opinions about the kind of transit we want and how that can help create the kind of city we desire.
Published in 2012 by Island Press in Washington, DC, the book is accurately subtitled "How Clearer Thinking about Public Transit Can Enrich Our Communities and Our Lives".
Walker discusses a number of concepts designed to increase readers' understanding of the goals, challenges and opportunities pertaining to transit. He states that his job is not to make us share his values but to give us the tools to promote and clarify ours. To that end, he uses the analogy of "plumber's questions".
In his example, a plumber might start a repair job and then ask what you want him to do. He might say that he can fix the problem for $50 and everything would probably work fine for a couple of years. Alternatively, he can replace the whole whatsit assembly and connect it with a new doohickey and the whole thing would be just like new. That would cost $700 and we would have to wait for a week for the part to arrive from Malaysia.
A transit planner's job is like the plumber's; he is there to implement your values, not his. Thus it is important for us, the public, to communicate with the "experts" and let them know what we are looking for in a transit system.
Our values would answer questions such as what is the purpose of transit, what constitutes adequate and useful transit and what kind of city we want.
After discussing what transit is and does, Walker launches into a series of crucial questions about transit. These include:
What makes transit useful? (Seven demands and how transit serves them)

Peak or all day?

Maximize ridership or coverage?

Can fares be fair?
Along the way he covers "Five paths to confusion" (Common misunderstandings about transit), "Connections or Complexity" (the importance of frequent service and how it could be achieved by simplifying the network, but thus requiring more connections) and "Be on the Way" (Transit implication of location choice: You need to be on the way between major transit hubs or other high-demand transit destinations to get good transit service).
The author uses very little technical language, making the book an easy read for even casual transit enthusiasts. No doubt Walker's lucid writing style was influenced by the fact that he has a Ph. D. in literature.
When he does introduce terms specific to the transit industry, he provides careful explanations. For example, the author describes in detail how an inverted couplet works to enable passengers to connect with other transit vehicles without crossing a street.
In essence, buses would line up along both sides of a platform on the "wrong" side so that their doors would open towards each other.
There is a strong emphasis in the book on geometry, i. e. the configuration of the transit network is heavily dependent on our city's geography. Walker presents a visionary approach to shaping both geography and transit design.
His chapter entitled "Take the Long View" shows the importance of long-range planning. He advocates developing the basic outline of the transit network twenty years ahead of time, but, even more importantly, that there be a continuous two-way conversation with long-term land use planning.
Each function can then refine its plans based on the input from the other one, and also from other infrastructure plans. With each repetition, the time horizon can be extended so the vision is always about twenty years ahead. Short-term actions can then be taken based on long-range plans made years before.
How useful is this book? Let me put it this way:
While I was writing this review, the TTC announced an improved frequent service network. The announcement sounded almost like it was taken from Walker's book. TTC deputy CEO Chris Upfold said "It gives customers the surety they don't have to plan. It really is a turn-up-and-go service."
Walker puts it this way: "A very frequent service is where you (as a customer) don't worry about a timetable." He also states that this level of service is reached when there is a 10-minute frequency and that is precisely what the TTC is promising on 47 routes.
Did they read the book? We may never know. If you read the book, however, you are sure to learn a lot about transit.
Post a Comment
You must be logged in to comment.