Bike Trip to Limeridge Mall Highlights Hamilton's Transportation Dysfunction
The desire for safe, inclusive streets is pretty universal: no one wants to live, work or play on an ugly, dangerous, hostile street.
By Ryan McGreal
Published July 16, 2015
I needed to pick something up at Limeridge Mall yesterday, so I decided to take my bike to see how difficult it would be to get there and back.
I also decided not to do a lot of planning and preparation, for the simple reason that you should not have to do a lot of planning and preparation to run a simple errand.
A city that is good for cycling is a city in which you can just hop on a bike and make a trip without a raft of logistical analysis.
Heading Up
I was coming from the southwest lower city, so my first order of business was getting up the escarpment.
A quick look at the map suggested that the Wentworth Stairs might be a good way to go up. It's a fairly easy run for me through Dundurn and Corktown, and the stairs let me out at Upper Wentworth, after which it's a straight run to the mall.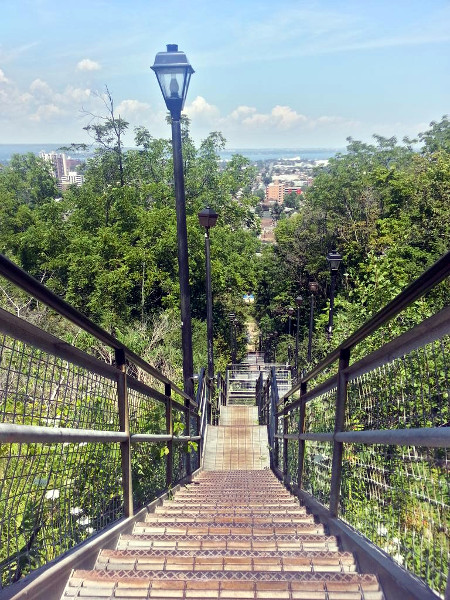 Wentworth Stairs
So, a couple of observations about the Wentworth Stairs:
There is no bike gutter, which means you have to carry your bike the whole way.
Holy crap there are a lot of stairs!
After I got home, I looked up the Wentworth Stairs and discovered they are the tallest escarpment crossing: 498 steps, compared to 289 on the Chedoke Stairs, 324 on the Dundurn Stairs and 229 on the Kenilworth Stairs. Whew!
In addition, the Wentworth Stairs are crossed roughly midway by the Sherman Access at an uncontrolled crossing with very fast automobile traffic.
But it's not immediately clear what other route I should have taken instead. The James Mountain, Jolley Cut, Clarement and Sherman accesses have no accommodation for cycling. (The Jolley Cut has only a narrow painted bike lane that starts partway up the hill.)
The James Stairs are shorter than the Wentworth Stairs but also have no bike gutter.
Alternately, I could have taken the Escarpment Trail all the way up to Mohawk Sports Park and then backtracked on Lime Ridge Road, but that would have added over seven kilometres to my one-way trip.
Southbound
Once I got to the top, I figured the going would get easier but I hadn't really counted on how fast and busy Upper Wentworth Street would be for a cyclist.
I decided to take one of the parallel residential side streets, a decision that would make perfect sense in a part of the city with a grid network of streets. Unfortunately, the upper city only resembles a grid if you don't look too closely.
I took East 21st as far as Fennell Avenue, after which it was interrupted by a strip plaza. I cut through the plaza and hoped to pick up the next street over at the back. Two things immediately became clear:
I was not the first person to try this shortcut; and
The people in charge of the mall seem weakly determined to prevent this.
Instead of the sensible thing, a pathway connecting East 22nd to the mall, there was a desire path that literally cut across a wooden fence.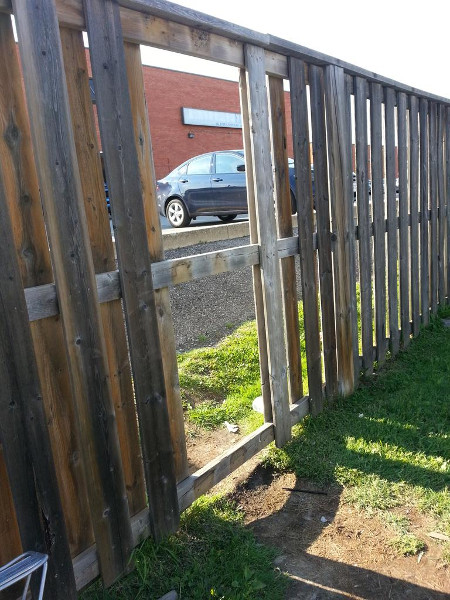 Fence-spanning desire path at East 22nd and MacLennan
This was to be a recurring theme in my southbound journey: arbitrary barriers put in place deliberately to make it effectively impossible to run a north-south errand without getting funneled to an arterial.
That approach is understandable if we're talking about barriers to so-called "rat-running" - driving a car through a residential neighbourhood to avoid traffic - but it's frustrating and counter-productive to erect barriers to walking and cycling as well!
So I found myself on East 22nd, continuing south toward Mohawk. However, I was diverted at Franklin Road where the grid breaks down, so I jogged another short block east to East 24th, the next street that continued south.
East 24th immediately started to veer west, which didn't bode well, and I could see that I was being diverted to Upper Wentworth again. I made my first left turn to get southbound again, and encountered my second big WTF.
The misnamed Sloan Avenue runs just one block from East 24th to Indian Crescent and terminates at a path leading into Mohawk Gardens Park. So far, so good, from an active transportation perspective.
But I was astonished to discover that there is no other way out of the park! The other three sides are all entirely fenced off, even though you can literally see the path continuing south on the other side of the fence. Seriously, WTF?
So I had to backtrack again, and I finally gave up and allowed myself to get funneled onto Upper Wentworth. There is absolutely no amenity for cycling on Upper Wentworth, despite it being four lanes wide and right next to the gargantuan Sackville Hill Memorial Park, which runs literally half a kilometre on the west side from just past Franklin to Mohawk.
Past Mohawk, Upper Wentworth expands to six lanes wide but still has no accommodation whatsoever for cycling. The only way to ride safely was to lane-block the rightmost lane, keep my speed up and hope for the best.
I crossed the three lanes of traffic to get to the left-turn lane into the mall, pulled in with the other cars and then looked for a place to park my bike. There might be a bike parking facility at Limeridge Mall but I couldn't find it. I ended up locking my bike to a no parking sign close to the entrance.
Go West
On the way back, I didn't want a repeat of my experience getting there, so I took another look at the map. I decided to cut westbound across the upper city and then find my way down the escarpment. It seemed the most promising nearby route was on South Bend, which the City identifies as a cycling route.
There is no nice way to get out of Limeridge Mall, so I rode back out onto Upper Wentworth going north and turned left onto Mohawk. In retrospect, I can see that there is a path off Mohawk just west of Upper Wentworth that connects with Holt Avenue and hence to South Bend, but I couldn't see it from the map on my mobile device. So I rode west on Mohawk to Seven Oaks Drive and made my way down to South Bend.
South Bend is almost a very good cycling route. It is a wide residential street with no through connection east of Sackville Memorial Park and a pretty low automobile traffic volume. It would make an excellent neighbourhood greenway with some commitment from the mountain Councillors and support from City staff.
A neighbourhood greenway is a quiet residential street that has been designed to give priority to people walking and cycling over people driving in automobiles. It is possible to drive, but fast driving and cut-through driving are discouraged by design.
They are also called "bike boulevards" and have been highly successful in other cities at increasing the number of families and children riding bikes for errands, visits and trips to and from school.
It wouldn't take much to turn South Bend into a neighbourhood greenway: signage and pavement markings, diverters to deter through traffic, and improvements to its arterial crossings would get it most of the way there. For now, there are still some glaring problems that undercut its bicycle friendliness.
The crossing at Upper Wellington has a button-activated signalized pedestrian crossing, but the traffic signals are not activated by the presence of a cyclist. That means you need to dismount, walk over to the crosswalk and push the button.
That may not seem like a big deal, but imagine if a person driving a car had to get out of their car, walk over to a pole and push a button to get a green light. It would not be considered acceptable.
The traffic signal also suffers from the common syndrome of pointless response delay. I pushed the button and waited around 40 seconds for the signal to change, during which time there was no meaningful difference in the volume of automobile traffic. I had to wait for a response, not knowing how long it would take to respond, and there was no compensatory benefit to anyone else.
Signal delay is a completely useless aggravation. It is proven to teach pedestrians (and cyclists) that transportation infrastructure doesn't serve them and encourages people to cross against the lights or just not to bother at all.
The next arterial crossing was at Upper James, a major, high-volume thoroughfare, and there is no controlled crossing at all. You just have to wait for a break and dart across five freaking lanes of traffic.
This is basically a deal-breaker for anyone who isn't already a dedicated cyclist. It doesn't matter how nice the rest of the route is - the route as a whole is only as accessible as the worst point along the line.
The West 5th crossing came with a fully signalized intersection, which suggests that automobile traffic volume on South Bend is high enough here to warrant it. That doesn't bode so well for the street's bike-friendliness.
The intersection also has a pedestrian button to call for a signal change, and I pressed it again. This time, it took around 30 seconds for the signals to change - a bit better but still arbitrary, and an entirely pointless delay with no corresponding benefit to anyone.
South Bend ends at Buchanan Park, but there is a multi-use path that runs east-west across the park and connects to Bendamere Avenue on the west side.
This is the kind of nice touch that makes a residential street a good candidate for a neighbourhood greenway: it is continuous for people walking or cycling but discontinuous for people driving in cars.
The next arterial crossing was Garth, which is four lanes wide and quite busy. This is also a fully signalized intersection, and the signal was green for Bendamere when I arrived. I rode through and continued west to Upper Paradise, where I turned north.
Get Scenic
Upper Paradise has painted bike lanes, which are a step up from nothing. I headed north, thinking I might like to take my bike down the Chedoke Stairs, which I know are equipped with bike gutters.
But at the last minute I noticed that Scenic Drive also has painted bike lanes, so I decided to turn left and follow Scenic out to where it meets the Radial Trail.
Scenic Drive is a wide, winding two-lane boulevard running along the top of the escarpment. It's got a wide grassy median on the north side, with plenty of room for a protected off-street cycle track. There are lots of people walking and jogging and not a lot of automobile traffic.
It ought to be a cycling paradise. Spoiler alert: it's not. The bike lane is extremely narrow, gets even narrower going around the bend north of West 35th, and then disappears completely.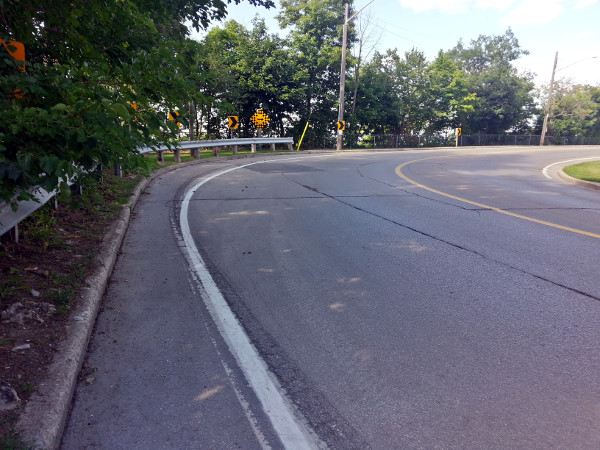 Scenic Drive bike lane gets very skinny at bend to West 35th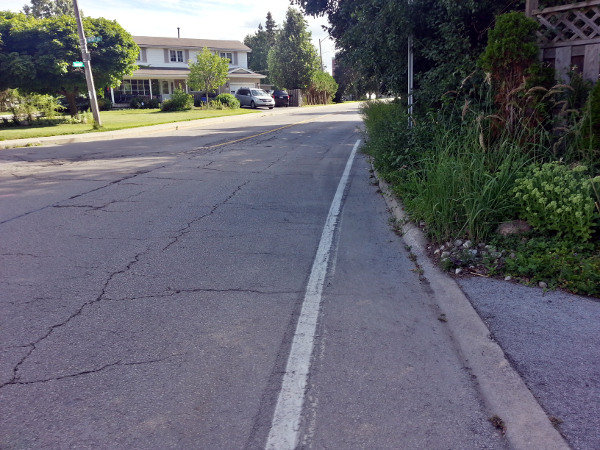 Scenic Drive bike lane disappears
In addition, there are no sidewalks on either side of Scenic for much of the street's length.
A common assumption has it that there isn't a lot of active transportation infrastructure on the mountain because people living there don't want to walk or cycle, but just like the fence-spanning desire line behind the plaza at Fennel and Upper Wentworth, the land itself tells a different story.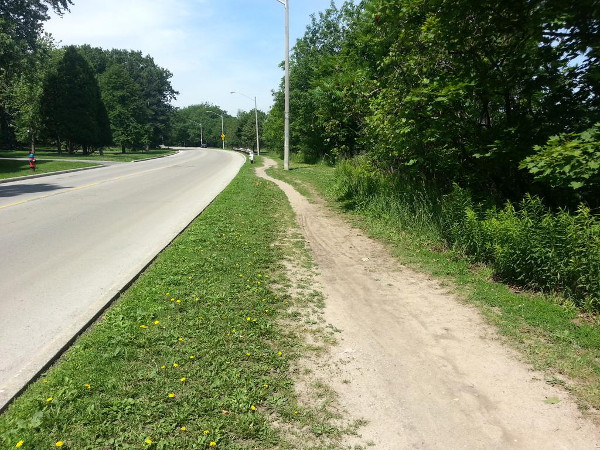 Desire path along Scenic Drive
What the epic desire path along Scenic tells us is that people are walking, jogging and cycling despite the City's lack of effort to accommodate it.
Imagine how many more people would enjoy this, um, scenic route if the design of the street actually encouraged it!
Scenic doesn't have a lot of traffic but when there are cars, they pass by awfully fast. The street is just crying out for a wide, multi-use off-street path on the north side.
Connective Tissue
The escarpment is one of Hamilton's most gorgeous and enriching features, but we are all to quick to think of it as a barrier - something that separates the upper and lower city and divides "us" from "them".
We would do much better as a community of communities if we start thinking of the escarpment as something that unites us - especially if we can do a better job of developing and promoting the various connective tissues that run through the escarpment and bring us into daily contact with each other.
The escarpment is a logistical challenge, to be sure, but functionally it is not much different from a river, and most cities built around rivers celebrate and take advantage of that fact.
The upper and lower cities are not so different. The desire for safe, inclusive streets is pretty universal: no one wants to live, work or play on an ugly, dangerous, hostile street.
We all want to get where we're going in a timely fashion, but we need to remind ourselves that our commuter shortcut may be someone else's home. Our trips through the city should enrich the city, not imperil it.
We also need to stop thinking about redesigning our streets to be more inclusive in terms of what is being taken away (usually, excess automobile lane capacity). We need to start thinking in terms of what is being added - a real choice in how to get around for a given trip.
It never ceases to amaze me that the people who seem to hate driving the most - since they are cosntantly complaining about it - also seem to demonstrate the most rabid knee-jerk opposition to any change that will make it easier to choose a transportation mode other than driving.
Consistently, in survey after survey, the happiest commuters are people walking, people cycling and people on trains, while people stuck behind windshields are among the most miserable (and also the most unhealthy).
The problem is a transportation system that pushes everyone to drive for every trip. The solution is to redesign and rebalance that system to free more people from unnecessary, unpleasant car trips.
What on earth are we waiting for?
Post a Comment
You must be logged in to comment.