It's More Important to Get Waterfront Development Right Than Fast
Real success for the waterfront's renaissance will be if we manage to create a complete community that endures beyond the glint of newness.
By Rob Fiedler
Published July 17, 2015
A recent RTH article titled "Hamilton Can Learn from Toronto's Waterfront" looked down the QEW to make a number of thoughtful design suggestions for our West Harbour waterfront - i.e. the shoreline, public green spaces, marine recreational areas, and piers from the McQuesten Bridge to Pier 8.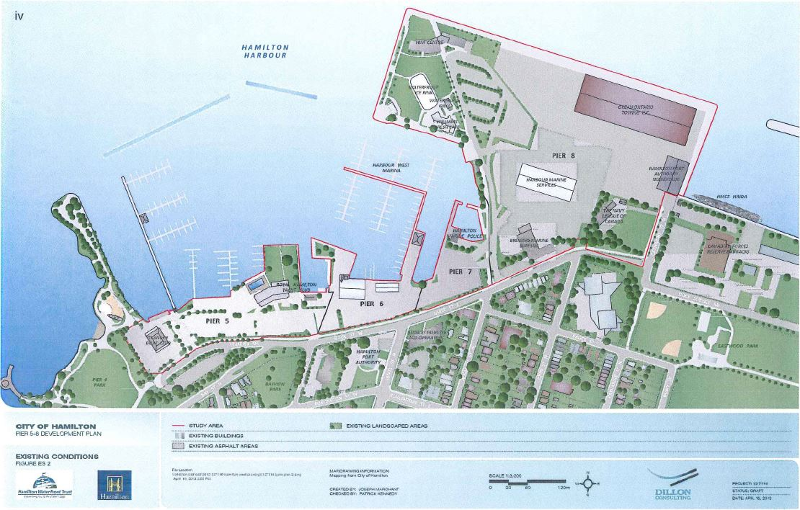 Piers 5-8 Servicing Studies map
I don't quibble with the examples chosen or suggestions made for our waterfront. But I do want to pull a little on the article's waterfront planning and development thread.
I sympathize with the author's lament that we've been "talking, planning, and then planning some more" in Hamilton, while other places build.
Then again, maybe we should be thankful that we've seen a lot of talk and planning with less building.
Urban renewal was a debacle in most places, including Hamilton. Excessive cost delayed and then saved us from building the perimeter highway from Burlington Street at Wellington Street along the outer edge of the North End neighbourhood, past Bayfront Park, and thru the Barton-Tiffany lands to connect our industrial waterfront to the east with the 403 Highway.
Other paths not taken: use of the Lax Brothers' water lots (now Bayfront Park) for a scrap metal plant in the 1960s, followed by Bayshore Village (marina and high-rise residential complex for 15,000 people) on the same lands in the 1970s, and then an industrial park in the 1980s.
I think about these unfulfilled plans whenever someone is impatient with "talking, planning, and then planning some more".
If we skip to the present, I don't think planning is our problem, per se. Key waterfront planning and development related documents such as the West Harbour Secondary Plan (Setting Sail) and the Hamilton West Harbour Waterfront Recreation Master Plan are already complete.
An Urban Design Study for Piers 7-8 is underway, and we can anticipate an Official Plan Amendment for the James North Mobility Hub Study soon. The City has also done servicing studies and pro-forma analysis for Piers 5-8.
The Plan So Far
So what is planned? Let's start with the overview provided in Hamilton West Harbour: A Prime Waterfront Investment Opportunity, a brochure prepared by Chris Phillips, Senior Advisor to the General Manager of Planning and Economic Development, and point person on the waterfront redevelopment file at City Hall.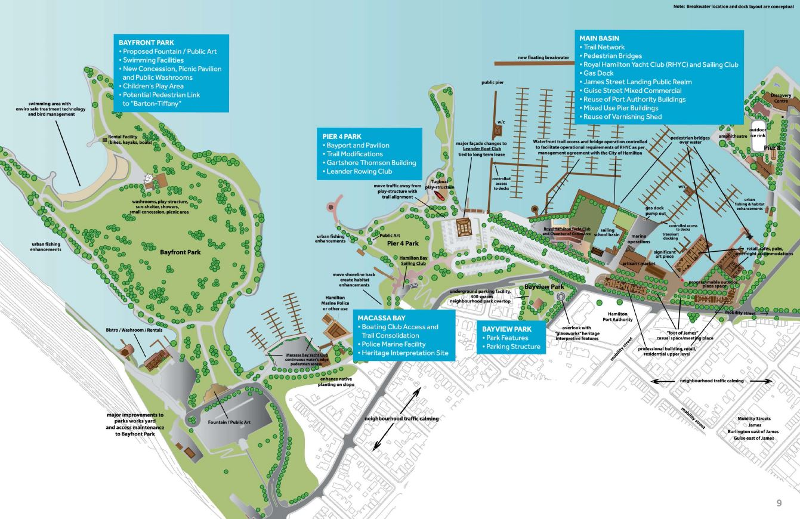 Harbour West Concept from Investment Brochure
The key numbers are 1200 to 1600 residential units, mostly on Pier 8, and 140,000 ft2 (13,000 m2) of leasable institutional and commercial space across Piers 5-8. Elsewhere, in staff report PED14002, maximum buildout is pegged at 1800 residential units and 215,000 ft2 (20,000 m2) of commercial space.
These numbers are contested, however, as they represent a discernible increase over those described to residents and other stakeholders during the Setting Sail process and later meetings related to the North End Traffic Management Plan.
The Brochure also includes a reproduction the Hamilton Waterfront Trust's "West Harbour Concept Plan" map, which forms the basis of the Hamilton West Harbour Waterfront Recreation Master Plan as "received" by Council in 2010. The "West Harbour Concept Plan" depicts park, marine recreational, and public realm improvements from Bayfront to Pier 7, a "commercial village" on Piers 6-7, and a 400-spot parking garage under Bayview Park.
These are the broad strokes. Detailed description of each waterfront precinct and design guidelines for improvements from Bayfront Park to Pier 7 can be found in the Hamilton Waterfront Trust's Hamilton West Harbour Waterfront Recreation Master Plan, which is accessible via February 2014 staff report PED14012 (see appendix "G"), while land use designation, permitted unit densities, and building height limits for the entire West Harbour planning area, including Piers 5-8, are specified in Setting Sail.
Outstanding Issues
If the above seems nice, tidy and settled, it isn't.
First, the Urban Design Study for Piers 7-8, for which one round of public consultation has been completed thus far, is set, as per Setting Sail, "to determine the appropriate height, massing and character of new buildings and the appropriate physical relationship between buildings and public open spaces."
Second, though the City has indicated that it plans to respect the height limits laid out in Setting Sail, they can still be modified. Currently, the height limit on Piers 7-8 tops out at 8 storeys. Should Brook-McIlroy, the consultants hired by the City to complete the Design Study, recommend increasing this height limit, Setting Sail stipulates that an Official Plan Amendment (OPA) is required.
Third, the City wants the waterfront to be a "destination" both for recreation and retail-commercial activity, and home to a significant number of people. That requires getting people to and from the waterfront, and if they drive, providing parking. Engineering work suggests a limited ability to build parking underground across Piers 5-8. To my knowledge the City is not contemplating reduced parking requirements for the waterfront. Given what is planned, parking will either have to go above ground or be located in the adjacent neighbourhood. The proposed 400-spot parking garage under Bayview Park is an example of the latter option.
Fourth, public plans only take us so far. The journey from plan to reality is expected to involve selling off city-owned lands to developers. Market conditions will determine if what's planned actually gets built by the private-sector. Council has the final say on approving plans, setting priorities, and allocating funds to service land for development and make public realm improvements. But in the end the City's role will largely be steering, rather than rowing the development boat.
Fifth, the Ontario Municipal Board (OMB) is an x-factor in planning and development in Ontario and its impact on planning politics is hard to quantify. The possibility that a municipal planning decision (or occasionally non-decision) might be appealed to the OMB is woven into the planning process, and shapes how the actors involved interact with each other, for better or worse.
(In April 2014, the North End Neighbours filed an OMB appeal of Official Plan Amendment 233 and Zoning By-law Amendment 14-042. That appeal is still active and relates to Hamilton West Harbour Waterfront Recreation Masterplan. The author joined the Board of the North End Neighbours in October 2014).
A final point might be there are plenty of opportunities for things to go awry on the road from plan to reality. Growth may slow and/or the current real estate cycle might end. Developers might seek changes to the plans to increase their return on investment and reduce their risk. Council may balk at the costs of improvements or seek to boost the City's financial return from the lands it owns. Some or all of this may happen during build-out and lead to significant alterations.
As a resident of the North End, and President of the North End Neighbours, I'm seized by the following: will what's being planned enhance the waterfront and North End neighbourhood?
What Would a Good Outcome Look Like?
What worries me is not how many new residential units will be added, whether the height limit will remain eight storeys, or whether a "commercial village" is built on Piers 6-7, but that a good outcome is achieved.
What would a good outcome look like? I suspect the answer can't be singular or static.
We could start by seeking balance. Respect what already works and makes the West Harbour and waterfront attractive as a place to live and visit. Ensure that changes are phased, so that they can be managed and sensitively adapted if circumstances change.
Make sure that the different components of the waterfront vision are well integrated and complementary. Get the transitions between major areas-public green space, marine recreation, and urban waterfront-right.
Most of all, make the waterfront accessible and inclusive, and demand excellence in design and build quality. The Toronto Star and Globe and Mail may flatter us initially with stories of our renaissance. That makes for good copy. Real success, however, will be if we manage to create a complete community that endures beyond the glint of newness.
Post a Comment
You must be logged in to comment.