Review of Toronto: Transformations In A City And Its Region (Part 1)
Edward Relph is a genial, open-hearted observer who takes pride in Toronto's transformation from the inward-looking second city of Canada to the polyglot world city that provides something for everybody.
By Shawn Selway
Published September 28, 2015
Edward Relph, Toronto: Transformations In A City And Its Region. University Of Pennsylvania Press, 2014.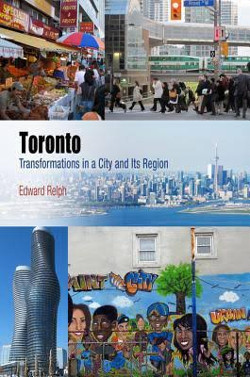 As Hamilton becomes fully integrated with the Toronto residential property market, the implications for our continued existence as a so-called "real city" - as distinct from a former city now subsumed into a Greater Toronto - are unclear to say the least.
Anecdotally, this process has been underway for a decade, as rent refugees and the academically-styled "service dependent" have been coming down the highway in search of a life they might actually be able to afford, and with them an unknown number of quasi-retired older people who cashed out of Toronto and brought their winnings here.
More recently, younger couples faced with the choice of going into a Toronto condo or a detached house in Hamilton have been preferring the latter. Provincial plans for the region - Metrolinx, the Greenbelt, and Places to Grow - seem to be taking effect and have essentially overwhelmed local planning in the central city - not that Council has ever accepted its own Urban Official Plan, or the province's ideas for the region.
Among the newcomers is the swelling troop of consultants who have followed the poor and the young, and some large property management firms, down the road to our Klondike on the Bay.
Toronto-based outfits like Brook McIlroy, ERA, the Planning Alliance and Evergreen, along with Kitchener's GSP, are now present alongside the ubiquitous Deloitte, IBI and Stantech, huge consulting firms with offices everywhere, and the low-key but heavy hitting Diamond Schmitt, a globalized Toronto operation responsible for the adaptive reuse of the former Dominion Building (now the Provincial Courthouse) and the former Camco plant (now the Innovation Park) and more recently, for a chunk of the Barton Tiffany Urban Design Guidelines.
These firms, and the new landlords, certainly have a regional, not a local outlook. They have been formed by experience in Toronto and its suburbs, and orient their thinking to the provincially prescribed policies for the planning entity titled the Greater Golden Horseshoe, of which the GTHA is the inner, lake-fronting zone.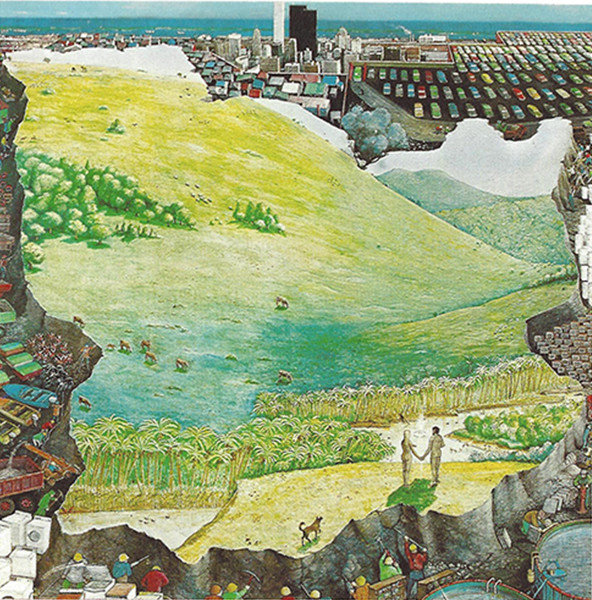 Toronto devours Eden. 'We Misapply the Primeval Commandment.' William Kurelek 1972. Mixed media 48" X 48". Kurelek, a depressive and a Catholic, explains: "The primeval commandment is the one given by God to Adam and Eve: 'Multiply, free the earth and make it yours.'" Source: William Kurelek, O Toronto, New Press, Toronto, 1973.
Accordingly, it may be helpful for Hamiltonians who would like a say in what happens to us to understand the developmental experience which informs Toronto-based thinking. Read from this perspective, Edward Relph's book, published by the University of Pennsylvania in its "Metropolitan Portraits" series, seems to me quite useful.
First of all, this is a very good-natured book. Relph is a genial, open-hearted observer who takes pride in Toronto's transformation from the inward-looking second city of Canada, a "dreary Victorian manufacturing city at the edge of what remained of the British Empire" to the polyglot world city where yet "management and restraint" prevail in a place which "combines a little of most urban qualities" and provides something for everybody.
Early on he convokes the shades of Jane Jacobs and Marshal McLuhan, from whose views he occasionally demurs, but who come along as Relph tours us from the early days of the central city to the advancing outer edge circa 2010, the whole trip loosely organized around concepts borrowed from landscape ecology. These are matrix, patches, corridors and edge, to which he adds consideration of centres - absent from landscape ecology but important for the structure of Toronto's outer suburbs.
This approach allows him to avoid the prejudicial notion of "sprawl", which he feels is simplistic and unfruitful, and later to consider the changing landscape in terms of the "polycentric", and eventually, the "post polycentric" city. For a reader located in Hamilton the question of centrality, or if you prefer, the persistent threat of marginalization and deprecation, is a larger issue than it is for Relph, writing from Toronto, and I will return to it at the end.

Image: Edward Relph, from Toronto: Transformations in a City and its Region, University of Pennsylvania Press, 2014.
Rather than resume a book which is quite easily read in its entirety, I want to first highlight the two passages that struck me most forcefully, and then discuss the notion of centrality that Relph uses to distinguish between types of urban form. I'll conclude with suggestions on how we could perhaps avoid the ignominy of collaborating in the reduction of our 200 year old city to another dormitory suburb with a fringe of light manufacturing.
Three Cities Mapping
The neoliberal reaction begun in the seventies continues to accelerate income inequality everywhere on earth and the "two nations" debate that arose in the anglosphere when the polarizing effects of the industrial revolution first became evident has its current local expression in the "Three Cities" problem.
Relph deals with this in a section titled "Multiculturalism and Inequality", in which he reproduces, with some alterations, a map taken from a 2010 study on income polarization in Toronto neighbourhoods.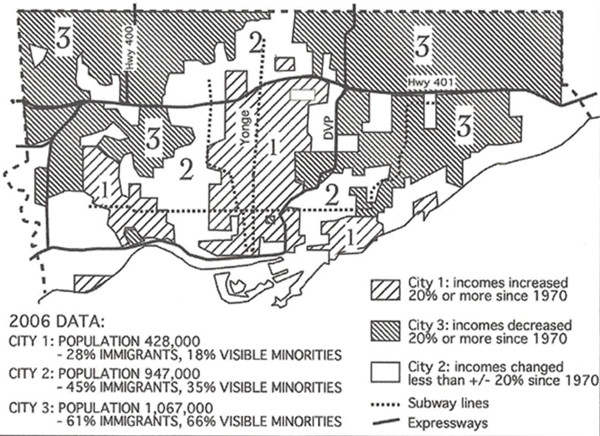 Image: Edward Relph, redrawn from Hulchanski, The Three Cities Within Toronto
The map partitions the city into three regions by income trends over 40 years. City 2 is comparatively stable. Incomes are rising in City 1 while they are falling in City 3. What is most significant about the findings represented in the map, however, is, as Relph indicates:
A concomitant result of the ethnic and racial diversity that has transformed Toronto into a village of the globe is increased disparity, with poverty especially pronounced for new immigrants and visible minorities.
Obviously it is disquieting to see race and income differences finding geographical expression in the urban environment from which it has been comparatively absent - or perhaps obscured by the tradition of immigrant arrival areas?
(Of course, Canadian racism has a very clear geographic expression in the rural regions of the country, where an archipelago of impoverished aboriginal communities stretches from sea to shining sea.)
However, Relph adds important qualifications to the alarming summary view. In the outer suburbs - Markham, Richmond Hill, Brampton and Mississauga - at least half the population is comprised of visible minorities but income levels are above average for the region.
Conversely, poverty is concentrated in the residential towers of the so-called "inner suburbs", that is, areas built up during the sixties and early seventies with high-rises comparable to those that appeared here during the same period in the neighbourhoods to the east and west of James in the central city, and alongside the east-west arteries above the escapement.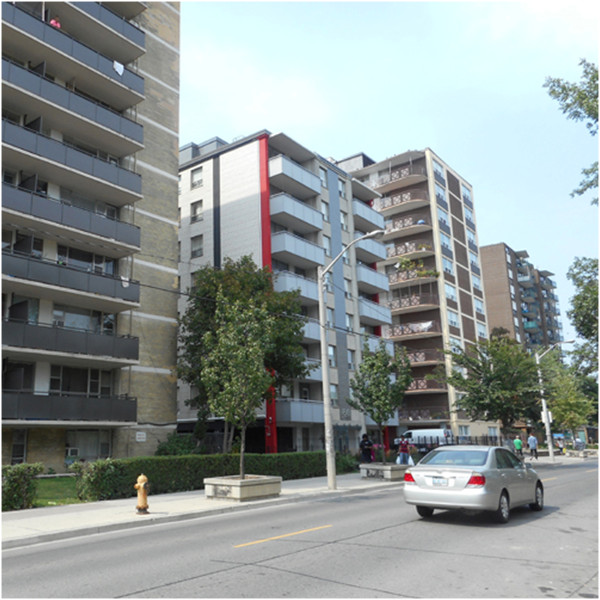 This familiar Hamilton-looking streetscape is along Jamison Avenue in Toronto.
A similar mapping exercise has been done recently for Hamilton. Below is the result, which is expressed in terms explicitly meant to present the data in the Toronto "three cities" format.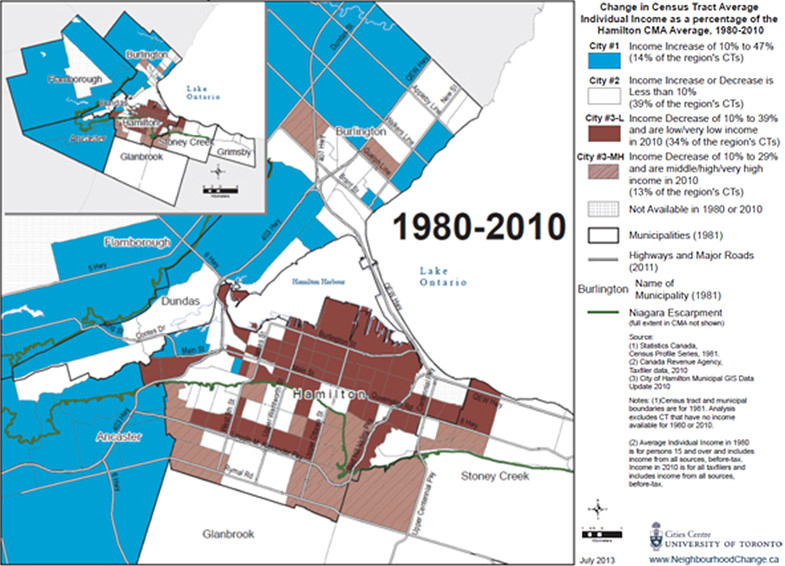 Hamilton's 'three cities'. Source: Harris, Dunn, Wakefield, A City on the Cusp: Neighbourhood Change in Hamilton since 1970, Neighbourhood Change Research Partnership, 2015
Averaging can very misleading, of course. Moreover, in the current period, the volatility of property values and rents is more consequential than income trends, which do not move as quickly unless a major employer shuts down.
For example, in the neighbourhoods of the central city, both Durand and Kirkendall under the mountain, and North End, on the water, have residents of all three income groups and their presence is readily detected by anyone who visits these places. This complicates the politics. At present, in the remaining Ward 2 neighbourhoods - Beasley, Central, Strathcona and Stinson - the populations are shifting and poorly managed change is underway.
The eventual outcome, i.e. the class composition of the ward, will be determined by the ability of residents of City 3 to organize themselves to resist displacement, and by Council's choice either to plan a city for everyone, or instead to lend their authority to development companies, investment trusts and property management firms who are in the business of extracting higher returns from older buildings.
The No Growth Centre
Relph's brief discussion of Toronto downtown as "an unintended model of urban sustainability" was for me the most enlightening portion of the book. Noting that the central city has added about 85,000 people since 1970, he points out also that 80 percent of them have moved in from less than three miles away. In the City of Toronto proper, the population rose by 5.4 percent, but the number of dwellings by 11 percent. In short, density decreased somewhat. Outside Toronto, the same figures are 28 percent and 28 percent. Relph comments:
the indications are that while redevelopment, intensification and reurbanization are contributing to the ongoing renewal of the streetscapes of the City of Toronto, and are making possible a modest increase in population, they are not proving effective in keeping pace with regional growth...

Since the city was enclosed by regional municipalities in 1975 its streets have become increasingly vibrant and many streetscapes have been renewed, the populations in the central area and suburban downtown have grown...and the skyline has never stopped moving upward...it would make sense for the City of Toronto to accept that it is now post-suburban and to aim to become a model of urban sustainability essentially without growth...
So much for "intensification" at the centre as progress toward sustainability. An awful lot of capital has gone into an awful lot of heating, cooling and elevating to reduce the density of downtown Toronto. It would seem that verticality, often uncritically cheered here, is not The Answer. Unfortunately, this section is very short and the obvious question goes unaddressed: just how well built are Toronto's newer residential towers? Are they an acquired asset or an enormous pending liability?
However, on the book's companion website site, Relph addresses these and many other questions in a detailed post about the condo boom in an article dated February 2014. This is a comprehensive review and will be of great interest to anyone who wants to know just what they are looking at when they enter Oz on the Gardiner. Beyond that, what does "without growth" mean?
No growth considered in terms of space has interesting implications for spending and investment, even evoking the spectre of the ultimate horror, degrowth.
Places to live are places to sleep, to engage in intimacies requiring privacy, and to keep your things. The minimalist condo in downtown Toronto is at the opposite extreme from the suburban dream of the spacious home affording lots of privacy for all family members and a three car garage which contains, not the family vehicles, but the boat, the snowmobiles, the bikes and the yard tending equipment, little or none of which is fitting into that tiny condo or its basement storage locker.
Since there remains room between the GTHA's existing built-up area and the inner border of the greenbelt, extravagant growth will continue for a while. But eventually, as living space shrinks and becomes more expensive, individuals of all income levels will have to choose between space and things.
This promises trouble ahead for, e.g., Canadian Tire's retail operations and its Asian suppliers - though perhaps not for its Real Estate Investment Trust - unless there is a massive conversion from consumer durables to consumer disposables, in which case there is even bigger trouble ahead for all of us.
One final point, of special relevance for us. Here is a paragraph from Relph's piece on Toronto condo proliferation.
Ward Profiles for the City include summary information on density and on number of apartments in buildings of five stories or more, apartments in buildings of less than five stories, and on number of houses.

Ward 20, which includes the west side of downtown where the population rose from 49,000 in 2001 to 76,600 in 2011, is the ground-zero of condominium skyscraper constructions and proposals. It has 51 percent of the population in one-person households, 64 percent living in apartments of 5 stories or more. The population density is 10,270 per square kilometer (the highest in the city).

Ward 14 is Parkdale, an area mostly of late-19th century streets, has only 40 percent of its population in apartments of five or more stories (and almost none of the really tall ones), 36 percent in apartments of less than five stories, and 25 percent in houses or row houses. It has a density of 9,490 per square kilometer (the second highest in the city).
Coverage is more important than height, and shorter buildings are probably more flexible and easily maintained. The missing parameters in many discussions of density are unit size and household size; mostly we just hear about unit density i.e. raw numbers of units, stacked in x number of floors.
This is not the place to go into the many details, but it is important to bear in mind that for example the same three-bedroom unit can house a family of four or a family of six - or nine - and the cumulative difference over many units can be very significant for the character of a neighbourhood.
Who are those Toronto downtown people? From the same piece we learn that they are young - half between 20 and 40 - and highly educated. Half are living in single person households and twenty percent of those households are bringing in more than $150,000 a year. And twenty five percent of them would like to move to roomier accommodation some day.
The lesson of Toronto's experience for Hamilton would seem to be this: since we have a great deal of vacant land in the central city, and since in the long-term coverage is better than verticality for sustainable density, and since a rare three-bedroom condo in Toronto goes for an average price of $800,000, we might consider building a mix of lower rise multi-residential structures and "ground-related product" - i.e. houses and attached townhouses downtown.
New houses - not multi-residential condominiums - would draw high income residents from central Toronto, while at the same time reducing the pressure in the housing market, which is causing increasing hardship for renters here.
Of course, this is only one side of the affordability problem. The bulk of rentals are in aging highrises which are becoming the target of re-developers seeking to break through provincial rent guidelines, and so far meeting little resistance. I will discuss this further in a second part, and end with comments on the question of centrality, as seen in the GTA by Relph, and as felt here in the Hammer by anxious parochialists like myself.
You can read Part 2 of this review.
Post a Comment
You must be logged in to comment.