Review: Lake Road Restaurant
The food, service and atmosphere are uniformly excellent: playful, delicious and highly attentive.
By Ryan McGreal
Published November 02, 2015
On Friday, we finally got to try the new Lake Road Restaurant at 229 James Street North, and I'm happy to report that the food, service and atmosphere were all uniformly excellent. Our server was friendly and highly attentive without being overbearing, and all the staff exhibited the easygoing mood of the place.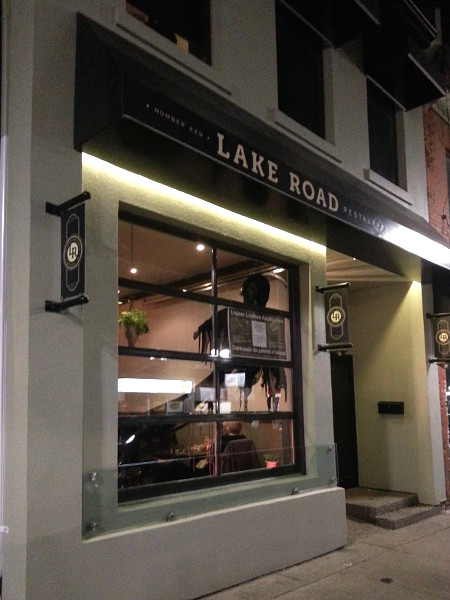 Lake Road Restaurant
I knew I was in for a fun evening as soon as I spotted the subtle Dumb and Dumber reference on the appetizer menu.
The cocktail menu shares in the sense of playfulness. I had a Dark & Stormy, a delicious mix of dark rum, lime and house-made ginger beer garnished with a slice of candied ginger. My partner had the excellent Clover Club, with gin, lemon and raspberry syrup topped with egg white.
We were with a group and so we got to try out several appetizers. I had the salt cod fritters, which were crunchy and flavourful and served with fried jalapenos and a smooth aioli.
My partner enjoyed the Greek salad, served on an intensely flavoured smear of olive paste and garnished with oregano and "parsley dust".
Other members of our party had the shrimp and chorizo and roasted olives and loved them.
For my entree I had the roasted branzino, a perfectly cooked whole European sea bass deboned and stuffed with a rich puttanesca and served on spicy rapini and a grilled piece of house-baked focaccia.
My partner had the risotto du jour, prepared just so, flavoured with squash and topped with roasted cauliflower.
Lake Road has a wood oven and one member of our party enjoyed a perfectly cooked margherita pizza, while another reported that the flank steak was delicious and plentiful.
We didn't have much room left for dessert, but managed to tackle an order of Lake Road baklava, a delectable modern take on the classic Middle Eastern pastry with layers of sponge cake, honey-lemon ice cream cake (semifreddo) and pistachio brittle.
We also had the featured dessert, a seasonal pavlova deconstructed on the plate with pumpkin and syrup drizzled around firm dollops of meringue.
As we were finishing up, the talented Tomi Swick and Joel Guenther set up to play a fantastic classic rock set, with Guenther smouldering a bluesy lead guitar and Swick keeping rhythm on acoustic. Swick and Guenther are both amazing singers and they took turns on lead vocals with the other supplying sweet harmony.
It was the perfect end to a lovely evening.
Post a Comment
You must be logged in to comment.