Easy, Minor Cycling Improvements Possible on Concession
Cycling is big business in cities all over the world, but unfortunately Hamilton City Hall hasn't yet received the memo.
By Jason Leach
Published November 16, 2015
Merchants, transit users and area residents were thrilled last week to see Concession Street re-opened across the northern edge of the Mountain.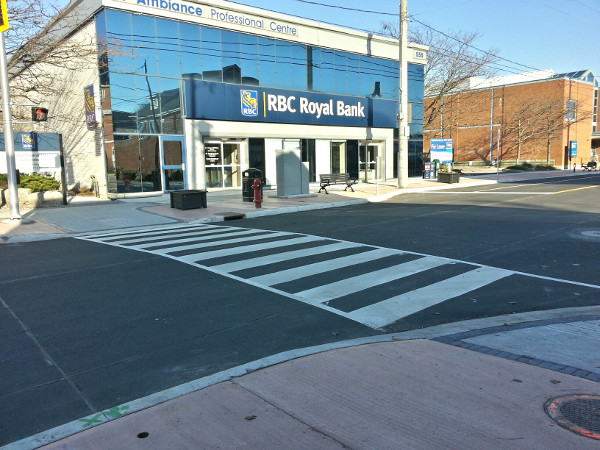 New zebra crosswalk on Concession (Image Credit: Ryan McGreal)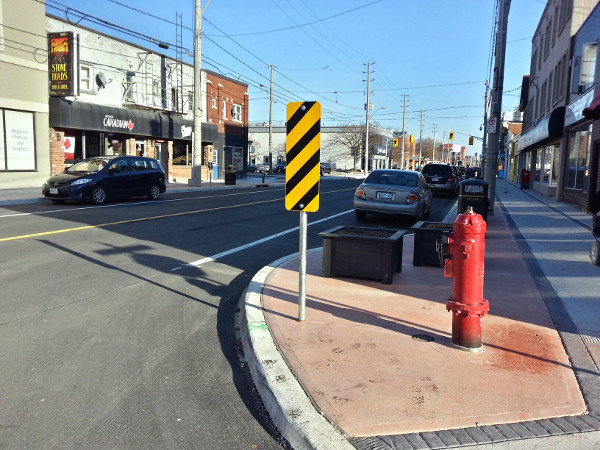 Bumpout and tiger tail on Concession (Image Credit: Ryan McGreal)
This is the only multi-block retail district on the Mountain built in a walkable, urban form. With new benches, lighting and a few zebra crosswalks, the area is certainly more walkable than it was prior to the full reconstruction project.
No Cycling Infrastructure
Cycling is big business in cities all over the world, but unfortunately Hamilton City Hall hasn't yet received the memo.
Hamilton's Escarpment running through the city affords us a great opportunity for a dramatic local cycling route connecting with both the Escarpment Rail Trail to the east Mountain and Chedoke Radial Trail to the west.
I attempted a 30 km 'Escarpment Loop' ride last week and quickly determined that I won't be making that ride again, at least not until the massive swath from Upper Ottawa to Scenic Drive is safe to cycle. (More on that in a future photo tour with some of the best, and very worst of Hamilton's cycling network.)
There are some fabulous businesses on Concession, and if the area wasn't so hostile to cyclists it would be a great mid-ride stop for a coffee or bite to eat. Like many cyclists, I routinely map out rides that involve stops at places such as Detour Coffee, Democracy, Dundurn Market, Cannon Coffee, Mulberry, and others that are connected to the cycling network and enjoyable places to stop for a breather and people-watch.
Concession Street has the potential to be virtually the only spot on the Mountain where one can people-watch on a pedestrian friendly street, and enjoy a quick snack or coffee (hint, hint).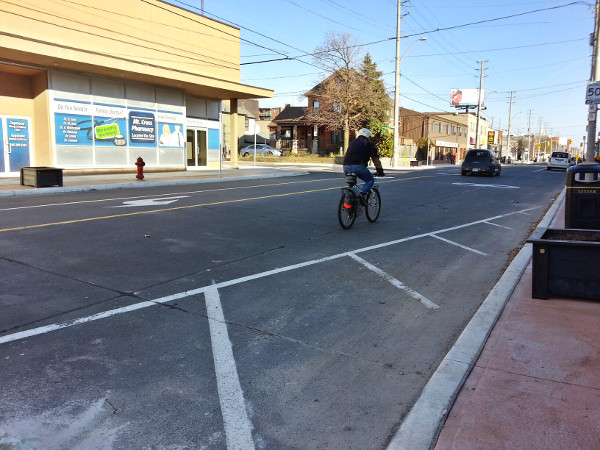 Cyclist riding in mixed traffic on Concession (Image Credit: Ryan McGreal)
Sadly, the new Concession Street is no better than the old one as far as cyclists are concerned. On opening day, Friday, November 13, I was already hearing stories about cyclists almost getting hit by cars on Concession, and other cyclists riding on sidewalks.
Despite the new lanes being painted on the roadway, there is an opportunity at either end of the commercial district to implement simple fixes that could encourage cyclists to come to Concession using nothing more than paint.
Upper Wentworth to Sam Lawrence Park
This stretch has an abundance of wasted road space in the form of hashed-off asphalt, a full lane that is barely used as a right turn lane to East 15th, and turning lanes into Tim Hortons and Shoppers Drug Mart. Public money spent on a public roadway should be focused on public transportation, not turning lanes into private parking lots.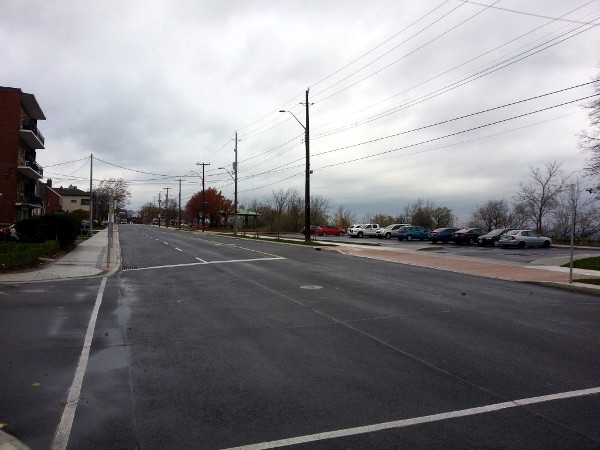 Concession Street near Sam Lawrence Park (Image Credit: Ryan McGreal)
There is a simple solution for this stretch. Remove the second eastbound lane on Concession from Sam Lawrence to E15th and redistribute those ten feet of roadway with five-foot-wide bike lanes on either side of the street.
At E15th, the sidewalk pinches as a bumpout and large, visible bike sharrows should be used to continue the cycling 'infrastructure' east to Belwood Ave where through cyclists can head north to the Mountain Brow.
A block or so past E15th, the street widens again with a turning lane into Tim Hortons, and painted off 'dead space':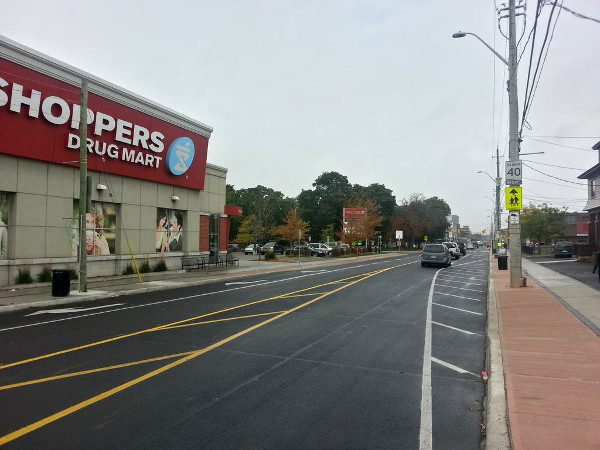 Hashed-off pavement on Concession at Upper Wentworth (Image Credit: Ryan McGreal)
This extra road space would again allow for bike lanes on either side over to Upper Wentworth, where bike lanes are planned at some point southbound from Concession.
East of Upper Wentworth
From this point, again, large sharrows look to be the only option east of Concession to allow cyclists into the heart of the commercial district.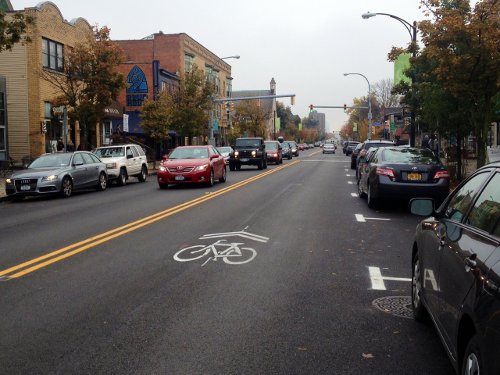 Sharrows on Elmwood Avenue, Buffalo (RTH file photo)
Along the Mountain Brow east of Concession, there is again ample roadspace for bike lanes from the top of the Kenilworth traffic circle westbound right to Upper Sherman and the eastern entrance to the commercial district.
Again, large, bold sharrows would be needed in the centre of the street directing autos and cyclists to share the retail district of Concession.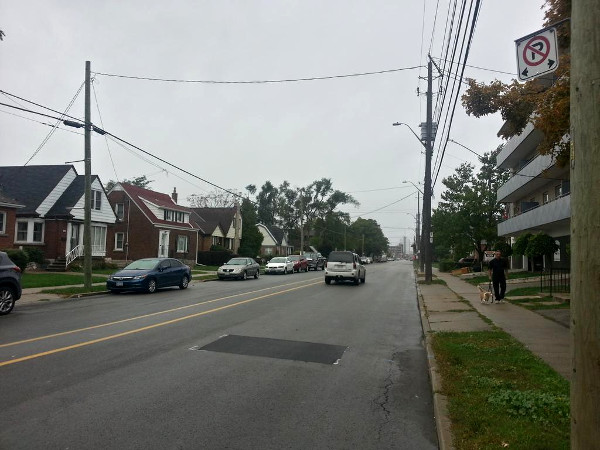 Concession very wide at E37th (RTH file photo)
These minor changes would create much safer cycling conditions on the wider, faster edges of the retail district and could allow businesses to add bike parking and cyclists promotions to lure in riders from around the city.
With the fabulous views of the city one block north of Concession, and the ever-growing stable of businesses on the street, it could become a hub for cyclists on the edge of Hamilton Mountain.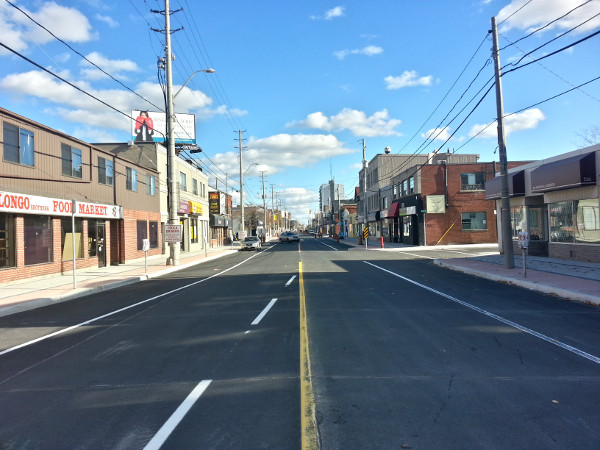 Concession Street reconstructed (Image Credit: Ryan McGreal)
Post a Comment
You must be logged in to comment.