Ferguson Shove Debacle Demands Answers
The whole Ferguson shove video has become an instruction manual on how an organization shouldn't handle this type of incident.
By Dan Jelly
Published December 01, 2015
City Hall's handling of the incident in which Ancaster Councillor Lloyd Ferguson shoved journalist Joey Coleman has been a rolling calamity of mismanagement for nearly two years.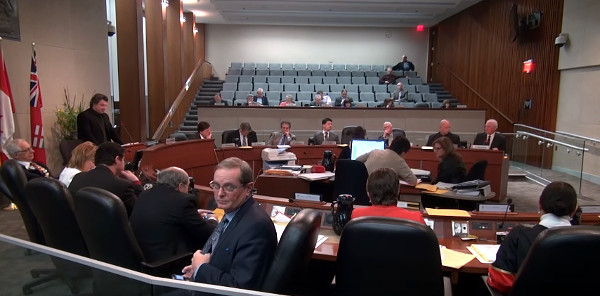 Ancaster Councillor Lloyd Ferguson turning to glare at Joey Coleman during February 24, 2014 Council meeting (Screen Capture from YouTube Video)
At every turn, they have left obvious and logical questions unanswered, but they don't want the public to keep asking. When the public does ask, more nonsense comes out, begging even more questions. Even the daily paper told us to move on mid-story. Why?
The video, the Integrity Commissioner, the Privacy Commissioner: endless delays raised more suspicion.
When the report by former Integrity Commissioner Earl Basse finally came out, Council interpreted their role differently than other cities have and were silent. Why?
Recent cases elsewhere have told us that Council could comment on or override Integrity Commissioner. Not here. Why not?
The former Ontario Ombudsman, Andre Marin, skewered the report that saw witnesses and even the victim not interviewed. Still more stonewalling.
Video Made Things Worse
When the video finally came out, that should have answered all concerns, but even this was fraught with confusion.
Why was the video cut short? Why was the quality so poor? Why wasn't this questioned before the rest was erased?
Was there a better version of the video? Which version did the police see? The Integrity Commissioner? The Privacy Commissioner?
What were these officials told about the video, its editing, its origins and its quality? Were they told the truth?
Based on discrepancies in witness stories and supicious deficiency in video, Should the police not be involved again?
Accountability and Transparency
Why aren't they answering these seemingly simple, straightforward questions? Accountability and transparency should be priority #1.
If they had just been up front with the public from day 1, the story would be over without a cloud of suspicion.
The whole Ferguson shove video has become an instruction manual on how an organization shouldn't handle this type of incident.
Solutions
Solutions: Make zero tolerance of violence universal. Councillors, staff, media, general public - one clear policy.
Solutions: Independent review of the entire incident from PR, security, legal, policy and governance perspectives. If one thing has been proven, Hamilton City Hall is currently incapable of honest, instrospective, self-policing. Period.
Solutions: Time for some olive branches. Apologies to the public, apologies to Joey Coleman, for the Basse report if not more.
The public needs to keep asking questions until satisfactory, honest answers are given. This is simple stuff. Mayor Fred Eisenberger, we need to do better.
Post a Comment
You must be logged in to comment.