Book Review: Happy City by Charles Montgomery
Happy cities are cities where urban transportation infrastructure puts people first, mitigates the effects of social inequality and respects the dignity of every human being.
By Kevin Love
Published February 09, 2016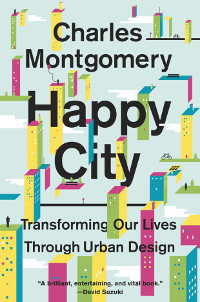 What causes human beings to be happy? And what features of city design promote happiness for the citizens of the city?
These questions are no longer the exclusive domain of philosophers and religious leaders. Today they can be answered by pollsters and social scientists. Pollsters can survey people about their moods and ask them how happy they are feeling. These results can then be correlated with what is going on in people's lives and their surrounding environment.
The results are not very surprising. It turns out that, in the words of the old camp song, "The more we get together, the happier we'll be." Human beings are inherently social creatures. Once our purely physical needs such as food, clothing and shelter have been provided for, it is social connections to other human beings that lead to happiness.
In recent years, this phenomenon has been extensively studied. One of the key works in this area is Robert Putnam's essay and subsequent book, Bowling Alone.
Mr. Putnam considers the concept of "social capital" to measure and value the networks of social ties between people. He looks at the social infrastructure of organizations that bring people together to facilitate and enable the growth of social capital.
Mr. Putnam is not the first person to write about this. Donald Appleyard's Liveable Streets provides an excellent look at the effects of car traffic on residential streets. As shown in this excellent video about Appleyard's work, the effect of car traffic is to destroy human interaction and create an environment of loneliness, fear and distrust.
In his book, Happy City, Charles Montgomery looks at the relationship between the design of cities and the happiness of the people living there. Unsurprisingly, cities that foster human interaction are cities whose citizens are healthy and happy. On the other hand, car-dominated cities where people are separated and isolated from each other are cities of deep loneliness and unhappiness.
So how does urban design and transportation infrastructure build human happiness? Happy cities build happiness in two primary ways.
The first is by building human capital and human connections. A happy city has a dense, walkable urban area where people are interacting with each other on the street as they go about their daily lives.
The second way that urban design promotes happiness is in showing respect for the fundamental dignity of each person by mitigating the effects of social inequality.
For example, suppose a rich person in his Rolls Royce luxury automobile is not getting from A to B any faster than ordinary people cycling or taking public transit. That shows respect for the dignity of each person and promotes human happiness.
These two ways are particularly important for children. There are very good reasons why UNICEF rates The Netherlands as having the world's highest level of child well-being. Dutch cycling infrastructure provides freedom for children that simply does not exist in much of suburban Hamilton.
Far too many children, particularly teenagers, are essentially trapped in suburban Hamilton. Public transit is poor, car drivers make cycling terrifying and few places they want to go are within walking distance. Compare that with these children cycling to school in The Netherlands. Which children have more freedom? Which children are happier?
In Happy City, Montgomery shows the relationship between urban design and human happiness. Cities where people are happy are cities where social capital is built by urban design.
Happy cities are cities where urban transportation infrastructure puts people first, mitigates the effects of social inequality and respects the dignity of every human being. Many cities have successfully transformed themselves to build human happiness. They changed for the better.
Here in Hamilton, we can too!
Post a Comment
You must be logged in to comment.