West Harbour Redevelopment Must Be Inclusive
We need to make sure that Hamilton's revival has long-term positive outcomes for all residents. The West Harbour has to include a maximized social benefit rather than a maximized private profit.
By Matt Jelly
Published March 01, 2016
On the evening of Thursday, February 25, I attended a City of Hamilton information session on the possible future of the West Harbour area as it pertains to four City-owned properties: Pier 8, Barton-Tiffany, and two CityHousing Hamilton properties, the Jamesville Townhouse Complex (92 townhouses) and 500 MacNab North/Kenneth Soble Building (146 units).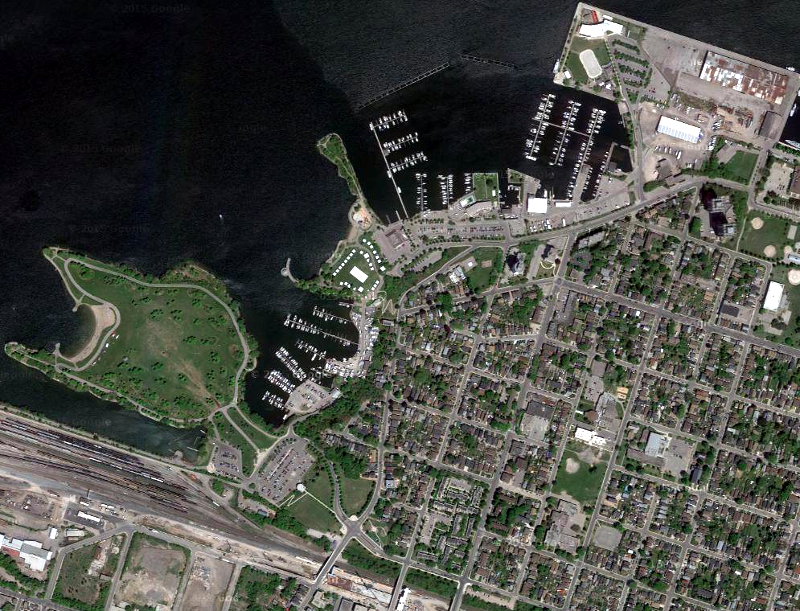 West Harbour overhead view (Image Credit: Google Maps)
This is what City staff and two councillors proposed at the meeting, on the advice of a consultant's report from Deloitte:
Sell City-owned lands at Pier 8 lands right away to developers

Sell the Jamesville Townhouses and 500 MacNab North to developers, temporarily displacing the current residents to accommodations elsewhere

Use the proceeds of these sales (estimated in the range of $20-40 Million) to replace those CityHousing units in new development in the Barton-Tiffany area (the properties the city bought intended for a West Harbour Stadium)
The residents of Jamesville and 500 MacNab have been surveyed, and the majority of them say they want to stay in the North End neighbourhood. CityHousing Hamilton is required to replace those units at the end of the day, should they be displaced.
Infrastructure Maintenance Deficit
Ward 5 Councillor Chad Collins spent a good portion of the meeting talking about the state of CityHousing Hamilton from a budgetary perspective, as the chair of CHH. CHH has an annual capital budget shortfall of $8 Million, meaning they now have a total maintenance deficit of $50 Million in needed repairs. That shortfall has rendered approximately 100 units apparently unrentable and vacant.
Stepping out of the numbers for a second, you can imagine what a lack of maintenance has meant for residents over the years. I've seen it personally at 500 MacNab North. Five years ago I worked with one of the residents to document and report units that had had their baseboards removed for pest control spraying, then never returned.
In the course of that, residents pointed out a long list of serious issues with their units that had gone unaddressed for quite some time, and we reported it all to bylaw - reporting the City to the City.
The problem with a lack of maintenance is that it multiplies over time and the problems are exponential if not addressed, and this has an added impact considering the needs of the tenants CHH serves.
What I also saw was the problem of segregating all people in need of affordable, accessible, assisted and geared-to-income housing in one spot, largely out of view and easy to ignore. Apartment buildings are neighbourhoods unto themselves and we need to start thinking of them as such, and providing them with proportional resources.
Problem of Priorities
The problems with CityHousing Hamilton are not new. While that $50 Million shortfall has been piling up over the years, the same councillors who spoke to us on Thursday have voted in favour of using $50 Million from the Future Fund for a Stadium, $18 Million for 2 kilometres of road (the Upper Red Hill Parkway Extension), massive spending to service greenfield development around the airport and elsewhere, and yes, in favour of one of their colleagues using infrastructure money to build a $1.7 Million Bocce Court.
In that context, it's hard to accept that the City has been unable to provide CHH with proper sustainable funding. Just 40 extra Frankie Venom statues a year would go a long way to bringing these units up to standard.
To be fair, housing should be a federal and provincial responsibility as well as a municipal one. The decisions of former Ontario Premier Mike Harris in the 1990s placed this responsibility squarely on municipalities, and to this day the current government hasn't done enough to roll that back.
But that's not to let City Hall off the hook either. It's a matter of what we prioritize with our limited municipal budget. You can't tell me that less important things haven't taken top priority.
Fire Sale of Valuable Public Assets
The lands in discussion are currently becoming more and more valuable, year over year. The City-owned lands at Pier 8, when readied for development, will be some of the only assembled harbourfront land in the GHTA.
If and when they're finally remediated, the Barton-Tiffany lands will multiply in value being beside a GO station which may some day have proper full-day service. The Jamesville Townhouses sit on a future LRT spur.
These lands are public assets that will rapidly increase in value for the foreseeable future. Setting my bleeding-heart concerns aside, it should concern anyone that the plan is to do a fire sale of those lands at this point.
Doing so would be yet another massive handover of valuable public assets to private hands. There was no discussion or consideration of keeping the lands publicly owned as we redevelop. Neither was there much consideration of the costs of rehabilitating the current CHH units up to a livable standard, which was shrugged off as too costly.
There was lots of talk of "extracting resources" and "leveraging assets". One has to wonder which developers are waiting in the wings to scoop up the lands at Pier 8, for current market prices, for lands that are guaranteed to multiply in value.
Redevelopment Plan
For one of the exercises at the meeting, we were asked to help improve a very general vision statement for the West Harbour area that had been cobbled together from the many many consultations that have been held over the decades, including the 2005 Setting Sail plan for the area.
We were split up into "groups of no more than two or three" to write down our suggestions for what we felt needed to be in that Vision Statement. The two-paragraph statement was vague, and didn't include a commitment to making the West Harbour area a place where all people can afford to live, so that was the suggestion from my group of three.
The land at Pier 8 has been identified as the most valuable property out of the four parcels. It's clear that the proposed first step is to sell off those lands to developers to build high-end waterfront condos with a scenic view of the harbour, to redevelop Jamesville and 500 MacNab North, and to isolate CityHousing residents in West Harbour, at the bottom of the hill, beside the tracks.
We still don't know the exact cost of remediating these lands after all these years, and the most specific estimate I've ever heard was a range of $3-37 Million (2010 estimate), depending on how (and by whom) the job is conducted. Residential development requires the highest and costliest level of environmental remediation.
The lands can only have residential development 150 metres back from the train tracks, so the strip of land that can be developed as residential is relatively narrow. Barton-Tiffany exists in relative isolation to the surrounding neighbourhood.
I asked Ward 2 Councillor Jason Farr specifically if the plan for Pier 8 was to develop a "luxury enclave" as a friend put it, and whether or not there's a way to include in that development a range of housing to accommodate a wide range of incomes, rather than a monoculture, or rather than a ghetto.
I asked if folks in need of reasonably priced housing were worthy of a good view. I was very specifically not given an answer, and pointed back to the urgent CityHousing shortfall and the need to address it.
Predetermined Outcome
It felt very much like this information meeting was to herd us all into a rigid set of parameters, and to agree with a predetermined outcome. After all, these meetings have been happening for months, and a vision statement is just now being developed, as the City is already drafting the Requests for Expressions of Interest for those lands.
Despite that, what I still heard the majority of people say is that affordable housing needs to be a key focus of our plan for West Harbour, but the meeting was so tightly controlled that this message was diluted as much as possible by the presenters, and very specific questions went unanswered or met with vague assurances.
If you know your history of the North End, it's an ugly succession of shell games and badly-managed redevelopment schemes that have not usually worked out for the most vulnerable residents. (I recommend a trip to Special Collections at the Central Library to read the scrapbooks on North End Urban Renewal in the 1960s and '70s - there's a lot of context to absorb.)
If long-term residents are cynical it's because they've earned it. They've done lots of these sort of kindergarten consultations for decades, and the crayons are wearing down to the nub.
City Holds the Cards
The City holds all the cards here. These are lands owned by the public. In remediating and redeveloping them, we have an opportunity to build communities that are consistent with the many principles, vision statements and questionnaires that City Hall has collected from residents and filed away in unopened drawers for decades.
Our public assets can play a huge role in building communities that serve and house all residents, rather than entrenching a stark class structure in our social infrastructure. There really is a once-in-a-generation opportunity to do things right, but I worry about how that opportunity will be balanced against hungry developers no doubt waiting in the wings.
I recommend checking out a number of Graham Crawford's Facebook posts on the issue, and attending future meetings to bear witness to what's happening - what residents are saying and what representatives are not hearing.
We've learned a lot over the years about the positives and negatives of our current revival, or gentrification, or whatever loaded word you want to use for it. It can't all be back-patting, glossy EcDev brochures and those goddamn Jelly Maps.
We need to make sure that revival has long-term positive outcomes for all residents. Those harbour lands are the end benefit of years of actions supported by the public to reclaim our industrial harbour, at a very high cost to the public, rather than the industrial giants who left behind their mess.
Their redevelopment has to include a maximized social benefit rather than a maximized private profit.
The problem is, I've watched one win out over the other time and time again.
Post a Comment
You must be logged in to comment.