Transportation Staff Thrown Under Bus for Doing their Jobs
It is well-known that the City has a problem with staff morale and, given this episode, it is easy to see why.
By Nicholas Kevlahan
Published April 25, 2016
I am writing to express my shock and extreme disappointment at the way City staff are being treated in public comments by Ward 8 Councillor Terry Whitehead.
When the Hamilton Spectator reported that the City had been one of only 37 successful applications out of 150 for Provincial bicycle infrastructure money, I was delighted and pleased that we would be getting $295,000 of Provincial money to build a project that Council had approved as a priority in 2009.
I was impressed at the initiative of staff to pro-actively seek Provincial funding on a short deadline. This is a good news story for cyclists, for Hamilton taxpayers and for staff!
I was shocked and appalled to learn that, instead of congratulating staff for their initiative and expertise in selecting a Council priority bike lane that won funding against stiff competition, Councillor Whitehead publicly accused staff of inappropriate behaviour, underhandedness and favouritism.
Councillor Whitehead continued his smear campaign against City staff on social media for the next few days.
What's worse, no one at City Hall is publicly defending staff's integrity and expertise in selecting an appropriate project for the grant competition.
Note that the grant does not commit the City to any spending: Council can still decide not to contribute the matching 50 percent - but the fact that there is an almost $1 million annual cycling budget means that funding should not be an issue since this project was already identified as a priority.
It is well-known that the City has a problem with staff morale and, given this episode, it is easy to see why.
Even winning $295,000 of external funding for a priority Council approved project (as listed in Appendix A of the Cycling Master Plan) is not enough to protect them from a Councillor ready to play wedge politics!
Violates Council Code of Conduct, Corporate Pillars
It should be obvious that this behaviour contravenes all parts of article 13.2 the Council Code of Conduct for treatment of City staff:
13.2 Under the direction of the City Manager, City employees serve the Council as a whole, and the combined interests of all members of Council as evidenced through the decisions of Council. Accordingly:

(a) members of Council shall be respectful of the role of City employees to advise based on political neutrality and objectivity and without undue influence from any individual member or faction of the Council;

(b) no member of Council shall maliciously, falsely, negligently or recklessly injure the professional or ethical reputation, or the prospects or practice of City employees; and

(c) members of Council shall show respect for the professional capacities of City employees.
This public chastisement of staff initiative and criticism of their professionalism also violates the City's Corporate Pillars of success:
Collective Ownership
Steadfast Integrity
Courageous Change
Sensational Service
Engaged Empowered Employees
I urge Mayor Fred Eisenberger and Chris Murray to stand up for the City's professional staff, urge their colleague to publicly apologize, and publicly reassure staff that they have full faith in their neutrality, expertise and professionalism.
Council could repair some of the damage by voting to express its appreciation for staff initiative in their successful application for $295,000 of Provincial bike infrastructure funding.
Anything less would be an abandonment of high-quality staff and will lead to further erosion of staff's morale and confidence in their ability to do their job in an ambitious, proactive and professional manner free from the threat of retribution.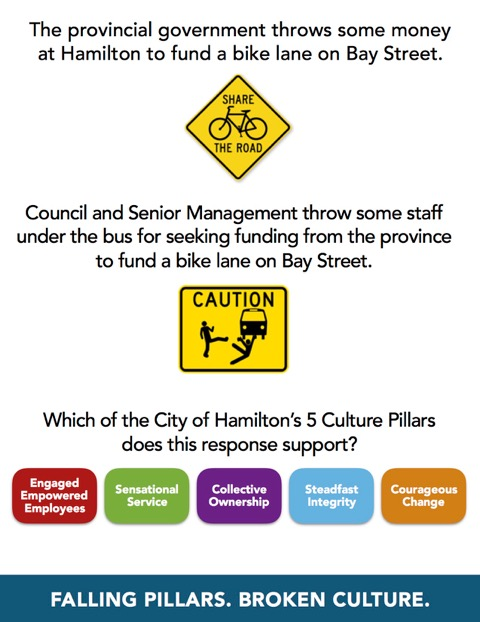 Poster: 5 Culture Pillars (Image Credit: Graham Crawford)
Post a Comment
You must be logged in to comment.