Small Things Can Make a Big Difference
Heather Snowden and Loralee McGuirl are musicians who are helping transform their communities through participation in the arts.
By Shiona Mackenzie
Published June 20, 2016
When it comes to developing an environment that supports activities and access to opportunities which contribute toward accomplishing positive goals, the hubs within Hamilton have come a long way. This is thanks to some dynamic, savvy people who want to make a difference in their communities, and they are not all politicians and social workers. Some of them are musicians I'm proud to know. Let me tell you about two of them.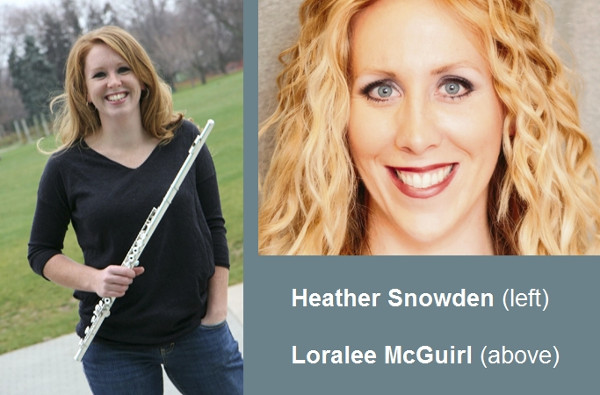 Heather Snowden and Loralee McGuirl (Image Credit: Heather Snowden and Loralee McGuirl)
Heather Snowden
Heather Snowden has been playing flute and piano since she was seven years old. Classically trained on flute and piano, Heather holds Bachelor's and Master's degrees in Flute Performance. Her talent and drive have allowed her to meet people like Andrea Bocelli, Glissandi, and Il Divo, go places like Sweden and the Maritimes, and take part in events that she would not have done otherwise.
"I've met some of the most important people in my life through music," Heather says. "And all while doing something I love - something that brings me joy, peace and happiness; something that allows me to feel a sense of pride, not only on an individual but also on a collective level; something that I am truly fortunate to be able to share with others." 
Heather regularly shares her love of music with the Crown Point community at Delta United Church, where she is Choir Director, bringing fun and motivation to practices and services.
Heather enjoys a full studio of private flute and piano students, teaches band and flute workshops, and has taught at the Niagara Symphony Summer Music Camp for the past 13 years. An active freelance performer, she plays with ensembles such as Collective Musings and the Thunder Bay Symphony, among others, in venues like Theatre Aquarius and Casino Niagara.
Along with her passion for music, Heather enjoys running (she was in the Boston Marathon this year), renovating (she is working on a fixer-upper), and creating just about anything.
As well as a great guffaw, she has a can-do attitude that inspires others without her even realizing it.
Loralee McGuirl
Similarly, Hamilton-born Loralee McGuirl has an upbeat energy about her that others quickly pick up on. She is a well-known vocalist with a successful career in music, having performed jazz, pop, gospel, blues and opera, not only in Canada, but also in France and Italy. By the age of ten, she was already winning awards for her singing, but not everyone knows that behind her obvious gifts lies a surprising story...
At the age of 19, a horse threw her into a tree, breaking her nose, both wrists, four ribs, and puncturing her kidney. With scrapes and bruises all over her body, she couldn't walk. According to her doctors, the impact could have killed Loralee or left her with brain damage.
"The first night in the hospital was really long as the doctors needed to keep waking me up in case I had concussion," Loralee says. She lay on the hospital bed wondering how she'd play the piano, or play soccer, or dance again. It hurt to breathe.
"Then, I looked over to my right where an elderly woman lay on the next bed. We smiled at one another and I felt an overwhelming sense of gratitude that I was alive. 
"Even though every inhalation was laboured, I felt like singing, so I sang an Irish tune and an old gospel song to the woman. When I finished, she said with a tear in her eye, 'Dear, don't you ever stop singing'... and I haven't. Seeing the joy on her face at such a desperate time convinced me to continue creating and sharing music."
In addition to composing and performing, Loralee now teaches music and her students develop more than good performance technique. Many find their self-confidence increased and their attitude more positive.
For example, for a long time, one of Loralee's students used to perform at recitals with her back to the audience and would only sing if Loralee sang along with her, but now she walks on stage by herself and faces the audience while she sings - a feat of great strength and courage because she has autism. 
Weekly music lessons have given her hope, purpose, and a sense of accomplishment.
Arts Help Empower People
In ways like these, both large and small, the arts help empower people. And such people help bring about change for the better. The first stanza of Arthur O'Shaughnessy's Ode sums it up:
We are the music makers,
And we are the dreamers of dreams,
Wandering by lone sea-breakers,
And sitting by desolate streams;-
World-losers and world-forsakers,
On whom the pale moon gleams:
Yet we are the movers and shakers
Of the world for ever, it seems.
Post a Comment
You must be logged in to comment.