Light Rail Transit Station Needed at Gage Park
The distance between Scott Park and Ottawa LRT station is 1.5 kilometres, one of the largest gaps between stations on the proposed route.
By Mark Rejhon
Published July 04, 2016
The planned Hamilton light rail transit (LRT) that is coming to King Street through Ward 3 is a popular topic of conversation among our friends and neighbours. Even in all the mixed opinions, it is very clear many of us are very excited by the Hamilton LRT and are looking forward to the benefits that improved transit will bring to our neighbourhoods once construction is complete.
Even for people who are uncertain about LRT, many want to ensure the best possible outcome occurs with the LRT construction, such as having the best station locations, or helping businesses survive construction.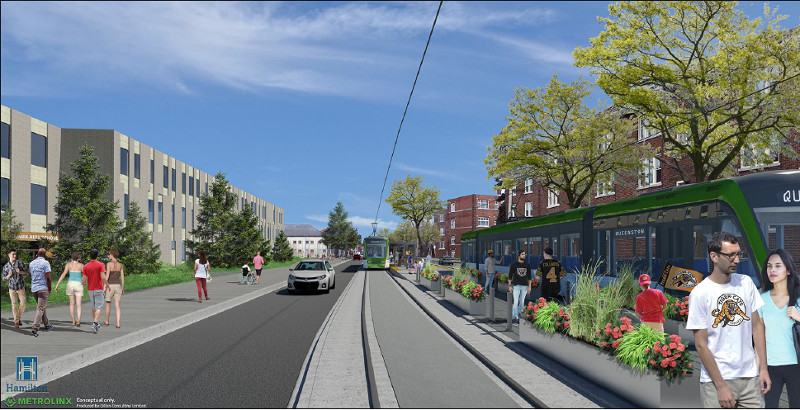 Rendering: LRT station at Scott Park (Image Credit: Metrolinx)
Hamilton LRT Citizen Advocacy
Along with myself, a team of residents have organized a Hamilton LRT Citizen Advocacy group. We are 100 percent volunteer-run, with no government funding. We give presentations to various groups, neighbourhoods and communities to share information, demonstrate support for the project, and remind everyone of the opportunities to participate in the planning process.
We run social media channels, including on Facebook and Twitter. We also help encourage people to organize and bring any ideas, comments, questions, or concerns to the City and Metrolinx, and we also relay community concerns to them as well.
The process of bringing LRT to Hamilton began a long time ago. Many studies have been conducted over the years that consider the needs, opportunities, costs, and benefits. Over time, these studies and feedback from members of the public have refined plans for all aspects of the transit project.
This planning process has included Main versus King, the relative benefits of BRT vs LRT, the general alignment, the stop locations, and more detailed design. This was included in the 2011 Metrolinx Benefits Case Analysis, which subsequently led to the province awarding full funding for the LRT.
However, the latest updates released by Metrolinx and the City of Hamilton show a route change with a station removal of concern for us, for Sherman Hub, and for many of our friends and neighbours.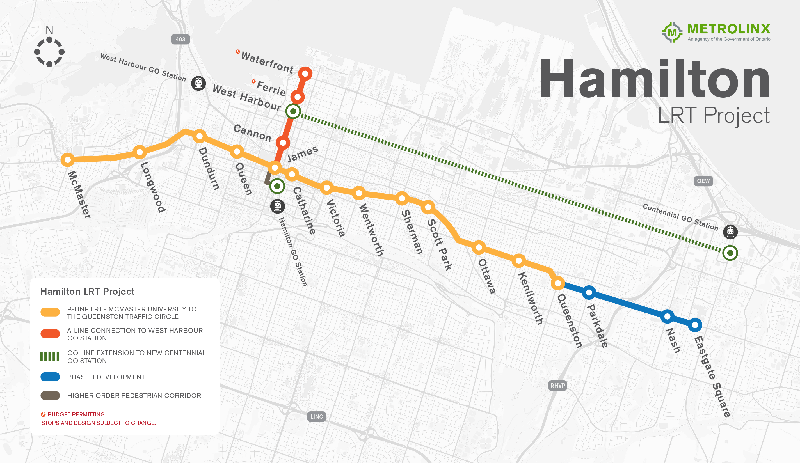 Hamilton LRT Map (Image Credit: Metrolinx)
Gage Park Station Needed
There is no LRT station near Gage Park on the updated LRT route map.
Earlier, there was a Delta Station near Gage Park in the proposed Hamilton LRT route map. However, the Delta LRT station has been removed from the Hamilton LRT route in the new map.
At a recent public consultation, one reason explained was that it was too close to the Ottawa Street LRT station. However, it was also mentioned that the stations will not be finalized until fall, and that there is time to add stations back.
Many of us feel it is important that a stop at the Delta be included on the LRT Route. The distance between Scott Park and Ottawa LRT station is 1.5 kilometres, one of the largest gaps between stations on the proposed route.
Families, people with mobility issues, elderly persons and others who live in this area need easy access to Gage Park without needing to walk half a kilometre from the nearest LRT stop (Ottawa stop or Scott Park stop).
Gage Park is a welcome respite that needs to continue to be accessible to all. Given the costs of healthcare and retirement, Gage Park fills in a great need.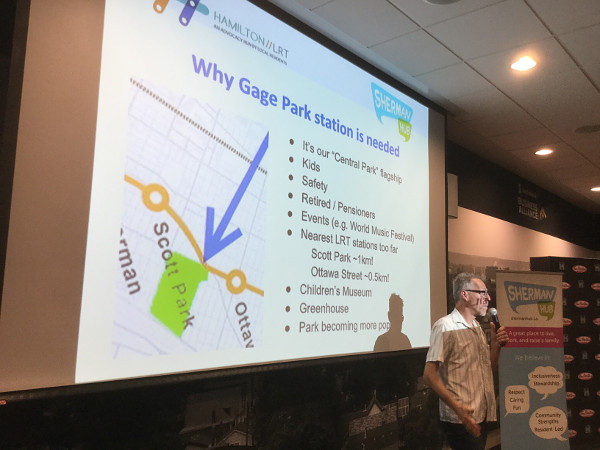 Hamilton LRT Citizen Advocacy spokesperson Alain H. Bureau advocates an LRT stop near Gage Park at a Sherman Hub meeting
Balancing Needs
Normally, subway-style stop spacing is used with many true LRT systems to keep the service fast, even during peak period when combined with dedicated lanes and the planned automatic transit-priority lights. Platforms are built to be 100 percent fully accessible with subway-style all-door ramp-less level boarding.
With all doors opening simultaneously to immediate wheel-on boarding, this is far better than what TTC currently does with their new streetcars. All of this combined keep the Hamilton LRT B-Line feeling more like a mini-subway rather than a traditional streetcar.
It is possible that the Delta stop can be slightly to the west of Delta. This can balance out the LRT stop distance from Ottawa Street. Also, the LRT vehicles need to go slow near the turn at Delta, so there might as well be a stop.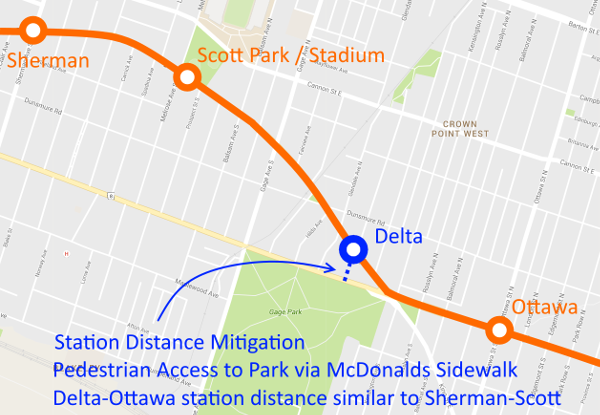 Possible station location just west of Delta
The extra pedestrian traffic could also go through the McDonald's parking lot (which has both Main and King accesses!), or even perhaps a new connecting sidewalk along the edge of the McDonald's property.
Also, if a future all-stop HSR bus route (similar to today's #1) is added on the southern Main/King routes (the route that the LRT does not run on), then the Delta station could be a good transfer point between the express LRT route and the all-stop HSR bus route.
Gage Park is very culturally important to Hamilton. It has a lot of amenities, with a Children's Museum, the Greenhouse, the band shell, the Pump Track, playgrounds, lawn bowling, large fields, and also runs many events every year including Its Your Festival, as well as World Music Festival, and other events.
It is a flagship park of the City of Hamilton, and would increase overall city-wide LRT support if there were additional good destinations on the Hamilton LRT route. Even by the mere existence of another good destination, helps further increase overall LRT support.
Get Involved
City/Metrolinx staff have begun to visit residences and businesses directly on the LRT route, which they plan to do so two times a year. If you meet them, we implore you to suggest the addition of the Delta LRT station.
Also, a separate but allied organization called Hamilton Light Rail is also running a campaign at http://hamiltonlightrail.ca, where you can write a letter of support that is automatically emailed to the entire city council.
In the form at the bottom of the web page, you can express your support, while also mentioning the desire for a station at Delta near Gage Park.
This article was first published in the Sherman Hub News and is republished here with permission.
Related:
Post a Comment
You must be logged in to comment.