Act Now to Save Parkside High School From Demolition
Parkside is still standing. No contracts have yet been awarded. If enough people are against the decision to demolish Parkside, the City of Hamilton will need to reconsider.
By Shannon Kyles
Published September 27, 2016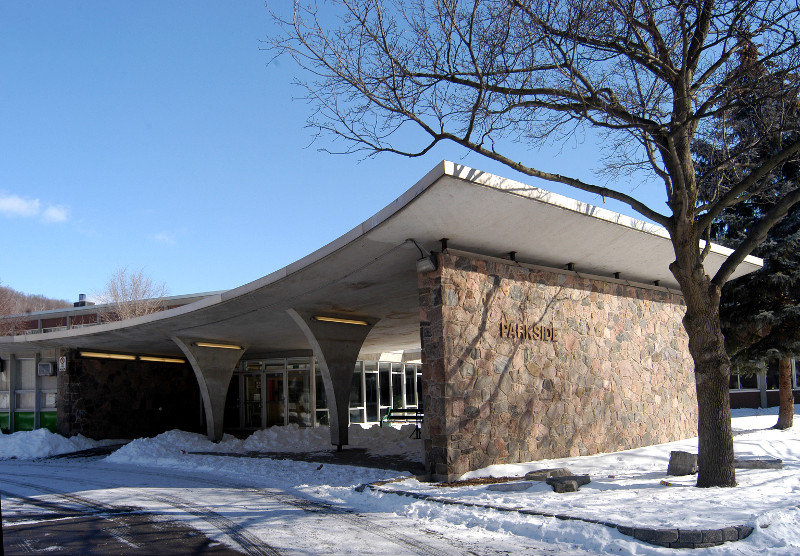 Parkside High School, Dundas
In 1960, Parkside High School won both National and International awards for design and innovative use of materials. The swooping curve of the entrance was created by precast concrete panels with exposed stone. This had not been done before. In the entrance were footlights embedded in the floor. This is now considered cutting edge design.
As the BBC, CBC and Netflix producers send their locations managers out to find cool Mid-century modern sets, Dundas has decided to tear its best Mid-century monument down and replace it with who knows.
There has been much discussion about the future of the school and property over the past ten years but I believe that the citizens of greater Dundas were not involved. Only property owners in the few blocks closest to the school were consulted on their views concerning the school's future.
Dundas Works proposed a plan for the adaptive reuse of the school but this was rejected by council. The property will be kept as a green space with some residential. A local cemetery will be expanded into a portion of the land.
Is anyone really naive enough to believe that? The first change in government and that land will be repurposed for multiple housing.
Dundas is already being hammered to add more residential units. The citizens of Dundas are going to be fighting an expensive battle to keep the town a walkable, livable space, as can be seen by the recent kerfuffle over 71 Main Street.
Adaptive Reuse
A large, architecturally significant building already exists in a wonderful setting, with loads of green space and not imposing on any existing vistas or streetscapes. Do we really want to tear it down and keep fighting off developers who will certainly not stop trying to make Dundas a high-rise hell?
Kudos to the councillors for having the City of Hamilton buy Parkside, stopping open bidding for the property, which would undoubtedly have ended up badly. Now the next step needs to be reconsidered.
The City of Hamilton purchased the school and property on April 22, 2016. Two months later this fabulous school was slated to be demolished.
The tenders for demolition will be accepted by the city on or before Thursday, September 29, 2016. What is the hurry? One opponent of the demolition stated that it was "an indecent rush to destruction." I couldn't agree more.
The demolition of Parkside High school will take place over a period of ten months. Then residential development will take another three or four, maybe five years.
Would it not be simpler and more valuable just to convert the existing building to condos? The cinder block walls could easily support an upper story that could be reserved for luxury condominiums. The existing floors could be converted into small (one classroom) units or larger (2 classroom) units.
This would follow the current mix of blue-collar, white-collar and professionals found on any street in town.
Great cities do not demolish great buildings. The greenest building is the one that is already there.
Precedent for School Conversion
There is a precedent for school/residential conversion. Dundas District Lofts, for example, that sold for $375,00.00 five years ago and are selling for $850,000.00 now, are functional while preserving the integrity of the neighborhood.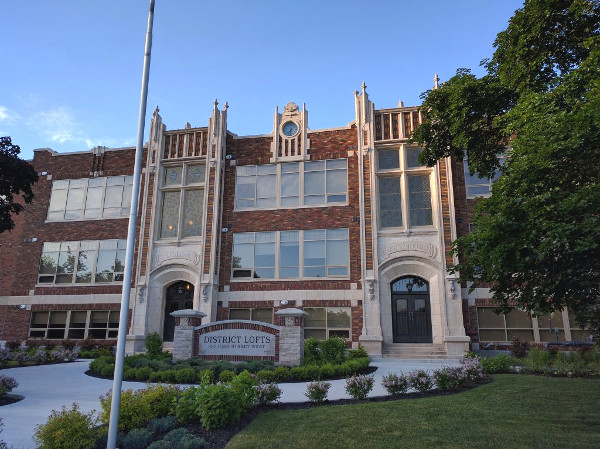 District Lofts, Dundas (RTH file photo)
Similar re-purposing has been done in factories, mills and civic buildings. All of these projects preserve the cultural heritage of the site while providing the required occupancy.
This has been happening for centuries. If the citizens of the middle ages had torn down the Roman Triumphal arch in Orange or the Roman Amphitheatre in Arles rather than boarding them off into residential units and living in them, these structures would not be tourist destinations today.
Despite the fact that population growth in Dundas has outpaced growth in other communities, Dundas is going to have to accept some population increase. While this is happening, the citizens are going to need to pay attention.
In a recent advertising video, Hamilton ad people included in their imagery shots of the Lister Block, the Pigott Building, Whitehern, the Old Pump House and almost every other architectural monument now symbolic of Hamilton's cultural heritage.
Every one of these buildings was once under threat of full or partial demolition. In each case, individuals and groups got together to save them.
Save Parkside
Now it is our turn to save Parkside. Parkside is still standing. No contracts have yet been awarded. If enough people are against the decision to demolish Parkside, the City of Hamilton will need to reconsider.
If you did not know what was happening but think the decision to demolish should at least be reconsidered, please cast your vote for the petition to stop the demolition:
Post a Comment
You must be logged in to comment.