That Non-Story About Catenary Poles in LRT Renderings
For a better sense of what we might expect along Hamilton's urban LRT corridor, here is a recent photograph of the Spadina LRT in Toronto.
By Ryan McGreal
Published November 07, 2016
One of the delegations at the October 25, 2016 fustercluck of a General Issues Committee meeting was a comparison between photos of the Waterloo Region Light Rail Transit (LRT) line, which is under construction, and renderings of the Hamilton LRT line, which is still being designed.
The delegate, Roger Stermann, who is opposed to the LRT line, argued that the renderings are misleading because they do not show the poles that will hold up the catenary wire system providing electrical power to the LRT vehicles.
His grievance has been given an airing in today's Spectator column by Andrews Dreschel.
Back in early September, I contacted the City's LRT office to ask about how the overhead system will be suspended. Kelly Anderson, communications manager for the LRT office, confirmed in an email reply that detailed design decisions had not been made yet. In a follow-up email, Anderson wrote:
Design decisions on what the poles and wires look like will be made during the procurement phase of the project [in 2018], but the Metrolinx Design Excellence standards indicate that they should be as visually unobtrusive as possible.
In other words, it's too soon to know whether our system will end up looking more like the specific segment of Waterloo that Stermann photographed.
It's important to note that the photos of Waterloo were taken on a suburban section of the corridor, not a section running through an urban city street.
Each local context is different and the design for each segment will vary based on what makes the most sense in that local context.
I would be very surprised to see the same wire suspension system used along every part of Hamilton's LRT - especially between the east-west line and the north-south line.
For a better sense of what we might expect along Hamilton's more urban LRT corridor, here is a recent photograph I took of a similar system: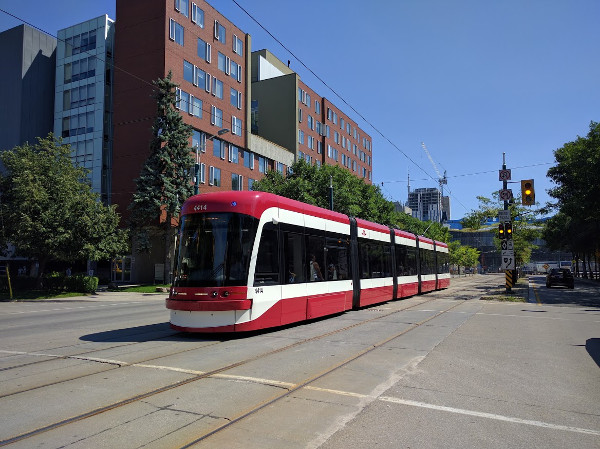 Spadina LRT vehicle (RTH file photo)
The Spadina LRT is very similar to how LRT will run along the east-west route in Hamilton. It uses Bombardier Flexity Outlook vehicles, which is also planned for Hamilton, and runs in a dedicated right-of-way down the centre of the street, again just like Hamilton.
It doesn't have stations, but it has all-doors boarding at stops to approximate the fast loading of an LRT station.
You will note that the view is not characterized by obtrusive steel poles towering over the street.
You will also note that the presence of this LRT system has not driven away residents, businesses, offices or investment.
Quite the opposite: Spadina has transformed over the past couple of decades from a run-down district of boarded-up buildings into one of the most dense and desirable corridors in the city.
Naturally, when the City of Toronto implemented the King-Spadina Secondary Plan, a land-use plan that emphasizes urban built form, mixed use, density, and a transportation system that puts walking and transit first, critics of the plan predicted that it would be a failure because it did not put cars first.
That, too, is eerily similar to the debate in Hamilton, where a small rearguard of LRT critics, afraid of change and cynical about whether Hamilton deserves nice things, predicts that our LRT will be a failure because it is a dramatic change from the status quo.
Post a Comment
You must be logged in to comment.