Council Caves and Approves Demolition for Gore Heritage Buildings
The last chance to save these buildings is to appeal to the Province to step in and save us from our own short-sightedness.
By Ryan McGreal
Published January 26, 2017
Last night, in a move that should surprise no one who has been paying attention, Hamilton City Council voted to sacrifice its own commitment to the city's built heritage on an altar of a myopic, weak-kneed expediency. Almost exactly three years after Council voted unanimously to designate 18-28 King Street East under the Ontario Heritage Act, they have now accepted a proposal by the property owner to demolish all of 24-28 and all but the facade of 18-22.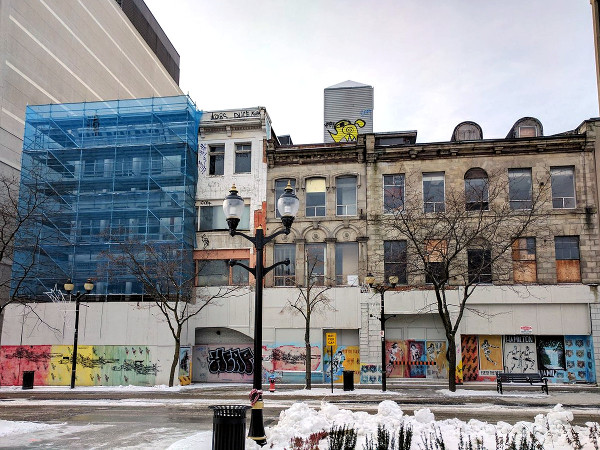 18-28 King Street East (RTH file photo)
The vote to destroy these pre- and immediately post-Conderation buildings, which date back to 1840 and 1874, ironically comes in the same year that our nation celebrates the 150th anniversary of its founding.
Ward 2 Councillor Jason Farr, who spearheaded the 2013 vote to save the buildings, extolled their destruction (minus the facade of 18-22) as a "compromise" to move the project forward.
This is not a compromise, it is a total capitulation to a property owner who would rather wipe away these irreplaceable surviving pieces of Hamilton's built heritage than invest in the kind of restoration and adaptive reuse that costs a bit more but provides a higher return on investment.
The property owner has stubbornly dug into an untenable position of incorrigible opposition to responsible stewardship of these heritage properties, and after just three years, the city has caved in.
We must take a moment to give due credit to the three lonely members of Council to took a principled stand and voted to uphold Council's own heritage designation and protect these buildings: Ward 1 Councillor Aidan Johnson, Ward 3 Councillor Matthew Green, and Ward 11 Councillor Brenda Johnson.
It is profoundly disappointing that the rest of Council, including Mayor Fred Eisenberger, don't care enough about heritage to take a stand.
The message to other property owners who want to demolish their heritage properties is clear: even if your building is currently designated, Council is a pushover and will not exercise its power to protect it.
Appeal to a Higher Power
The only thing left for heritage advocates to do is to appeal to a higher power. I don't mean prayer, though it surely couldn't hurt. Rather, it is time to ask Ontario's Culture Minister, Eleanor McMahon, to intervene and try to broker a real solution that does not sacrifice these buildings to a "compromise" of skin-deep facadism.
There is a precedent for this. Back in 2006, when the Lister building was in imminent danger of being demolished, former Ward 1 Councillor Brian McHattie reached out to former Culture Minister Caroline Di Cocco to intervene and prevent disaster.
McHattie's letter to the Minister set in motion a series of events that culminated in the building being protected and restored. It stands today as one of the proudest buildings in downtown Hamilton and has helped catalyze a remarkable wave of building restoration, new investment and new business development along King William Street.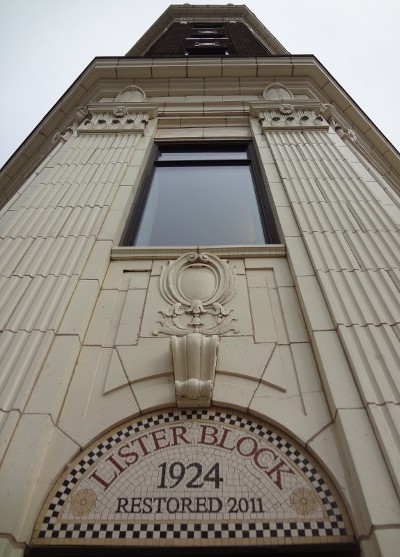 Lister Building Detail: Restored 2011 (RTH file photo)
Before the Lister was saved, we heard all the usual claims about how the building was falling apart, structurally unsound, not worth saving, and so on ad nauseam. The claims were false, and many of the people who were clamouring the loudest to demolish it were also among the first and loudest to take credit for saving it after it was restored.
Certainly no reasonable person could conclude today that it was a mistake to save the building, or that the civic pride and economic revitalization that has flowed from its restoration are not worth celebrating.
We Are Not Beggars
The case for demolishing the Gore buildings is just as flimsy as the case for demolishing the Lister was. In fact, given the development history that has followed since the Lister was saved, I would say the case is even flimsier.
The Gore buildings are structurally sound. They are architecturally important. They are rare surviving examples of two architectural periods, one dating to Confederation and the other dating more than two decades before Confederation.
They are excellent candidates for restoration and adaptive reuse. They are already designated under the Ontario Heritage Act. And we have numerous nearby, contemporary examples of other buildings that have been successfully - and profitably - restored for current and future use and enjoyment.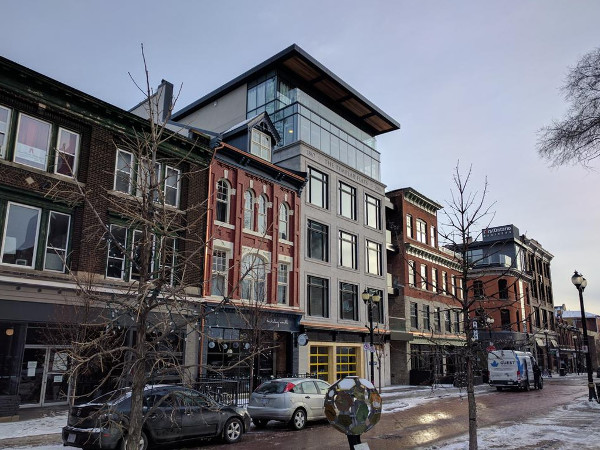 Templar Flats on King William (RTH file photo)
We are not in an economic desperation mode where "beggars can't be choosers". There is no reason for the City to yield to the property owner's stubborn refusal to do right by these buildings, even with the offer of a million-dollar restoration grant.
If anything, Council should be outraged at the property owner's recalcitrance, not so craven and conciliatory that they accept a "compromise" that gives the property owner exactly what he wants and leaves the city with at best a cheap veneer of history (assuming the facade elements don't go missing like so many other pieces of our history that were supposed to be set aside).
What is at Stake
Take a moment and imagine yourself ten or twenty or fifty years into the future.
Will you look back on the demolition of the Gore buildings and say, "Good riddance!" or will you look back as yet another failed opportunity to salvage something of the city's history to bequeath to its children and grandchildren?
Alternately: will you look back on the salvation of the Gore buildings and say, "What a waste!" or will you look back and give thanks that the leaders of the time had the vision and courage to see their value and protect them from short-term greed?
Those are the questions that will matter in the long run, and we will be judged on how we answer them.
Post a Comment
You must be logged in to comment.