Three Key Shortfalls of the Proposed Hamilton LRT Designs
The current LRT designs have wide curb radii and added slip lanes, involve removing bike lanes, and propose adding vehicle lanes to accommodate more automobile traffic.
By Matt Pinder
Published February 02, 2017
This feedback was submitted through the City's Light Rail Transit (LRT) project feedback portal. If you support any of the following arguments, please submit your concerns to the City by Feb 3.
1. Curb Radii and Slip Lanes
The LRT public presentation boards [PDF] (Page 18) call for "pedestrian-oriented intersections and crossings" where "curb radii are tightened where possible".
By contrast, the current plans across the project are actually calling for larger curb radii in numerous intersections, as well as slip lanes in many places where they did not exist before.
How does this prioritize pedestrians? At the very least, existing radii sizes should be kept. The proposed design will allow vehicles to round corners quickly, creating a dangerous crossing environment for pedestrians.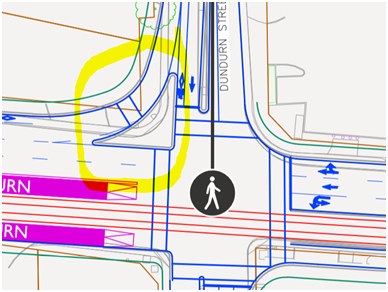 Figure 1: Proposed "Slip Lane" at NW corner of King/Dundurn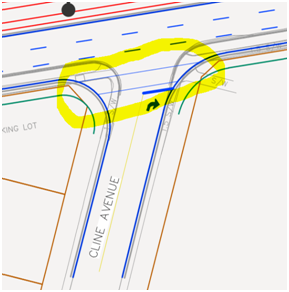 Figure 2: Larger curb radii proposed for Main/Cline intersection
2. Removal of Bike Lanes
Cycling is a complementary mode to transit and should be supported above driving within the scope of the project. At the very least, the current specified road width can be modified to accommodate bike lanes by reducing the lane widths from 3.3 m to 2.8 m on eastbound Main Street West and from 3.5 m to 2.8 m on westbound Main Street West.
The City of Toronto's road width guidelines [PDF] allow for an arterial road width to be a minimum of 2.8 m.
Surely we can also do this in Hamilton! A simple design change could allow accommodation of cycling without costing any vehicle lanes.


Figure 3: Vehicle lane width could be reduced to accommodate bike lanes without taking away traffic lanes
3. Accommodation of Auto Traffic
Successful urban cores prioritize other modes over automobiles, and Hamilton should not be an exception. The proposal to maintain existing traffic volumes and travel times is costly, environmentally unwise, and undermines the potential of the LRT.
By making driving in the core just a little bit harder, we can make other travel modes more appealing, which can create benefits like reduced parking demand, intensification, and of course higher LRT ridership.
In addition, the proposal to widen Dundurn Street North to five lanes is blatantly disrespectful and destructive to the surrounding community and should be avoided at all costs.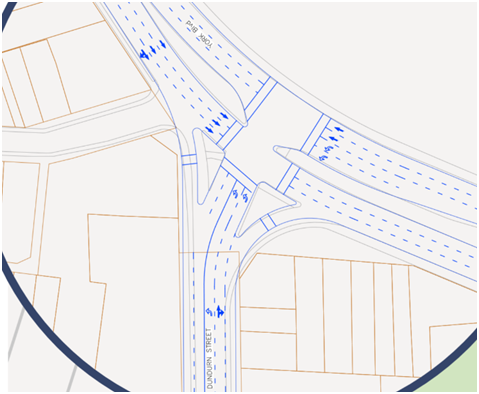 Figure 4: Proposed widening of Dundurn St N from 2 lanes to 5, and a new mega intersection at York/Dundurn
Post a Comment
You must be logged in to comment.