Festival of Friends: The Good, the Bad, and the Ugly - Updated
Overall, it was a huge success to have the Festival back in Gage Park, but a few issues represent opportunities for improvement next year.
By Ryan Barath
Published August 09, 2017
This article has been updated.
The Good
As we all know by now, Festival of Friends returned to Gage Park this past weekend and was well attended. The overall vibe and excitement in the Gage Park and The Delta West neighbourhood was electric all weekend, with big acts like Terri Clark, Stars, Hollerado and July Talk taking the main stage by storm.
Speaking of storms, even Mother Nature was in a cooperative mood for the duration of the festival other than early Friday evening. Parking was easy and transit was available on a scale that was previously unavailable when the festival was relocated to the Ancaster Fairgrounds a few years ago.
Even as someone who lived near the Ancaster fairgrounds at the time when the Festival first moved there, getting to the grounds either by car or by one of the free shuttles was still a painfully slow journey and one of the reasons I never attended after the first year.
Overall, it was huge success to have Festival of friends back in Hamilton's core and going forward it's easy to see why this continues to be one of the largest free festivals in Ontario.
The Bad
Now to some critical points I'd like to make about the way Festival of Friends managed crowd control and security.
Saturday night was arguably the most popular evening for the festival with headliners July Talk fresh off of their co-sold out show with local heros Arkells at the Budweiser Gardens (previously Molson Canadian Amphitheatre) last month.
My wife and I arrived with lots of time around 8:30 PM. I was surprised by the "walk up" access from all angles to the park, which explains the many people who decided to carry alcohol and beer openly even with a beer garden available. (Sidenote: the beer garden itself had the best security for the whole event.)
Away from the stage, security and police presence felt almost nonexistent with two instances within 15 minutes where a horde of teenagers - probably close to a hundred - stampeded and mobbed around a fight with nobody to break it up or discourage the behaviour. Both times it felt very out of control and in both instances we had to quickly move out of the way to avoid being engulfed.
In the two hours my wife and I were there, we spotted only three police officers in the area of the midway. Obviously this is not the fault of the police who were there, but for an event this scale, the organizers should have taken it upon themselves to have more actual police officers present and less inexperienced volunteers around to help prevent extremely unsafe situations like the ones that occurred.
The Ugly
First off, I'd like to state that overall, the vendors and organizations in attendance were wonderful. (For full disclosure, the organization I work for, PATH Employment, had a booth and the process to get the booth was simple and straightforward.)
But, and it's a big one: in 2017, when companies like Walmart, Amazon, eBay, Target, and many more have completely halted the sale of merchandise with Confederate flags, how is it that Festival of Friends openly allows retailers at their festival to sell this garbage?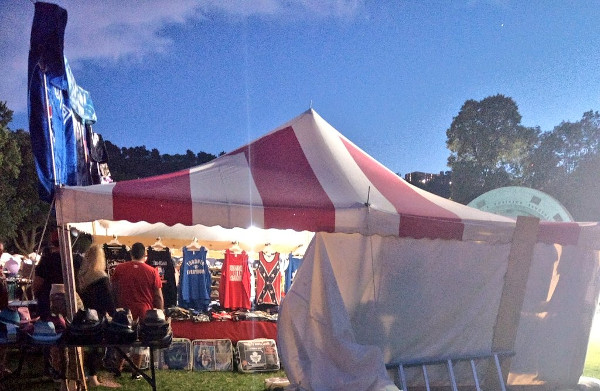 Confederate merchandise for sale at Festival of Friends (Image Credit: Jessica Rose/Twitter)
Seriously, it's called Festival of Friends and their very own Mission Statement says: "To enrich the quality of life by promoting and celebrating all aspects of cultural life; to support artists and cultural groups through programs accessible to all people within Greater Hamilton and beyond."
Nowhere does it say to include the sale of items that represent hate, slavery, and racism. I respect free speech and respect that any individual can be as dumb and racist as they want, but the event organizers have a responsibility to those in attendance to create a welcoming environment and 100 percent stop vendors from selling items that represent hate in our community.
Moving forward, this needs to be addressed as part of the application process and a code of conduct for vendors should be established.
---
Update: RTH has received an email from Lisa Giulietti, Exhibits Coordinator for the Festival of Friends, clarifying that their policy is not to allow Confederate merchandise to be sold and that they will be following up with the vendor:
Just so you're aware, all vendors are required to give a detailed account of the items they intend to sell. Clearly, any merchandise with the Confederate flag was not on the list. Nor had it been made obvious during set-up. Had it been brought to my attention during the Festival, the items would have been removed. Items containing the Confederate flag are NOT acceptable merchandise.

I will be speaking with this vendor and it will be made clear that no such items will be allowed at the Festival going forward. Depending on the response from this vendor, it is possible an invitation to return will not be extended.
RTH appreciates this response from the Festival organization.
Post a Comment
You must be logged in to comment.