Subject to a 'Minor Variance': Hamilton's Broken Site Plan Approval Process
We're going to be asking the Planning Committee to look seriously at the processes used for approving projects of this scale and we're going to be asking them to recommend that Council make some meaningful changes and put them in writing.
By Cameron Kroetsch
Published October 06, 2017
This past September I received a notice in my mailbox about an application for a "Minor Variance". I glanced at it quickly. What I read led me to believe that I was being informed about plans for a redevelopment in my neighbourhood. I let out an audible "hmmm" and put it down on the counter.
Though I promised myself I'd look at it later that evening, it took me a couple of days (and a note from my neighbour) before I picked it back up and read it over closely.
I scanned the pages and diagrams and quickly realized that my initial impressions had been completely wrong. It wasn't a notice about a plan at all but a notification and request for comments about two "minor variances" to the city's zoning bylaws for the site at 210 Main Street East (currently a Days Inn).
As I then learned, the plan was to redevelop the site to construct a 15 storey mixed-use building: commercial units on the ground level and 224 residential units above.
I scratched my head, got together with the aforementioned neighbour, and made a plan to find out more. We split up the work, read as much as we could, and I'm here now just a few busy weeks later to tell you what happened and what I've learned so far.
I want to start by saying that I didn't have such a bad time of things these past few weeks. I have an immense amount of privilege. I have multiple university degrees, experience with negotiations and contracts, and have worked in and around politics for more than a decade. And, as a cisgender man, I have access to government systems, know how to navigate them, and understand who to speak to.
Still, getting this notice in our mailboxes was stressful and upsetting for everyone in our neighbourhood. Simply put: it's written in a vague legalese and includes rather technical-looking documents (here's my copy [PDF] so you can see what I mean).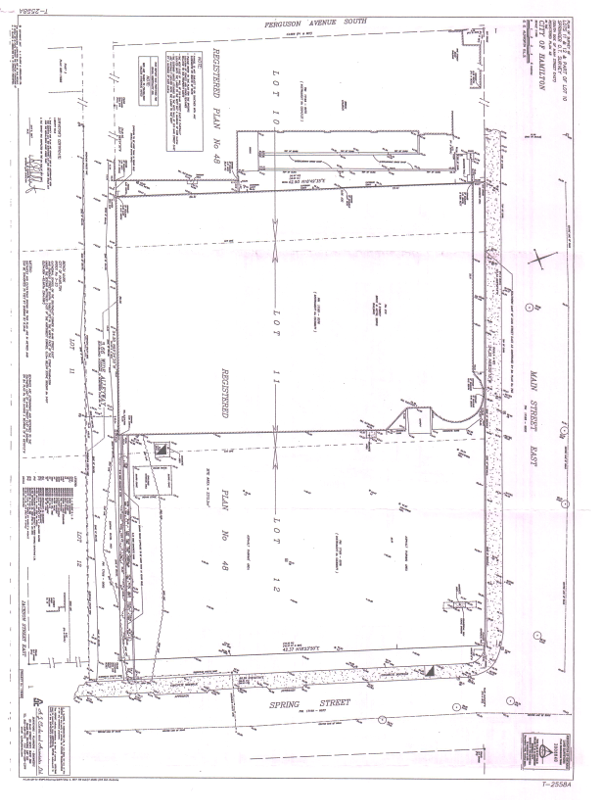 First rendering from Minor Variance application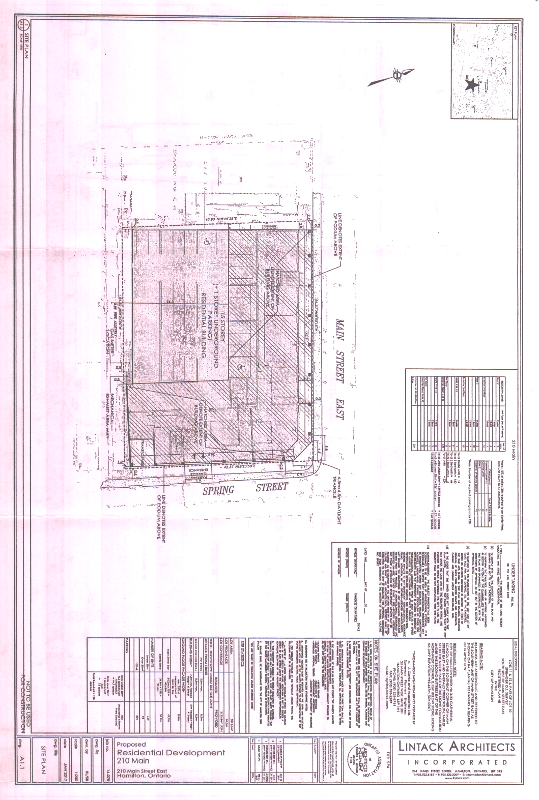 Second rendering from Minor Variance application
None of us had experience with these committees or variances and we didn't immediately understand the implications of the two variances listed on the notice.
To be fair, had I not missed an awesome article by Joey Coleman or been unavailable to attend a spring community meeting put on by the Corktown Neighbourhood Association, I might have known about this a little sooner.
Thankfully, my neighbour and I had the time and energy to dig a little deeper. What follows is a brief description of what happened, what we found out, and what I want to pass along to other residents.
Not Always Notified
The piece of paper I got in my mailbox was definitely a notice (just not the kind I thought it was). It is properly called a "Notice of Public Hearing" related to an "Application for Minor Variance".
All such applications are brought to the attention of residents within 200 feet so that they may attend the Committee of Adjustment meeting and/or submit comments about the proposed application.
In our case, we were provided with two weeks' notice of the meeting that was to be held on September 21 at 3pm to address two "minor" variances to Zoning By-Law No. 05-200.
The two variances were:
to move the front of the building back 3.2 metres from the curb (the bylaw says a maximum of 2 metres is allowed); and

to reduce the number of parking spaces from the 120 spots required in the bylaw to 96, a 22 percent reduction.
We looked over the bylaw, tried to process the implications of these "minor" variances, and reached out to City staff.
Time was ticking. It was recommended to us by City staff that written comments and neighbourhood signatures be gathered and submitted no later than early in the morning on September 18 to provide committee members time to review them.
This meant that we only had five business days to get the site plan documents, figure them out, and work with our neighbours to come to a consensus about what we wanted to tell the Committee.
We quickly realized that the time we were provided with would never be enough for us to wade through the more than 150 pages of reports and technical documents. We both had full time jobs, volunteer commitments, and loved ones to consider.
So, our community did what it thought was reasonable: we asked the Committee to give us an additional 30 days to get up to speed and we turned to our ward councillor, Jason Farr, to ask that he support our request for more time.
In the end, it was me, eight neighbours, signatures from another six who were not able to attend, and a representative from the Beasley Neighbourhood Association, who went down to the Committee of Adjustment in the middle of a work day to plead our case for more time.
Our request was denied. The majority of the Committee voted in favour of the developer's application and that was that. It was all over in about 15 minutes. After a week and a half of non-stop work, I still didn't really have enough information about the development.
We needed more time and we were not going to get it.
Process Does Not Work for Residents
The most surprising thing I learned was that this was not a notice to indicate that someone was thinking about building a new development in our neighbourhood.
In fact, we learned that the plan for redevelopment had been discussed by City staff, our ward councillor, a panel of experts, and a host of other people and organizations for more than a year before we were directly notified about it.
My neighbour and I are still gathering information, researching and reading through documents, and dialing, dialing, dialing those City Hall extensions to ask questions.
What we have learned so far is that this proposal did not go through the Formal Consultation process. It has been given at least one "waiver" by the City (according to City staff) and has been ushered through what I can only describe as an informal "pre-consultation" process.
The sad and disappointing part of this is that even the Formal Consultation process doesn't have residents in mind. Everyone else is seemingly notified as part of this process, including:
At this point, no one thinks it's important to directly tell the people who will be most affected by the development: nearby residents.
In fact, during the application hearing at the Committee of Adjustment the developer stated that it wasn't his problem that we weren't notified earlier as it should be the city and our councillor who inform us and get us involved - and he's right.
Better Process is Needed
We don't want this to happen to other people in Hamilton. We're going to be asking the Planning Committee to look seriously at the processes used for approving projects of this scale and we're going to be asking them to recommend that Council make some meaningful changes and put them in writing.
We want a process for neighbourhood participation and we want it to start in our councillor's office. If the City has the capacity to notify us of a "minor variance" then they have the capacity to tell us when the Site Plan Approval process has been initiated.
At this point, and with still more learning to do, here are a list of key requests that my neighbour and I have identified as things that we think are important to this process:
Include a step to inform nearby residents of site plan approval applications early in the Formal Consultation stage (in advance of any presentation to the Design Review Panel);

Make it mandatory that all new site plan applications be processed without "waivers" given to expedite approval or skip important steps;

Post comments from City staff and site plan documents to the City's website, well in advance of approval; and

Require developers to resubmit their applications when they make major/significant changes to their site plans.
The bright spot in this is that almost everyone I have spoken with in City staff has been friendly, engaging, helpful, and patient. They've pointed me in the right direction, sent me documents by email when they could, and have gotten back to me quickly.
If nothing else, I continue to really appreciate and value our City staff, the hard work they do, and the often thankless tasks they're asked to carry out.
This might come as a surprise to some, but I'm not opposed to the possibility of a development to replace the Days Inn. There have been promises of new commercial services with this redevelopment and claims by the developer that some of the units will meet affordable housing criteria - though this remains to be seen.
What You Can Do
If you should find out that there's going to be a new building in your neighbourhood I strongly recommend that you:
Contact your councillor as soon as you find out to ask them what they know about the project and ask them for their support in writing.

Go down to the Planning Department at City Hall, fifth floor, and ask for a copy of all of the documents they have in relation to the plan. (Keep in mind that they're expensive at about $0.30 per page.)

Call people in City staff who are listed on the site plan comments/reports and ask questions if you don't understand things.

Ask to speak to the Planning Committee about any concerns you have with either the development itself or the process by which it was approved - if the City isn't aware then nothing will change.
Finally, please look out for our group of residents as we become more active and vocal about the changes we want to see to these processes. You can find us on Facebook or send us an email to springandjackson@gmail.com any time.
The majority of the people in our neighbourhood (outside the required 200 feet) were not notified by the Committee of Adjustment and still don't know about this project. We will be holding a community meeting, circulating a petition, knocking on doors, and showing up to City committees to make our voices heard.
If you share our concerns, please come out to support us or just reach out to say hello. We really want to hear from everyone who has been denied a voice in this process.
Post a Comment
You must be logged in to comment.