The Suburban Politics of Hamilton's Ward Boundary Review
The Flamborough ward controversy and the addition of a new Mountain ward consumed the most conversation during the ward boundary debate. Now that it's settled, there are also significant implications for Hamilton's suburbs in the next election.
By Andrew Richardson
Published December 27, 2017
At long last, the drama surrounding the review of Hamilton's ward boundaries has come to a close after the City Council determined by an 8-7 vote against launching an appeal of the Ontario Municipal Board's recent ruling to impose new boundaries on the city that will apply to the October 22, 2018 municipal election.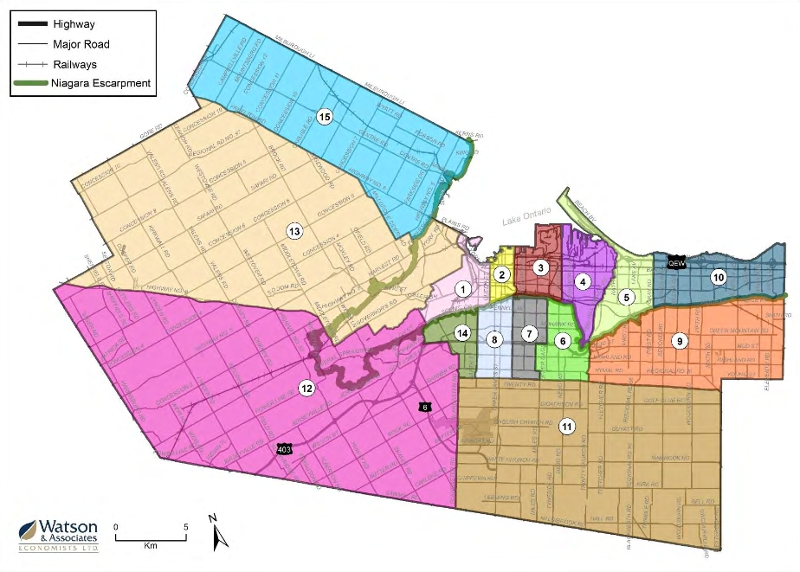 The OMB-imposed ward boundary revision
Now that the new boundaries are set, we can take some time to look at the interesting political implications of what is to come during the next municipal election campaign.
Yes, Flamborough has lost a seat on council, and yes, the mountain gained another ward. But this doesn't tell us much about the rest of the city. When we take a closer look at the political implications of the suburban ward changes, we can see that the 2018 Municipal Election has the potential to be very exciting.
The most obvious change worth discussing is the slice-and-dice on former Ward 11, which was largely rural with a suburban stubs in Winona, Binbrook, and Glanbrook. What was once a huge ward has now become much smaller, with Winona joining Ward 10, which is now joined with Lower Stoney Creek, Old Stoney Creek.
With this shift comes the human political element. What happens to the current councillors occupying Wards 10 and 11? It is unlikely that current Ward 9 Councillor Doug Conley, should he choose to run again, will seek election in Lower Stoney Creek, since he lives near Mount Albion. Current Ward 11 Councillor Brenda Johnson is from Winona, and therefore it is unlikely that she will be tempted by the new Ward 9 or the new Ward 11.
This leaves us with an interesting potential standoff. Should current Ward 10 Councillor Pearson choose to stand for re-election and should Councillor Johnson stand for election in the ward that covers her home area, we will see two incumbent councillors face off.
In the same area, changes to Ward 9 means that the new suburban builds south of Rymal Road will be incorporated into the new ward, as well as areas near the Red Hill Valley Expressway that were formerly part of Ward 6.
Ward 9's rapid growth means that it will be politically hard to predict and makes incumbent advantage nearly worthless in the face of a rapidly expanding population. A solid campaigner with a well-stocked war chest of money could very well win the day, should incumbent Councillor Doug Conley choose to seek re-election.
The story is somewhat similar in the new Ward 11 with a rapidly expanding suburban base located in Glanbrook and Binbrook in an otherwise very rural area. Without an incumbent councillor, this ward is ripe for the picking and we should probably pay close attention to those very suburbs for a sign of who will choose to run.
So while the new Mountain ward is interesting, and the loss of a Flamborough-based ward has definite political implications, the ward changes as a whole mark the first step in what will be a very exciting 2018 for politicians, the media, and nerds like me.
Handled correctly, Hamilton could be on the verge of generational political change with an impact on economic development, urban revitalization - and of course transit.
Post a Comment
You must be logged in to comment.