Line Dufour: Re-Collection
Dufour's installation effectively incorporates acts of remembering, as it references historic and religious traditions and incorporates historical jacquard weaving practices, orchestrating them into one seamless narrative.
By Doreen Nicoll
Published August 24, 2018
I recently took my daughters to see an exhibit at the Art Gallery of Burlington that included Re-Collection by artist Line Dufour. My eyes were immediately drawn to an area that reminded me of a sanctuary. Three pure white walls were the backdrop to 24 elaborately woven wall hangings.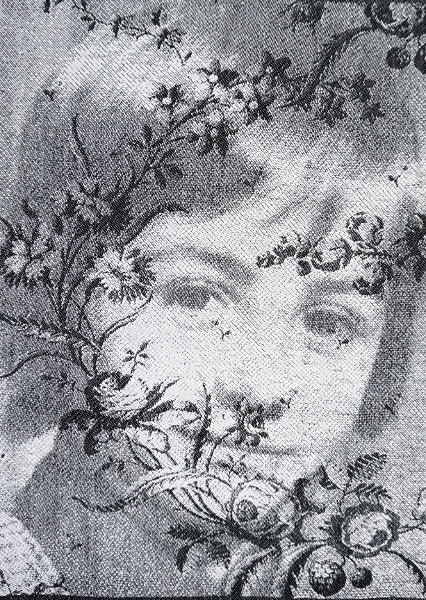 Each piece of fabric reveals the image of not just an individual face, but a tragically familiar face. The first image beckoning me to enter was a simple head-and-shoulder image, that of a smiling young girl woven in black and white jacquard fabric.
At first, I couldn't recollect how I knew this face. My mind was frantically and systematically searching my memory for her name. Yet, how could I know her face? And, why were my throat and chest tightening, my breathing quickening, and my mind feeling overwhelmed?
Then, I turned and noticed the crossword installation on the wall behind me. I stood scrutinizing the crossword and the wall hangings. Nothing made sense until I moved closer to the hangings and began reading the names mounted beside each one. That's when the flood of emotions set me reeling, and I stepped into the outer space to compose myself.
The young girl was Nicole Morin. On July 30, 1985, the eight-year-old girl left her family's Etobicoke penthouse apartment and got in an elevator to meet a friend in the lobby. She was never seen again. Nicole's body has never been found. No one has ever been charged.
Over close to 33 years since her disappearance, the media has shown the same image of this innocent young girl so frequently that it is forever woven into the memory of many people who live in Ontario.
As I slowly made my way around the room, I realized I knew the faces of each of these young women, girls, and the lone boy. Nicknamed "the shoeshine boy," 12-year old Emanuel Jacques was sexually assaulted and murdered in August 1977. The boy's death shook Toronto and of the four men were charged in Emanuel's murder, three were found guilty. One has since died in prison where the other two remain.
Dufour has immortalized the images of Ontario sexual violence victims including Tammy Homolka, Kristen French, Leslie Mahaffy, Christine Jessop, and Barbara Schlifer. In all there are 24 jacquard woven shrouds. Each is accompanied by the person's name in both print and jacquard-woven braille cards. A reverse braille card invites viewers to touch the name of each image.
The Fondazione Arte Della Seta Lisio in Florence Italy produced each name using ancient jacquard card-making machinery. Visitors are encouraged to touch the cards, a process that creates a connection to each shroud.
"Cloth is imbued with memory and feelings," Dufor explains. "Embedded in cloth are our stories, our histories, our identities and our cultures. Conscious and unconscious memory is activated by our associations with cloth, stirring our senses and emotions. Cloth arouses thoughts of warmth, comfort, protection and intimacy, but also paradoxically, confinement, containment, fragility, and impermanence."
"Re-collection is rooted in embodied cognition," Dufour says in an artist statement.
It speaks to the act of remembering as a mental, emotional and physical matrix. Social identity is explored through the process of creating this body of work, re-creating each likeness, in a way that presents each victim as an icon, to be loved and revered, echoing the manner in which martyrs are elevated in Christian biblical traditions.

Making the image as a material presence is a narrative act, though they are not fixed and factual accounts. Enmeshed within the subjective embodied experience is a forensic curiosity formed in large part through the research of each story, weaving together the partially glimpsed, yet profoundly felt.
A practising artist since 1985, Dufour knew that she wanted to create an installation honouring the memory of these young Ontario lives for 25 years. It just took a little while to figure out how she would do it. It was five years ago, while completing a residency at the Fondazione Arte della Seta Lisio in Florence, that she decided how she would do it.
Using photographs from the public domain, Dufour employed Renaissance-inspired jacquard weaving to create her wall hangings. Dufour's installation effectively incorporates acts of remembering, as it references historic and religious traditions and incorporates historical jacquard weaving practices, orchestrating them into one seamless narrative.
Traditionally, shrouds are an inexpensive woven fabric used to cover or protect a deceased person's body. Historically, they were hand woven in a 3/1 herringbone twill or plain weave using cotton, wool, or linen.
Yet Dufour consciously chose a jacquard weave, which is a very labour- and time-intensive way of producing a pre-eminent final product that was reserved for a society's powerful and wealthy. Using a loom with a special attachment, the warp threads are raised independently of other threads, enabling the design to be fused into the weave rather than simply being printed or dyed into the fabric.
The process enabled Line to use shading in, modelling the faces and simultaneously permitting her to create a veiling effect. The faces only achieve clarity when viewed from a distance. The veils also allude to the way in which time affects memory. In this instance, lifting the veil brings us closer to the spirit inhabiting the shroud.
One of the elements that makes Dufour's weaving unique is her use of a weft that reacts to ultraviolet light creating colour changes. In this case the white uv thread changes to a flesh colour when exposed to uv light or daylight, signifying a re-animation of the spirit, alluding to how the girls, women, and boy are still, "present to us in our collective conscious," infusing each portrait with elevated status.
Dufour says that she did research on the issue of sexual abuse and abduction before completing the project. She adds that she experienced sexual abuse as a child while living in a foster home and is an adult sexual assault survivor.
"I survived those assaults and went on to live a happy and fulfilled life," Dufour says, "These young people did not. It is probably why I also feel so strongly about the project."
Another part of the installation, Hidden Words, is a jacquard-woven crossword that invites viewers to discover 16 words that victims of sexual violence and assault routinely associate with the experience of reporting assaults to law enforcement officials and the judiciary. Included are words like degraded, discredited, disrespect, humiliation, failure, punish and rebuke.
The Ontario Arts Council provided funding for Dufour's project. She also acknowledges the Montreal Centre for Contemporary Textiles and its staff members Adrien Landry, Lheila Palumbo and Suzanne Chabot. To complete the multisensory exhibit, Dufour enlisted the help of artist and musician Annie Spadifora. Using her own original compositions, Spadifora wove together material provided by Dufour to create an innovative soundscape.
As Dufour observes:
We cannot be complacent about these issues. Looking at the statistics we need to be more wary, vigilant and be teaching our children to be proactive, and manage emotions in a more positive way that doesn't harm others. We need to be talking about these issues more openly. We need to support children and adults in their claims of sexual harassment, assault and violence. They need to be heard, not silenced. Our remaining silent will only continue to ensure that things will not change and that these aggressive behaviours will persist.
Re-Collection is a conduit for these vital discussions. Dufour believes that it's time to take our discomfort and use it to teach children and young adults how they can help stay safe and provide guidance on what to do if they are abused.
Regarding the subjects of her work, Dufour says, "At a deeper level, collectively we still mourn the loss of these young lives. I remember when I saw each completed shroud off the loom for the first time and saw the images in their entirety and when I listened to the final audio composition I compiled, I had a good cry. But, I was also relieved that this was the right thing to do. It was a mission for me. Something I absolutely had to do."
Re-Collection will be on exhibition in Almonte Ontario (close to Ottawa) at the Mississippi Valley Textile Museum in conjunction with Barbara Hunt, a well known and highly regarded artist/political activist. The opening is October 13 from 2-4 PM and it will run until December 15, 2018.
This article first appeared in Herizons Magazine (Summer 2018 / Vol. 32 No. 2)
Post a Comment
You must be logged in to comment.