Murray and Som: Real Estate Income Trust 'Repositioning' vs. Fair and Affordable Housing
Vows of commitment to some vague proposal for new affordable housing ring very hollow while the mechanism described below is allowed to go on eliminating what remains of affordability for lower-income earners in the GTHA and across the province.
By Hamilton Tenants Solidarity Network
Published September 11, 2018
Sheila A. Murray studied law at Queens. She practised securities law at Blake Cassels and Graydon for 25 years and was a member of the Securities Advisory committee to the Ontario Securities Commission. Since 2016, Ms. Murray has been president of CI Financial, after joining CI as General Counsel in 2008. CI has well over $100 billion in assets under management, including 225 mutual funds. Ms Murray is also a director of Teck Resources and a number of other firms and organizations, including the Sick Kids Foundation.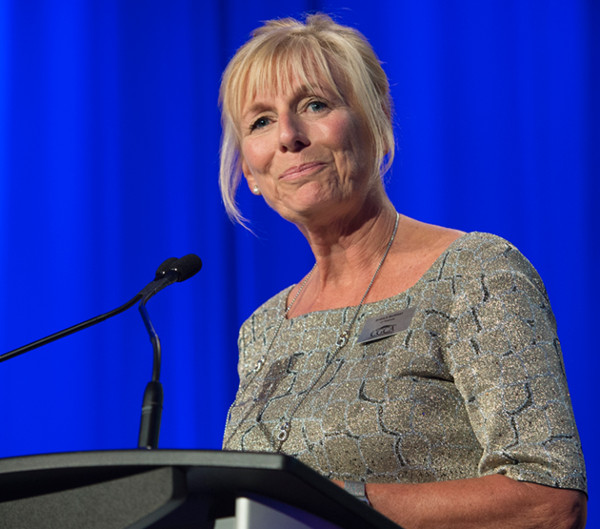 Sheila Murray, president, CI Financial. (Image Credit: Kevin Van Paassen, National Post)
May Som was born in Cambodia and came to Canada in 1989 with her husband, whom she met in a refugee camp in 1983, and their two children. After May gave birth to her third child in Winnipeg, the family moved to the east end of Hamilton, settling into their home at 77 Delawana Drive where they have been for 25 years. May's husband Pom has spent the last 19 years working at StressCrete, a Burlington-based factory that makes spun concrete utility poles.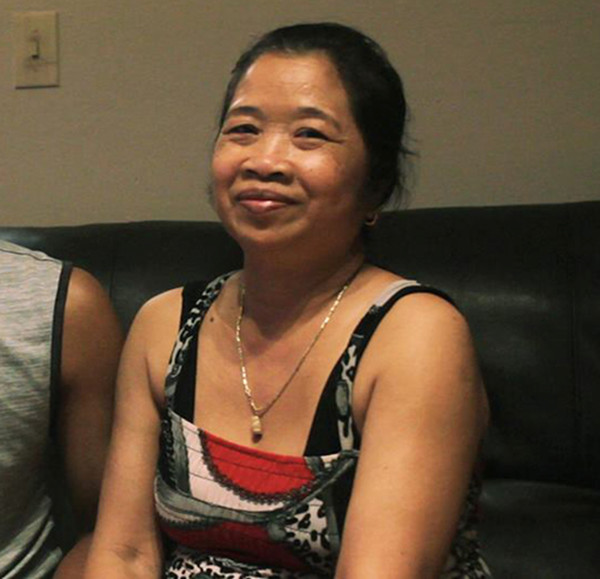 May Som, resident, Stoney Creek Towers. (Image Credit: Hamilton Tenants Solidarity Network)
What Ms. Murray and Ms. Som have in common is CLV/InterRent, an integrated property management and Real Estate Investment Trust based in Ottawa that owns eight properties in Hamilton, plus many others elsewhere in Ontario and Quebec.
As of April 2018, a subsidiary of Ms Murray's firm, CI Investments, was the largest single shareholder in InterRent. The second largest was Sentry Investments, also owned by CI Financial. Ms. Som is a resident of Stoney Creek Towers, a four building multi-residential complex in the Riverdale neighbourhood, just east of Centennial Parkway, which is owned by CLV/InterRent.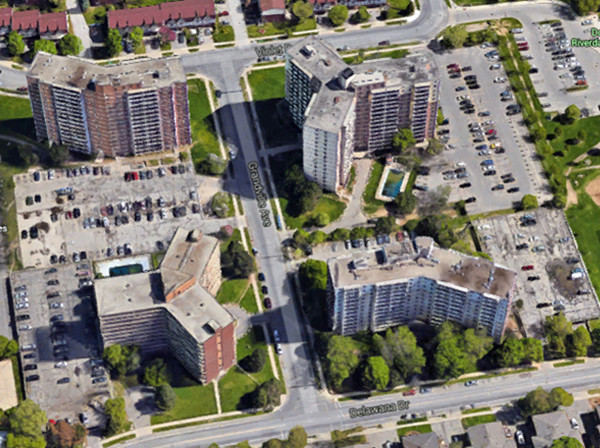 Stoney Creek Towers: 50 Violet, 77 Delawana, 11 and 40 Grandville. (Image Credit: Google Maps)
The Towers, which together contain 618 rental apartment units of varying sizes, were acquired by CLV from Di Cenzo group in September 2015 for $51 million, or $82,500 per door.
Ms. Som and the other tenants of Stoney Creek Towers immediately became the object of CLV/InterRent's "repositioning" strategy. Repairs to individual units were scanted while cosmetic changes to landscaping and lobby areas were undertaken for purposes of rapidly filing an application for an Above Guideline Rent Increase with the Landlord and Tenant Board.
Over a two-year period, tenants met repeatedly, surveyed themselves to gather information and set priorities, and presented a number of maintenance demands to the landlord. The landlord's response was to give notice that CLV was seeking a rent increase of 6 percent, cumulative, over two years, on top of the provincially allowed guideline increase meant to compensate for price inflation of consumer goods - 1.8 percent this year.
Since May 1, Ms. Som and many other tenants have been witholding their rent payments in order to persuade CLV to negotiate rents and repairs with them collectively, rather than proceeding through the Landlord and Tenant Board processes which are very much slanted to favour corporate landlord's rent demands.
As CI Financial's returns are drawn in part from the rents extracted by CLV/InterRent from Ms. Som and thousands of other tenants like her, striking tenants and members of the Hamilton Tenants Solidarity Network, along with supporters from Toronto's Parkdale Organize, paid a visit on June 15 to the Toronto offices of CI Financial in order to deliver a letter directly to Ms Murray.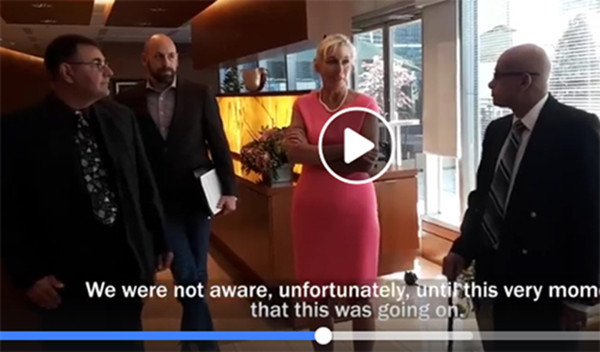 Striking tenants visit the offices of CI Financial, June 15, 2018. Left to right: Jamie Miller, Stoney Creek Towers tenant; Matthew Scott, CI counsel; Sheila Murray; George Direkz, Towers tenant. (Image Credit: Hamilton Tenants Solidarity Network)
What follows is the correspondence between the Stoney Creek Towers Tenant Committee and the Hamilton Tenants Solidarity Network, and CI Financial. We offer it as an introduction to the structural issues which underlie the rent strike, now in its fourth month.
This exchange necessarily leaves out the day-to-day experience of being a tenant in a REIT-targeted building: the annoyance, frustration and anger at being alternately ignored and harassed by the foot-soldiers of market re-positioning and their officer corps of lawyers and financial managers.
Vows of commitment to some vague proposal for new affordable housing ring very hollow while the mechanism described below is allowed to go on eliminating what remains of affordability for lower income earners in the GTHA and across the province.
On examination, most of these proposals turn out to be suggestions for yet another subsidy to builders of upper income supply in return for temporary affordability to lower and middle income earners.
The market has failed to deliver this utility. It is not sleeping or resting. No amount of rubbing or poking will bring it back to life. It is an ex-parrot. Something else is needed.
Meanwhile, affordability could be quickly assisted by altering the operating rules for REITs and other corporate landlords with residential portfolios - or abolishing REITs altogether.
---
Hamilton Tenants Solidarity Network
Stoney Creek Towers Tenant Committee
Ms Sheila A. Murray
President
CI Investments
2 Queen Street East,
20th Floor
Toronto, ON
M5C 3G7
by hand
June 15, 2018
re: InterRent REIT
Dear Ms. Murray
We are writing because CI Financial, and your recent acquisition, Sentry Investments, are currently the largest shareholders in InterRent Real Estate Investment Trust, and because your firm has committed itself to active ownership by engaging directly with the managers of the entities in which you invest.
In September 2015, InterRent purchased four contiguous apartment towers containing 618 units in the east end of Hamilton and began to execute the standard multi-residential REIT management program: a combination of incentives, threat and neglect to encourage turnover, and superficial improvements to justify applications to the Landlord and Tenant Board for Above Guideline Increases in rent.
At the time of purchase, tenants reported that
their homes were in various states of disrepair, many with leaky windows, broken appliances, mould patches, pest infestations, etc.

some residents had gone for extended periods without heat

elevators were erratic in operation

the balconies of at least two of the buildings were in poor condition

the parking structures and lots were in poor condition and deteriorating
During the following two years tenants, alarmed by InterRent's reputation, organized and made repeated requests that InterRent and its subsidiary, CLV Property Management, address these issues.
InterRent has failed to act, and through incompetence and arrogance have provoked a rent strike, now in its second month and still receiving wide coverage in local print, TV and radio. Public support online and at events continues to grow, as does a strike fund whose many contributors recognize that housing has become critically unaffordable for large numbers in our city and across the province.
True to form, InterRent/CLV's response to the strike has been
to dispatch an executive from the Ottawa head office to go door to door with CLV employees attempting to intimidate individuals, until a group of tenants intervened and obliged them to leave the building

bland denials to journalists of the easily observable facts of deficiencies in individual units

the presentation of L9 forms ( a procedural notice under the Landlord and Tenant board regime) to a small group of tenants, evidently selected on the basis of their race or limited facility with the English language
Tenants are determined to withhold rent until the landlord agrees to negotiate the following matters: the withdrawal of the AGI application and the L9 applications currently at the LTB, and repairs to individual units.
Since InterRent/CLV has refused to deal with their tenants in good faith, we have decided to bring our demands directly to you, as your firm and your clients are profiting from the market-repositioning strategy aimed at pushing long-standing tenants out of their homes.
The multi-residential REIT, founded on the opportunity provided by the vacancy decontrol legislated in the absurdly titled 1997 "Tenant Protection Act", has had a profitable, highly destructive and socially irresponsible run through the GTHA.
We understand from CI's "Responsible Investment Policy" that your firm takes the position that no investment is to be excluded on the basis of environmental, social or corporate governance factors alone, but rather that, "In analyzing the risks of each investment, our Investment Managers look to identify and monitor ESG risks and opportunities that are, or could become material to long-term performance."
We believe that REITs and other investment vehicles will increasingly encounter strong and well organized tenant resistance to "economic eviction". We urge you to advise InterRent/CLV to negotiate an end to the East Hamilton rent strike, in the interests of long-term stable performance, and otherwise to cease supporting their destructive and immoral strategy with your investment.
As long as the strike continues, we intend to publicize the connections between InterRent/CLV and its investors, and to increase pressure on both to moderate InterRent's intransigence. Hopefully you will not allow CI Financial and its investors to become the new face of the rent strike and, in turn, the new face of Ontario's historic rental housing crisis.
Hopefully you will make it known to your shareholders on Monday that you do not wish to have InterRent drag your reputation into the mud.
Sincerely
Stoney Creek Towers Tenant Committee Hamilton Tenants Solidarity Network
---
June 29, 2018
VIA EMAIL
Stoney Creek Towers Tenant Committee Hamilton Tenants Solidarity Network
Re: InterRent REIT
We are writing in response to your letter dated June 15, 2018 and your attendance at our office that day.
Overview
Based on your letter and your conversations with us, we understand that you are asking CI Financial Corp. ("CI Financial") to request that InterRent Real Estate Investment Trust ("InterRent") withdraw an above guideline increase ("AGI") application (the "Application") currently before the Landlord Tenant Board (the "LTB"), withdraw all L9 applications currently before the LTB, and complete repairs to individual units.
We understand that you are making this request to us because certain publicly offered mutual funds (the "Funds") manged by our subsidiary, CI Investments Inc. ("CI Investments"), owns securities issued by InterRent.
CI Investments
As the manager of investment funds for well over one million Canadians, CI Investments operates in the highly regulated securities industry, which limits how we can respond to your requests. In particular, as mentioned to you during the meeting on June 15 and in telephone calls with some of your supporters, CI Investments is restricted by securities law in its ability to control the management of the companies in which the Funds invest.
As you are aware, CI Investments is a signatory to the United Nations Supported Principles for Responsible Investment and believes that responsible investing plays a role in achieving the best possible risk-adjusted returns for the Funds. In 2017, CI Investments adopted a formal Responsible Investment Policy under which CI Investments committed to the integration of environmental, social and governance ("ESG") factors into its investment decision-making process.
After receiving your letter and meeting with your representatives on June 15, 2018, CI Financial agreed to look into this matter and, in doing so, we reviewed your letter, correspondence from your supporters, newspaper articles, information provided to us by InterRent management, as well as information provided to us by the portfolio managers at CI Investments responsible for the Funds that invest in InterRent securities.
Based on that review, the following is our understanding of this matter:
(1) Above Guideline Increase Application
Guideline increases are subject to the rules in the Residential Tenancy Act, 2006 (the "Act") and any AGI requires the LTB's approval. A landlord may only make an AGI application in certain situations. According to the Act, the LTB must issue an order for an above guideline rent increase if the landlord meets the requirements in the Act, except in certain limited circumstances. If the landlord fails to meet the requirements, the application is dismissed and the landlord is not permitted to increase the rent above guideline.
According to the information we received, the LTB has decided to hold an oral hearing and allow InterRent and the tenants to attend and have an opportunity to be heard (the "LTB Hearing"). Both parties attended a case management hearing on April 13, 2018, which provided an opportunity to mediate some or all of this dispute. However, the case management hearing failed to resolve any part of the dispute. As a result, the Application will proceed to a hearing before the LTB in the coming months and the decision of the LTB may be review by another LTB member and, ultimately, the courts, if necessary.
(2) L9 Applications Currently Before the LTB
Your letter indicated that tenants of Stoney Creek Towers have received L9 forms from building management. When a landlord files an L9 application, the landlord is asking the LTB to convene a hearing at which the tenant and landlord meet with the LTB to discuss payment of the outstanding rent.
According to Social Justice Tribunals Ontario, L9 applications are solely used to collect past-due rent from tenants, with no intention of evicting the tenant or terminating their tenancy. Even under circumstance in which the LTB issues an order on an L9 application, and the tenant still does not pay, the landlord cannot use that order to evict the tenant.
(3) Repairs to Individual Units
InterRent is responsible for maintaining a residential complex and its rental units in a good state of repair for habitation and for complying with health, safety, housing and maintenance standards.
Furthermore, during the LTB hearing, tenants are entitled to present evidence that the landlord is in serious breach of its maintenance obligations. When deciding on an AGI application, the LTB may consider serious breaches of the landlord's maintenance obligation and, if the LTB finds that a landlord has been in serious breach of its maintenance obligations, the LTB must dismiss the AGI application with respect to the affected rental units, or make an order that the rent not be increased on the affected rental units until the LTB is satisfied that the serious breach no longer affects the rental units.
We have been advised by InterRent that it is the company's practice to bring along the local property manager to case management conferences to speak to these issues.
Conclusion
Having now had an opportunity to fully review the matter internally and with InterRent, we believe that the appropriate forum to address your concerns with respect to the AGI applications, as well as building and unit maintenance, is the LTB Hearing. Similarly, we believe that your concerns related to the L9 applications are best addressed by the LTB.
However, we hope that both sides can come together to reach an agreement that furthers the interests of both tenants and InterRent.
This report concludes our consideration of this matter. We thank you for bringing it to our attention.
Sincerely,
Neal Kerr
Executive Vice-President, CI Financial Corp.
Executive Vice-President, Investment Management, CI Investments Inc.
---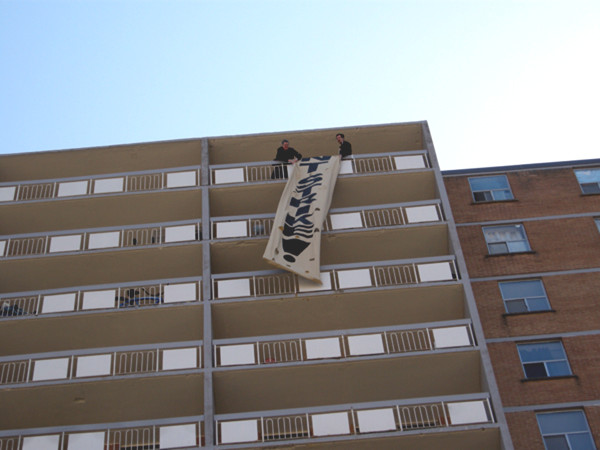 Stoney Creek Towers tenants began their rent strike at the end of April with a rally and banner drop.
---
Hamilton Tenants Solidarity Network
Stoney Creek Towers Tenant Committee
Neal Kerr
Executive Vice-President, CI Financial Corp.
Executive Vice-President, Investment Management, CI Investments Inc.
CI Financial
2 Queen Street East, Twentieth Floor
Toronto, Ontario
M5C 3G7
via e-mail
September 7, 2018
re: InterRent REIT
We are writing in reply to your letter of June 29.
Thank you for responding to our concerns as expressed in our letter to Ms Murray of June 15 and during our meeting with Mr. Matthew Scott on that same day.
We cannot help but feel that your investigation of these matters has been superficial, as you indicate that in your view the Landlord and Tenant Board, and the underlying Residential Tenancies Act, provide the path to resolution of this conflict; in short, you recommend the problem as the solution. Our own investigation leads us to a much different conclusion.
Background
We trace the current attack by CLV/InterRent on the tenants of Stoney Creek Towers to the legislation introducing vacancy decontrol and the "Above Guideline Increase" enacted by the Conservative government of Ontario in 1997. The "Tenant Protection Act" came into effect in June of 1998. Since new rental construction had been declining since 1972, and the Conservatives had immediately cancelled provincial support for co-operative and not-for profit housing on gaining office in 1995, the combination of restricted supply and potentially limitless rent increases attracted investor interest to the existing stock as soon as the new rules were announced.
Five years after the passage of the "Tenant Protection Act", the situation in Ontario was described by Boardwalk Equities, a large landlord, as follows
The biggest risk would be that of oversupply of new rental construction in our marketplaces. Unlike the U.S. market, however, Canada has had a very limited new supply of rental product over the past decade - actually, since the early 1980s. A significant advantage is having a portfolio that was accumulated at a fraction of replacement cost - which was by design. We are well positioned in our major markets with good demand growth and high barriers to new supply. For example, in our market areas, existing rental levels continue to be well below replacement cost rents needed to justify new construction. And, in fact, the rental stock in our two major markets has actually declined over the past 10 years due to condo conversions. Also, we do not believe that any potential future government-initiated programs aimed at spurring new rental construction will have a material impact on our market areas. (cited in Shapcott, Profiting from a Manufactured Housing Crisis, 2002. http://www.urbancentre.utoronto.ca/pdfs/curp/ShapcottProfit.pdf)
Obviously it would not do to take investment fund managers at their word, but less self-interested observers concurred with this assessment of the situation.
Meanwhile the experience of tenants was that they were becoming in effect employees
It is clear that the Tenant Protection Act weakens the logical connection between rent paid and service/amenities received. A tenant's rent will now buy only the right to occupy a unit. Upkeep of the building, capital improvements, and service are extra. It is akin to condominium ownership, without the right to build equity, establish a capital reserve fund, or elect a governing board of directors to maintain the building. (Elinor Mahoney, The Ontario Tenant Protection Act: A Trust Betrayed, 2001. http://digitalcommons.osgoode.yorku.ca/jlsp/vol16/iss1/10/)
Repairs are delayed until problems are generalized and pass from the routine maintenance side of the ledger to the capital expenditures side.
The absurdity of the AGI provisions, even were claims limited to genuine capital expenditure, which often they are not, cannot be overstated. In the single home market, if I am able buy a neglected property cheaply, it is because the price is discounted by the cost of the needed repairs and upgrading. Barring non-disclosure of asbestos insulation or similar malfeasance, it would be considered absurd if I were to subsequently attempt to bill the previous owner for my renovation costs.
Yet the situation with respect to multi residential buildings is just this ridiculous. In the case of Stoney Creek Towers, whose owner's AGI application is the occasion of this correspondence, the previous owner failed to maintain the four towers, and the current owner is now entitled by law to obtain from the tenants the funds which the previous owner still holds, elsewhere. (Of course, the possibility that rents lagged to reflect the lack of upkeep needs to be considered; however, thirty-five year tenants say that their rents and those of comparable neighbouring buildings were similar through their entire pre-CLV tenure.)
In short, they must pay twice for the same work: once when it was not done, but spent elsewhere by the former landlord, and again when some of it is done by the current owner. In addition, they must pay the new owner's borrowing charges, as well as a premium to shareholders and the salaries and wages of a bevy of dependents from REIT employees to underwriters.
During the two decades since the passage of the "Tenant Protection" Act, the multi-residential rental market has become ever more favourable to the owners of large buildings, and ever more difficult for tenants. We have reached the point where the few remaining pockets of affordable rental housing, in secondary markets like Hamilton, are being eliminated from the supply by firms like yours, working through the agency of Real Estate Investment Trusts like CLV/InterRent, North Star, and others.
InterRent
The history of InterRent, gleaned from the news page of the company's online brochure,
http://www.interrentreit.com/news/
illustrates very well the company's development from a comparatively passive vehicle for speculative investment to an active and entirely predatory instrument in the hands of the company's current management. This history also exemplifies the continuing drift of capital away from production, which can be arduous and risky, to mere extraction of rent without regard for the condition of the underlying physical fundamentals. In the case of multi-residential REITs in Ontario, the state's regulatory apparatus does the work and also guarantees the return, no risk involved, and of course provides a steady flow of transaction and management fees to individuals like yourself.
InterRent was started in 1997 by G. Michael Newman, who began with nine units in single-home conversions in Parkdale and elsewhere in Toronto. In November of 1999, the company acquired Beaufort Hills mining. Beaufort Hills bought all shares in InterRent's seven buildings and changed its name to InterRent Properties, which thus became a publicly traded company. The pace of expansion quickened. The houses were sold and larger buildings, in the 20-unit range, replaced them in the portfolio. InterRent arrived in Hamilton in December of 2004, with the purchase of the 17 unit Pasadena Apartments in the James South/Durand neighbourhood.
In the beginning, the company was functioning, in management's words, in a "fragmented" marketplace, where "ownership demographics have remained intact for the past 50 years." The company was relying mainly on the appreciation of land and building values, and so began to look outside of the hot Toronto area for properties that might behave similarly. However, around 2006 the group began to "focus on 'undermanaged' buildings with significant repositioning, or upside potential" and began to scale up, depending on its "close working relationship" with property management firm ADC to increase yield.
As additional funds became available, the size of properties being considered for acquisition and ultimately acquired by InterRent increased. In 2005, InterRent acquired its first building with an elevator in Niagara Falls. This 65 unit building was purchased at an 8% capitalization rate, and had significant upside potential due to its below market rents. In May 2006, the Corporation acquired its second building with an elevator in the City of Hamilton in the area known as Hess Village. This 63 unit building is also the first building purchased by InterRent with the intention of undertaking significant capital improvements to reposition the building in a highly desirable neighbourhood and improve management to turn the building into a well-performing asset. The common elements within all buildings is the "working class" demographic target market of its tenant profile. The buildings are generally located in middle class residential neighbourhoods with good public transportation access. (Information circular and plan of arrangement, p. 39-40, filed as Management Information Circular Oct. 25 2006 available at Sedar https://www.sedar.com/DisplayCompanyDocuments.do?lang=EN&issuerNo=00010579)
At the same time, InterRent completed its conversion to a REIT, and combined its assets with those of Silverstone Equities. The combined properties were appraised as having a market value of about 100 million dollars.
In short, InterRent began a campaign to dehouse Hamilton working class tenants, one in which they were joined by a number of other REITs around the same time, each following a similarly aggressive "repositioning" strategy, in what was soon a much less "fragmented" market - and one which became increasingly uncomfortable for longstanding tenants.
In July 2009, having expanded into Ottawa and elsewhere, InterRent entered into a one year property management agreement with an outfit called CLV, and floated a share offering to raise 8-14 million, depending on the uptake. Uptake was good, and CLV's principal, Mike McGahan, bought five percent of the offering for 700,000 dollars. McGahan had recommended himself to the trustees by his performance on the Ottawa portfolio. By September McGahan was CEO, working with a new board of trustees, and in December founder Michael Newman departed.
McGahan intensified the "repositioning strategy", or at least claimed to do so in reporting results to investors. Although net revenues for the second quarter of 2010 were down slightly, this was owing to "management's decision to move to market rates and more selective criteria for new tenants." The REIT was now "focusing on clusters of buildings within geographical proximity to each other in order to build operational efficiencies and attract focused, professional staff." In addition, "The upgrades to property common areas and first impression upgrades will significantly impact our ability to achieve market rents, attract stable tenants and reduce vacancies."
These "first impression upgrades" and other fripperies which with few exceptions make no real improvement to the buildings are costly to the tenants who have to pay for them through the Above Guideline Increases which the REITs have become so expert in obtaining from a compliant Landlord Tenant Board. It is uniquely irritating to read some REIT puppet's declaration that the owner has "put millions" into this or that property, when in fact they have rather contracted a large debt on behalf of tenants, who have no say in what is done, for purposes of increasing the cash flow to shareholders with little or no regard for the repairs required in individual units, or the long term structural stability and energy efficiency of the building. This last point merits expansion.
Around the same time that the REITs were amassing their portfolios, the multi-residential stock was attracting a different kind of attention. In the absence of new rental starts, and with the continuing preference for condominium development, whose rental offerings were out of reach for low income earners in the Toronto market, the condition of the multi-residential reserve became a concern for academics and policy makers. Since 2,000 towers house many hundreds of thousands of people in the GTHA, the maintenance of this mostly 50 year old stock is increasingly critical during this period of extreme market failure in the housing sector.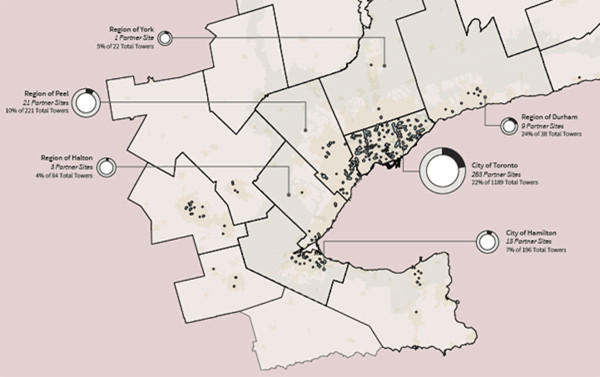 Clusters of apartment towers over seven storeys in the GTHA. Hamilton has just under 200. (Image Credit: Tower Renewal Partnership Understanding the Tower Landscape.)
The eventual response to the linked problems of preserving large concrete structures for the longer term and "repositioning" them in the energy economy was Toronto's "Tower Renewal" program, introduced in 2008 with an extended pamphlet prepared by ERA architects and the University of Toronto for the municipality. (The Mayor's Tower Renewal Opportunities Book.)
The following year the underlying research, by Ted Kesik and Ivan Saleff, titled "Tower Renewal Guidelines for the Comprehensive Retrofit of Multi-unit Residential Buildings in Cold Climates" appeared.
http://www.nwcbooks.com/download/tower-renewal-guidelines/
Discussion of Tower Renewal Financing has revolved in part around the possibility of cross-subsidy provided by the mixed use infill which could occur adjacent to the many buildings whose designers followed the Tower in a Park approach common during the third quarter of the twentieth century.
Tower Renewal, moribund during the Ford mayoralty, has been revived by the current council, whose members lately extended a pilot program of low interest loans meant to encourage energy and water saving retrofits. The loans are recovered by imposition of a local improvement charge which is added to the tax bill. Under the terms of the loan agreement building owners cannot recover the cost by resort to an AGI application, so it cannot be passed on to the sitting tenants. The operating cost savings accrue entirely to the owner. However, it is not clear to us what, if anything, prevents a landlord from rolling some or all of this debt repayment into a new tenant's rent on turnover.
Since InterRent and their like have an entirely parasitic relationship to the tenants of multi-residential buildings, no such retrofitting occurs. When the REITs have departed the scene, either because the federal government belatedly decides that the long term social and economic costs of your approach are more important than the returns to you and your clients, or because tenants have overturned the REIT business plan by rejecting their extortionate demands, almost all of the work required to extend the life of these structures and render them energy-efficient will still remain to be done. Indeed, with the possible exception of towers in the possession of social housing authorities, nothing much is likely to be done to ensure their longevity as long as the current owners are encouraged in their negligence by the banks and investment firms like CI Financial. Where is the incentive for constructive change?
In these circumstances, and given the continuing failure of the market and government to build new housing affordable to low and middle income earners, tenants have no recourse but to interrupt the flow of cash through CLV to your clients in order to maintain affordable rents and obtain necessary care for their buildings. Stoney Creek Tower residents are now entering the fifth month of their rent strike.
Accordingly, we ask you again to honour your stated commitment to responsible investing by interceding with CLV/ InterRent to encourage them to enter into negotiations with their tenants, for the long term benefit of tenants, multi-residential rental buildings, and investors
Sincerely
Stoney Creek Towers Tenants Committee
Hamilton Tenants Solidarity Network
---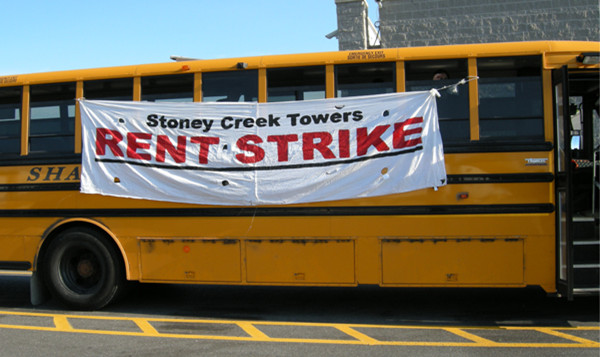 As their strike entered its fourth month, Stoney Creek Towers tenants and supporters made a field trip from Hamilton to Ottawa to deliver greetings to CLV/InterRent at home office. After three hours of police-mediated negotiations, the company agreed to accept a letter from their tenants.
Post a Comment
You must be logged in to comment.