A Closer Look at the Jamesville Redevelopment Plan
Are we, Hamiltonians, the owners of these properties, okay with this outcome, even with a National Housing Strategy that promises (but has not yet delivered many) more federal dollars for affordable housing?
By Rob Fiedler and Shawn Selway
Published October 15, 2018
On Wednesday, the Hamilton Spectator reported that City Housing Hamilton (CHH) has decided to relocate 45 of the rent-geared-to-income (RGI) housing units at its Jamesville site, in the North End to a new six-storey apartment project at Bay and Cannon.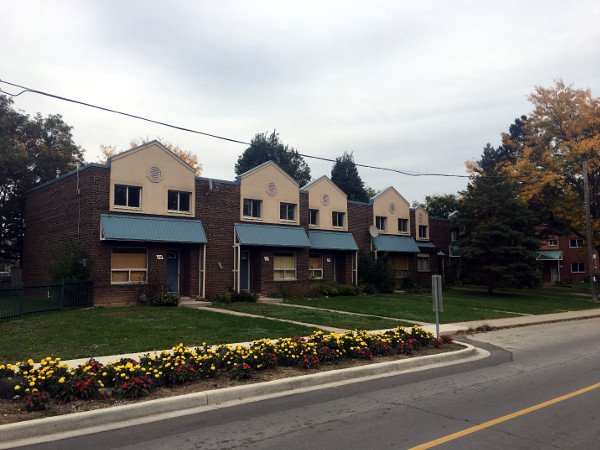 Jamesville
That means current plans for the redevelopment of Jamesville, in addition to replacing 46 CHH RGI units onsite, will add 300-400 new market rental or condo units.
In principle, intensification of the Jamesville site is a positive, particularly if it adds much needed affordable housing--not just social housing or other non-market units, but market housing affordable for middle-income households.
But it's not that simple at Jamesville, and there is a lot more to unpack here.
City Housing Hamilton effectively put the for sale sign out over a year ago with a Request for Expressions of Interest (RFEOI). With that we learned that Jamesville's 91 townhouses, suitable for larger families, were slated for demolition and replacement. . . in some form. And there's the rub.
The details released this week hint that plans are a mixed bag, with some serious deficiencies.
Jamesville is across the street from the West Harbour GO station. Before the arrival of the first train in 2016, the surrounding area was subject to a mobility hub study to determine how best to leverage the province's transit investment.
That can be summed up with one word: intensification. And it makes sense. More residents and jobs in the surrounding area would support increased service levels and add revenue from property taxes without requiring expensive parking beyond the approximately 400 spots built in the rail trench as part of the station.
Some of us are disappointed that all-day, two-way service doesn't seem to be in the cards and if you don't work along the Lakeshore West line or in downtown Toronto, you aren't getting much out of West Harbour GO. Right now, only two trains run out of it to Toronto in the morning, and two trains return in the evening.
Regardless, those two trains have been accompanied by development pressure and rising land values. Admittedly, house prices in the area were already on the upswing before West Harbour GO was built, but in the last few years the displacement of lower-income residents, especially those renting, has been noticeable.
Displacement in the North End has been linked, in particular, to the loss of rental apartments from what are now single family houses. The displacement and new development at Jamesville are part of what geographer Tom Slater calls "municipally-managed" gentrification, with the new development deemed "mixed-income" on the basis that the current plan will put half of the lost CHH units back.
We don't yet know where the rest of the "new" Jamesville will land in terms of affordability, broadly speaking, and that is problematic. We cannot be sure what CHH or their single owner, the City of Hamilton, understands by housing "affordability", but can assume it most likely will resemble the definition provided in the Provincial Policy Statement (PPS):
a) in the case of ownership housing, the least expensive of:

housing for which the purchase price results in annual accommodation costs which do not exceed 30 percent of gross annual household income for low and moderate income households; or

housing for which the purchase price is at least 10 percent below the average purchase price of a resale unit in the regional market area;

b) in the case of rental housing, the least expensive of:

a unit for which the rent does not exceed 30 percent of gross annual household income for low and moderate income households; or

a unit for which the rent is at or below the average market rent of a unit in the regional market area.
Similarly, for proper comparison of units the standard metric would have to be square footage, not a "unit" of undefined size.
Certain facts are known. Going back to 2014, the City has been slowly emptying out the Jamesville townhouse complex in advance of making a final decision on its fate. The same has happened down the street at the Ken Soble Tower (500 MacNab Street North).
In both cases, the City and CHH maintain that the approximately 50-year-old housing units are in such a state of disrepair that they are uninhabitable. The 17-storey Ken Soble Tower is slated to undergo a Tower Renewal retrofit after which its 146 units will become public housing for seniors and a showcase for sustainability and energy savings. We hope the retrofitted Ken Soble Tower will be a success story.
But on a very general level, in a growing city with a shortage of affordable housing, is the only option to sell Jamesville to a private-sector developer?
Just like the development at Pier 8, the City is choosing to let the market decide the answers to some very important questions, such as: What do we mean by "affordable," and how many units? How big is a unit? How many units will be dedicated rental? How many will be condos? What spectrum of affordability will the redevelopment incorporate, and what mix of unit sizes and number of bedrooms will be included?
Staff Reports to the CHH board meeting last month provide a window into where things are headed, but not final answers. We will only inch closely to answers after an RFP process like the one for Pier 8 is completed. That is more than a year away.
With Pier 8, City Council set the bar at 5% affordable housing in the form of moderately below-market units targeted for homeownership (i.e. condos). That low number was selected despite Setting Sail, the Secondary Plan for the West Harbour, saying "In developing city-owned lands for residential purposes; Council may require that at least 25% of the gross area of such lands be provided in the form of affordable housing."
So what are we getting at Jamesville? Any chance of getting to the 25% affordable mark?
That depends on what ultimately gets included in the unit mix. In terms of replacing CHH's units, a rough calculation would be between 11-14% of the overall unit mix, which is expected to fall between 329 and 427 units. So, getting to 25% affordable on the Jamesville parcel will be reliant on other forms of affordability being included, if the City insists on it, and if any developer believes they can do that and still make money on the project.
Right now, about 30 units remain occupied at Jamesville, meaning that in the midst of a housing crisis CHH has over 200 units in the North End sitting vacant.
Even the most optimistic forecast will see most of Jamesville's 91 units sit empty for years. As the Spectator reported, "The plan is to sell the 5.4-acre site and award a contract to a developer by November 2019."
By our count, by then, some of Jamesville 91 units and many of the units in the Ken Soble Tower down the street will have been left vacant for five years.
We'll leave you with a final aspect of what we're (not) getting as part of Jamesville redevelopment: one-for-one replacement of the CHH RGI units being demolished.
What the Spectator reported as "Jamesville social housing units to be split between two sites" makes it appear as though there will be no net loss in units. As Ward 2 Councillor Jason Farr pointed out to CBC Hamilton, in response to criticism of the plan by one of his election opponents, Cameron Kroetsch, there will actually be a modest gain if you count the ten extra market rental units as affordable.
Things look a little different if you read more closely CHH report 18014, which describes the recommended option for Bay and Cannon.
What is being proposed as the replacement for the 45 units being shifted from Jamesville is quite different from what is being lost. At a minimum there will be a loss of 25 RGI family-suitable/sized units, even if all 46 RGI units constructed as part of the "new" Jamesville have 3 or more bedrooms. But again, the unit mix at a redeveloped Jamesville is still unknown.
What's more, the 20 replacement three-bedroom units to be built at Bay and Cannon are noticeably small at 770 sq ft. Are these really an adequate replacement for the larger townhouse units found at Jamesville today?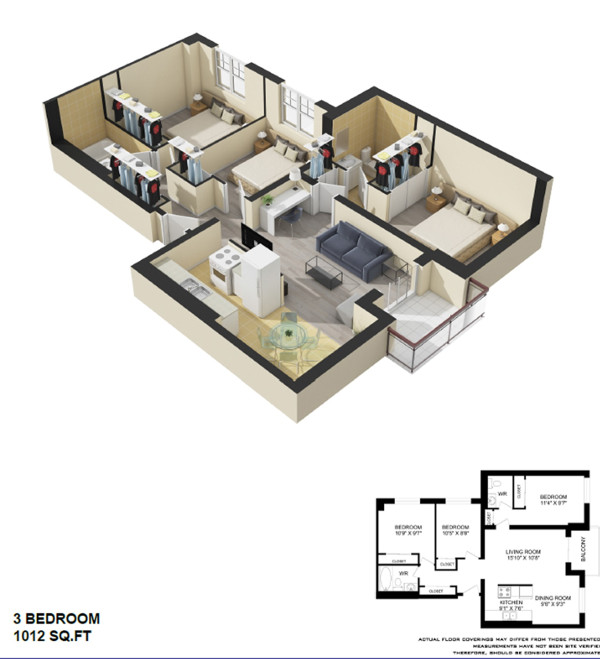 Existing three-bedroom unit in a downtown high-rise rental building. At a thousand square feet, it's efficient, but pretty snug. (Image Credit: Greenwin Property Management)
A couple of years ago, commenting on results from a survey of tenants at Jamesville and the Ken Soble Apartments, City Housing Hamilton CEO Tom Hunter told the Spectator that many families in Jamesville were underhoused:
60 per cent of respondents at Jamesville are actually "underhoused," said CEO Tom Hunter. That includes 21 families that could use an upgrade to four bedroom units and 13 who could use five bedrooms.
So, despite promises that "we are not kicking anyone to the curb" it seems highly unlikely that replacement units will be large enough to accommodate many of the families being displaced by the redevelopment. That despite survey results indicating most wanted to stay in the area and many wish to return to the redeveloped properties, if that is possible.
As many YIMBYs continue to say, we need more supply. But that new supply is expensive to build relative to household incomes from the middle downward. That is a major reason why we have a housing crisis.
Consider what a new compact, but more reasonably sized three-bedroom unit of 900-1000 square feet costs (more than half a million dollars for a condo at retail) and you get closer to understanding why intensification struggles to produce affordable housing for families in older urban neighbourhoods in Hamilton. And why our existing stock of it, and the land it sits on, is so precious. But this also is under threat, from the "market repositioning" strategy of the Real Estate Investment Trusts (REITs) who have bought up much of that stock, precisely because it is cheaper to buy an existing tower than build a new one.
So if the City is truly looking for solutions to our affordable housing crisis, will selling Jamesville help at all? Again, we don't really know, but we can guess by what is happening closer to downtown.
A market assessment for the Bay and Cannon parcel (summarized in CHH report 18014) found:
While rental demand is strong, the achievable rental rates in the City are very likely to support a lower land value and attract fewer market participants than a condominium building if the land was sold to fund the development of affordable housing on Bay-Cannon or elsewhere.
In other words, developers' expected profit margins are lower for purpose-built rental than for condominium construction, so to realize the same gain, the developer must pay less for the land. This is suggestive for Jamesville. If the same assessment applies, and we can't think why not, then selling the land underneath to renew what is above will need to be matched with a lowered expectation that the sale and redevelopment itself will be remunerative enough to allow the provision of additional "affordable" market housing on that site. Accordingly, we will likely see a few more changes of plan before we know exactly what will be done there.
Are we, Hamiltonians, the owners of these properties, okay with this outcome, even with a National Housing Strategy that promises (but has not yet delivered many) more federal dollars for affordable housing?
We hope not.
In a second installment, we plan to outline possible alternatives.
Post a Comment
You must be logged in to comment.