Livable Lanes: Laneway Housing in Hamilton
Laneway housing in Hamilton will create more housing options for people that are drawn to our city's older neighbourhoods. It allows new housing to incrementally utilize existing urban infrastructure.
By Emma Cubitt
Published January 10, 2019
Laneway housing movement: a small but catalytic venture in post-urban (or re-urbanizing) adventuring in the city's inner frontier.
— Gary Michael Dault
When I completed my architectural masters thesis back in 2008 at the University of Waterloo, it was called "Incremental Intensification: Re-Creating Laneway Housing in Hamilton." Citing the growing movement taking root in Vancouver, Toronto, and other North American cities, it was an academic study meets how-to guide for how the City of Hamilton could allow this type of affordable, small-scale infill housing.
At the time, average house prices in the Hamilton CMA were around $300,000. Now that prices have almost doubled, this new option for urban infill development is even more vital - and economically viable.
Ideas can take time to root. I have been presenting the idea of laneway housing to our city's planning department since 2008, and finally this housing typology has become legal: a pilot zoning for Wards 1-4 was approved by Council in September 2018. This article explores how the new pilot zoning can help improve housing options in our city.
Laneway housing in Hamilton will create more housing options for people that are drawn to our city's older neighbourhoods. It allows new housing to incrementally utilize existing urban infrastructure.
Smaller households - singles, couples, small families, or seniors - who don't need larger housing, want improved accessibility, and crave walkable amenities are drawn to a housing typology that can enhance a sense of community. Laneway housing can play an important role in enhancing the architectural fabric of our neighbourhoods.
Hamilton's Historic Laneways
Hamilton has over 800 lanes that span roughly 100 km. Houses oriented to the lane have not been officially catalogued; many have existed since before existing zoning bylaws were enacted, and so most have grandfathered conformity. Many others exist under the radar, without formal legal status.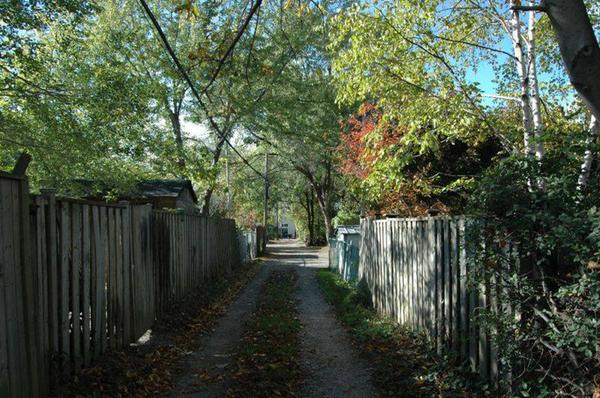 Typical green leafy laneway in Hamilton
Whether in converted carriage houses or other back buildings, I have counted approximately 70 laneway houses in Hamilton. Their size is typically 45 percent of the primary dwelling, on lanes that are roughly 3-4 metres wide.
The majority of Hamilton's laneways are City-owned (656). Below is a chart that shows the number of laneways by ward. According to the City of Hamilton, 15,000 properties currently abut laneways. The average lot coverage is typically in the range of 25-50 percent.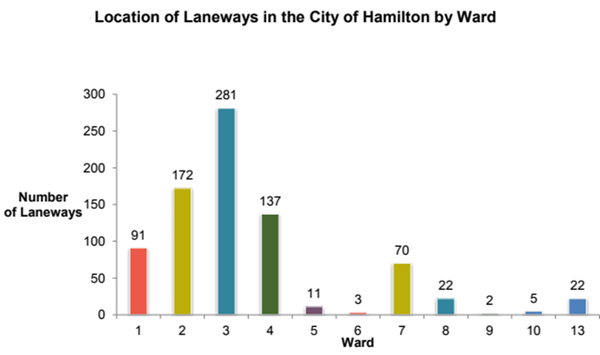 Location of Laneways in the City of Hamilton by Ward
Laneway Houses go by many names: laneway houses, accessory dwelling units (ADUs), secondary suites, alley houses, tiny houses, garden suites, maisonnettes, and so on.
Laneways are a genteel Canadian term for alleys, and historically provided secondary access to the main house for parking, deliveries, and services like garbage pick-up and utilities. Lanes continue to be used as alternative routes through neighbourhoods for parking and walking.
Toronto urbanist Gary Michael Dault explains this in his Canadian Architect article, "Inverse City":
If streets and boulevards are the arteries of the city, laneways are its capillaries. There's a high energy in the laneways, both distaff and invigorating. A city's laneways and alleyways provide the best and the worst a city can offer-urban intimacies sans facade, in both heartwarming and bone-chilling modalities. If you walk the laneways and alleyways, you see a city back to front, an inverse city pulled inside out like a sweater.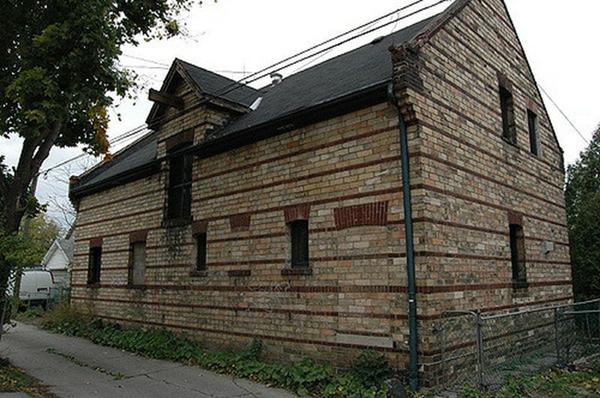 Historic coachhouse in Hamilton's Kirkendall neighbourhood - there are many buildings like this already in Hamilton's urban fabric that would make a simple conversion to a home (many already are)
Brief History of Laneway Housing in Canada (and the US)
After a century of marginalization due to their reputation as harbingers of crime and dereliction, the re-awakening of laneway consciousness in Canada has been slow and steady.
In 1977, Toronto Architect George Baird published a document called Vacant Lottery that articulated the potential of the lanes for intensification. Years later, CMHC published a 2003 report with four different designs for compact two- and three-storey houses that could suit the scale of a lane.
In 2004, a small handbook called: "Site Unseen: Laneway Architecture & Urbanism in Toronto" was released by the University of Toronto. Momentum was now growing.
Site Unseen might act as a catalyst for emergent possibilities of intensification. In the last decade the laneway - or alley - has demonstrated, albeit infrequently the opportunity to generate thoughtful and regenerative architectural insertions in Toronto. Here, the city's laneway systems are recognized as a legitimate and potentially vast urban 'resource' offering a new, incremental urbanism.
Very few municipalities in North America allowed laneway housing prior to the 2000s; those secondary suites that existed were under the radar. New zonings started emerging in 2008 in west coast cities; Vancouver has since issued over 3,300 new laneway house permits. Portland likewise has around 2,000 ADUs, and Edmonton has had 200 laneway houses built.
Toronto and Hamilton joined these progressive communities in 2018, creating a zoning to allow this housing type. This growth is well tracked on AccessoryDwellings.org, a clearinghouse for information and regulations related to this housing type across North America.
Today, most municipalities that do not yet allow ADUs are re-considering their zoning bylaws. Many see their potential to address housing affordability, and are looking at ways to make this type of infill cost-effective to the homeowner.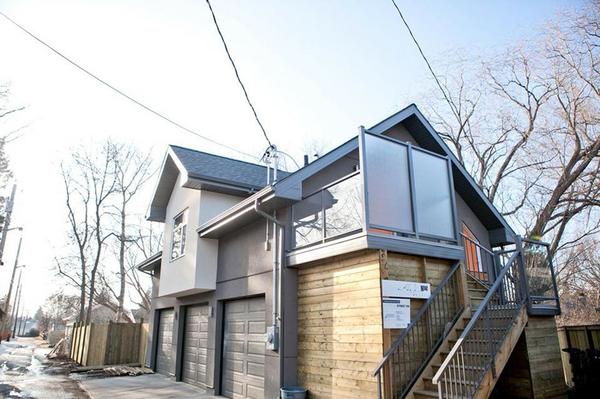 New garden suite above a three-car garage in Edmonton
While Vancouver has been the main Canadian leader in laneway housing, I prefer to look at what is happening in Edmonton, since it has more in common with a city like Hamilton.
The non-profit YEGarden Suites has created a great resource to follow the development of this housing typology. The group leads Garden Suite 101 workshops for potential homeowner-developers, hosts regular tours of laneway houses, and acts as a listing agent for renting garden suite units.
Ashley Salvador from YEGarden Suites inventoried the homeowners and renters of all current garden suites and had some very interesting findings. In particular, while most garden suites are rented at market rate, 25 percent rent for $700 or less.
This provides a type of voluntary affordability - renting to friends or family that need financial assistance, without receiving government subsidies. A similar study of ADUs in Oregon saw similar results.
As a result, we can expect a similar proportion of affordable rental units in Hamilton as a result of laneway housing. This is a very welcome part of the answer to a very real problem of housing affordability in our city.
The type of tenure of laneway houses varies, but according to the survey of ADUs in Oregon, 80 percent - the large majority - were used for long-term rental. The other 20 percent were used for short-term rentals or home offices.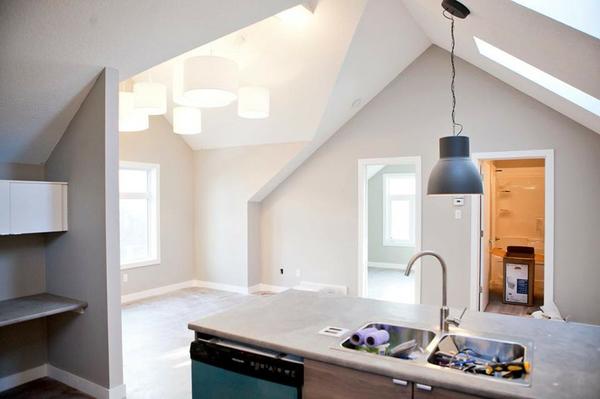 Inside a new garden suite in Edmonton at the final stages of construction
Hamilton's New Laneway House Zoning
After several years of research and gauging political will, the City's planning department recommended a pilot zoning in 2018. Edward John, a planner and now the Director of Hamilton's Housing Division, presented these reports to Council.
The pilot zoning is simple in that there are only a few limitations for these new secondary dwelling units:
Must be on a property with a single family detached house only in part of Wards 1-4
Laneway house must abut a laneway
Max height 6 m
Max area 50 square metres GFA (gross floor area)
No windows on the second floor unless facing the laneway (or within the roof)
Maintain minimum distance of 7.5 m between the two houses
Maintain setbacks of 1.2 m between the side yards and laneway
No parking required for the secondary dwelling unit
In Wards 1-4, a laneway house can be added as-of-right, with only a building permit needed if it meets these requirements. Existing buildings such as garages and historic coach houses may also be converted to laneway houses, although might need alterations to the bylaw through the minor variance process.
I anticipate that many homeowners will opt to modify the zoning through variances to add floor area, additional windows, etc., however it is useful to have the option of going straight to permit for smaller units that meet the bylaw's reasonable tests.
The one missing link at this point is clarification on required development charges for these units. In many municipalities, development charges for ADUs have been waived in order to make them a viable form of affordable rental development - and recognizing that there is almost no additional municipal servicing required.
Currently, the DCs for a new laneway house would be calculated the same way as a new house, at $40,494 plus education development charges and parkland dedication fees. This level of fees for small infill development drive up the costs significantly, in reality beyond the point of viability.
Hamilton currently has a development charge waiver for additional dwelling units within an existing house (like basement apartments), reducing the fee from $18,305 for a one bedroom to $0. This type of reduction is also necessary to encourage laneway suite development, and luckily a motion is going to finance committee later this month (January 28th) to do just that - the details of which are still forthcoming.
On-site servicing is another important topic. The zoning states that servicing will be reviewed on a case-by-case basis, but generally the City will only accept site services to be 'Y'd from the house's main service in the front yard. This will cost an additional $10-15,000, depending on the site area.
It also requires adequate space beside the primary house for digging this additional service to the rear of the lot. It may be advisable to review this requirement, allowing the laneway unit to be serviced through the main house - especially as they are currently required to be under one ownership.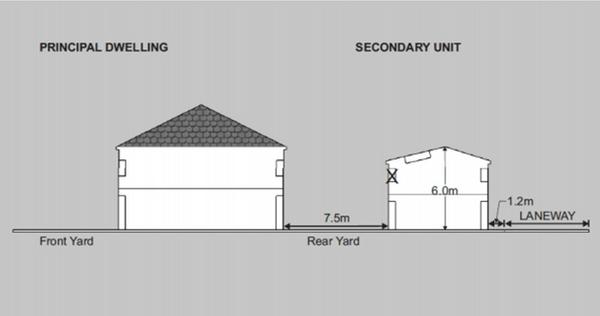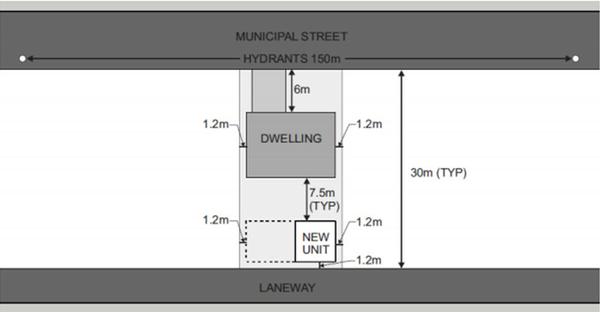 Requirements for a laneway house in Hamilton
The True Cost of Laneway Housing
New laneway housing has been forbidden virtually everywhere for the past sixty years, so it is difficult to know the standard costs of such developments. It takes time for a market to develop, along with the right designers, builders, and other infrastructure around a housing type.
That being said, in Edmonton, the average construction cost of a garden suite is $135,000. In Portland, the cost is closer to $180,000. In Vancouver, where everything is expensive, the cost has generally been over $300,000.
There is a baseline cost to building a house in Hamilton, whether it be 550 square feet (50 square metres) or 2,500 square feet: every dwelling needs a kitchen, washroom, services, and so on.
Based on related costs, I would anticipate that a new laneway house in Hamilton would cost around $200-250 per square foot to construct. That means a 550 square foot unit would be around $140,000 (construction), while a larger 800 square foot unit (which would need a minor variance) would be in the range of $180,000.
With permit fees, any development charges, site servicing, and consulting fees, total costs will likely reach over $200,000.
There are ways to keep these cost down, including potentially renovating an existing structure (like a newer garage or older coach house) or keeping to a smaller scale. A study of ADUs in Oregon found that homeowners that act as the general contractor can reduce overall costs by 15-25 percent. However, this does involve investing significant time to oversee the project.
The average homeowner who develops a laneway house does some of the work themselves - on average ten weeks of sweat equity - which helps mitigate construction costs. Timelines for the development of laneway houses also varied from four months to two years.
One common challenge with laneway house development is financing. The book Backdoor Revolution by ADU guru Kol Peterson outlines some of the challenges of financing this new housing type.
Because they are unfamiliar to financial institutions, homeowners generally need to either have savings set aside for the development, or take out a line-of-credit on the main house to fund the project. For now, it can be difficult to get a typical mortgage from bank for a laneway house until there are enough constructed to determine the bank's risks.
It also does not make as much sense for speculative builders, since the property value assessed by traditional methods may not appreciate the full amount of the cost of construction. Laneway housing can be a great investment - with a potential rate of annual return between 6-10 percent, but this has yet to become the primary driver for their development.
Why Laneway Housing in Hamilton Matters
Hamilton needs new forms of urban development that will enhance the architectural and social fabric of our older neighbourhoods. Luxury condominiums and apartment towers are not the only answer to meeting the demand for growth downtown. It will be very exciting to see these new homes start dotting our laneways across the downtown as more sustainable ways of living emerge.
A less car-centric, more integrating, creative, and affordable future is good for everyone. There are a few other benefits:
No other current housing form is typically developed by ameteur homeowner-developers. This typology holds great potential to revive a range of business and development skills amongst ambitious homeowners.
Laneway houses are each unique, they add character and security to a laneway by creating living presence in otherwise uninhabited areas.
They preserve historic neighbourhoods and don't required bulldozing the main house, like most other redevelopments.
Laneway house developers fill a niche for specialized builders and other trades, in particular those with a strong sustainability mandate.
They allow seniors to age in place, families to live close to each other, and promote other forms of cross-generational community.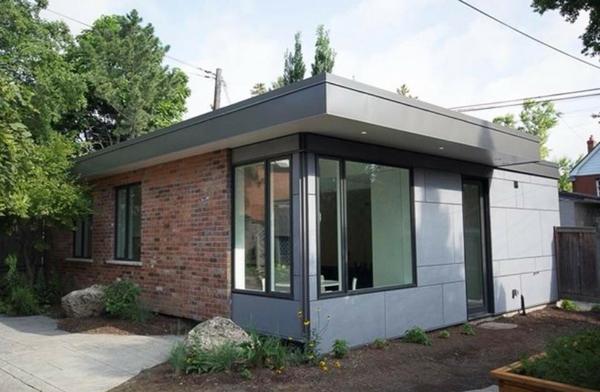 Hamilton's first legal laneway house in over 50 years thanks to the pioneering of homeowners Karin Dearness and Andy Stone
Next Steps
I created a Facebook Group called Laneway Suites in Hamilton last year to act as a clearinghouse of information on the topic, especially for potential homeowner-developers. So far there are close to 200 members of the group and it has been a useful tool for sharing information and answering questions.
Going forward, I would like it to be a place where potential homeowner-developers can go to find an industry directory of architects/designers and builders that specialize in these homes, as well as other products and ideas.
If these small homes take off in Hamilton like they have in other communities, we can also organize tours of built laneway houses and share postings for available suites for long or short-term rental, similar to YEGarden Suites.
While still eagerly waiting for the reforms to development charges, I have already begun working with several homeowners looking to convert their coach houses or build a new laneway house on their site. I expect 2019 will see a number of new laneway houses start construction in Hamilton.
If you are interested in following the development of these unique apartments, join the facebook group Laneway Suites in Hamilton. I expect there will be a groundswell of these tiny homes in the coming months - stay tuned for future updates, and check them out yourself by exploring Hamilton's very livable lanes.
Post a Comment
You must be logged in to comment.