Hamilton's Pride Flag is a False Promise of Safety
Hearing our Chief of Police on the radio outright say that their response time (it was more than a half an hour to walk across the park) was directly because they felt unwelcome at Pride is a slap in the face to the Trans* and Queer community.
By Dakota Lanktree
Published June 24, 2019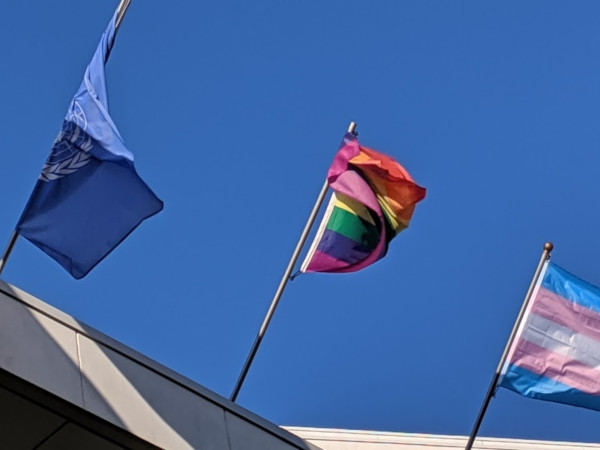 The tangled City Hall Pride Flag is an apt metaphor for the City's complicated relationship with the LGBTQ+ community (RTH file photo)
Mayor Eisenberger,
I was deeply disappointed not to hear back from you regarding the letter I sent to you last Sunday night. In my experience, your office has done well in the past at corresponding with citizen concerns. Flatly ignoring them now feels a bit like a slap in the face, but so do a lot of things at the moment.
You see, Mayor Eisenberger, I've found myself in a state this past week. It has felt like one thing after another. I'm not going to give you some big spiel about how I believed in you and you let me down. Nor will I say that I believed in the police and they let us down.
I think what I imagined was that there would be tangible moves made quickly to avoid further issues. Rather than that, what I've seen is very clear blame-shifting and avoidance.
Now, I want you to understand that I know that dealing with issues surrounding folks' freedom to express themselves are ones in which we must take care. But, on the flip side of things, the current situation in Hamilton is one that can actually have a cost in lives.
Not feeling like you're safe in your community can contribute to the feelings of isolation and despair that individuals in oppressed groups feel. This can contribute to suicide numbers, and suicide attempt rates among Trans* and Queer folks are already much higher than those of the general population.
Can you imagine someone taking their own life because they weren't accepted or because they were outright hated? I can. I've known too many people who are gone now.
I've been told that it will take a month to study the rules surrounding the current use of the City Hall forecourt. A month. I've been told that you've a legal report in the works that is expected sometime in the fall. That's not good enough.
In the recent case of the danger being revealed regarding the Red Hill Expressway, you folks acted fast because lives are at risk. Lives are at risk here and now in this situation.
Hearing our Chief of Police on the radio outright say that their response time (it was more than a half an hour to walk across the park) was directly because they felt unwelcome at Pride is a slap in the face to the Trans* and Queer community.
I don't expect better, but I need better, because there is a cost in lives to this kind of perspective.
I've recently been told the story of an artist who was beaten severely and then committed suicide in Hamilton in the seventies. Phil Stone was beautiful. And, they did the best thing that an artist can do, they inspired others with their work and their bravery.
I've spoken with a few folks who knew them, and became artists because of their life and beauty. I don't like that I'm sitting here and thinking about their death, because their art is just so beautiful and you can feel their soul in it.
So let's talk about what it means to inspire people, which they did. It's hard to be something if you can't dream about it. Every single Queer person who came out in that era was like a beacon of what can be. A shining light in the darkness. That one was snuffed out, Mayor Eisenberger.
A few weeks ago, I would have thought to myself that this kind of thing could never happen again in Hamilton. But, that's not really true, is it? I find myself needing to stop thinking about all of this. I'm someone who digs in five inch heels to make change sometimes. But I think I'm just letting this one go.
Now I know how the police in Hamilton really feel. Now I know whether the Mayor in Hamilton is willing to step up to help the Trans* and Queer community in this city feel heard. So I've learned something that sickens me, and instead of digging in those heels I'm just going to walk proudly in them.
It didn't surprise me to learn that the reason that we're able to have Pride in Hamilton is that Mayor Bob Morrow was forced to accept it with a Human Rights case (there are multiple ways that's ironic and sad, Bob wasn't a beacon). This hasn't been apologized for, in fact it was railed against and the city changed policy to avoid proclaiming Pride Week. How's the city's proclamation policy these days?
So, keep your Pride flag up, but I know that it's false. This is not a safe community for Two-Spirited (not 'Twin-Spirited) Trans* folks, Queer folks, or people of colour. Hate has bred on your doorstep, and you do nothing.
I don't expect to hear from you in response to this. But, I really need to. I don't expect better. But, I really need it. We all do.
Post a Comment
You must be logged in to comment.