Alberta's Oil Tantrum Masks a Desperate Cry for Help
Alberta's entire political economy is built on resource extraction, corporate capture and rampant denial of reality.
By Ryan McGreal
Published October 24, 2019
All this post-election talk about Alberta separation certainly provides lots of grist for the mill, but I'd like to resist the urge to dig into conservative fragility and libertarian tears for a moment and reflect instead on this idea that Alberta doesn't need Canada.
Despite surface appearances, Alberta's economy is moribund, tied entirely and hopelessly to high-cost, low-value resource extraction of an inferior product with extreme global price volatility that needs to be refined considerably just to become crude oil.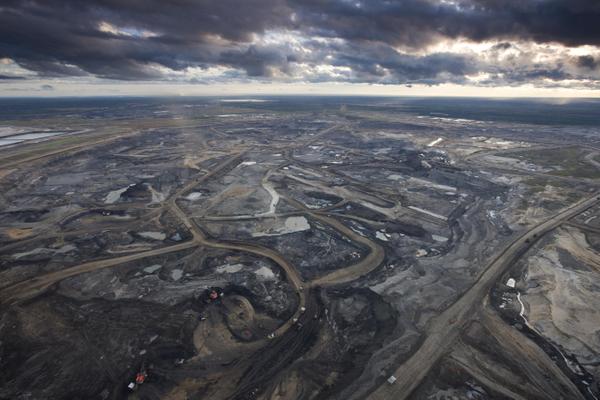 Alberta oilsands (Image Credit: Environmental Defence)
The political culture is monolithic and effectively controlled by a handful of fossil fuel companies whose only goal is squeezing revenue out of the province for as long as possible, which is why Alberta has among the lowest oil industry royalty rates in the industrialized world. While Norway leverages their oil revenue into a trillion dollar sovereign wealth fund, Alberta trades its oil to avoid a provincial sales tax.
It would be bad enough if Alberta was 'merely' trapped by the Resource Curse, with a de facto one-party political system, sluggish economic growth, staggering environmental degradation and widespread public resentment and alienation.
But global warming is a real thing, it is already happening observably and measurably around the world, and it is getting worse. In fact, the rate of warming is increasing and we are hurtling toward tipping points where it becomes uncontrollable.
Yet Alberta's political culture is so dysfunctional that the first thing its governing party did, after closing the party schism that had caused it to lose the previous election and reclaiming power, was to cancel the extremely modest carbon price the previous government had implemented to facilitate a 'social licence' to keep extracting oil.
And they eliminated the price on carbon as smoke from out-of-control wildfires, made worse and more frequent by global warming, literally blew into town and canceled their celebratory presser. You couldn't write this in a TV show.
Meanwhile, Alberta has absolutely no inkling of a plan to begin to transition away from its one-trick industry of pumping steam into greasy sand, catching the bitumen that oozes out and selling it (often at a loss) to refiners. In fact, echoing a similar policy of maximum wreckage as Doug Ford in Ontario, one of Alberta Premier Jason Kenney's first acts was to kill off a renewable energy program in order to burn the bridge to a diversified future.
Alberta's entire political economy is built on resource extraction, corporate capture and rampant denial of reality, and the prevailing culture thoroughly reflects ideological demands of its industrial masters. The collective temper tantrum we're seeing is the cognitive dissonance of Alberta's deep conundrum made manifest.
This crisis is not going away, and escaping the resource curse will not be easy. We are in for troubling times and Alberta's deranged politics makes it exponentially more difficult even to name the source of the crisis, let alone address it meaningfully.
Canada needs Alberta to get with the program or we have no chance of meeting our historic obligation to decarbonize our economy. At the same time, Alberta needs Canada to support what will be an expensive, disruptive and even traumatic transition away from an unsustainable business that has seeped into the province's core identity.
But we can't build a common purpose as long as Albertans - and conservatives generally - continue to categorically deny reality.
We're going to have to have some difficult, uncomfortable conversations in the coming weeks, months and years, and we have no time to waste. We are fast approaching the point at which humans effectively lose control over the concentration of greenhouse gases in our atmosphere.
Post a Comment
You must be logged in to comment.