High Interest: Protecting the Illegitimate Profits of Payday Lenders
The payday loan industry is booming, but the interest they charge is against the law. Now they want the law changed - or they'll be out of business.
By Adrian Duyzer
Published October 06, 2006
The federal government is poised to introduce new legislation aimed at regulating the payday loan industry. According to media reports, the legislation will give authority to the provinces to set short-term interest rate limits for payday loans.
Getting this legislation passed is a top priority for Michael Thompson, president of the Canadian Payday Loan Association (CPLA). He says the association wants to "make sure that the legislation gets introduced quickly and passed through Parliament quickly".
In a telephone interview with Raise the Hammer, Mr. Thompson gave several reasons for this urgency: the need for "regulatory certainty", payday lending's poor image in the media, and putting a halt to "certain issues in the industry that are potentially hazardous to consumers".
However, a recent British Columbian Supreme Court decision against a payday lender has sent shockwaves through the industry and provided a powerful motivation for new laws: without them, payday lenders may not survive.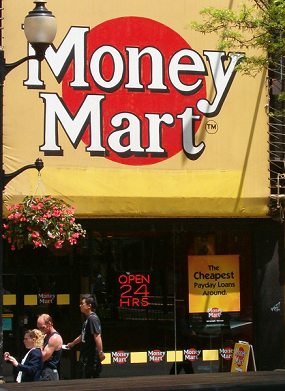 Money Mart loaned $129,092,000 USD in the first quarter of 2006
Criminal Lending
Payday lending is a lucrative business: the interest and fees are hefty, and a lot of loans are being taken out. Canada's Money Mart locations loaned $129,092,000 US in the first quarter of 2006 (Money Mart is a subsidiary of Dollar Financial, an American company).
But there's a catch for the consumer. Borrowing money from payday lenders is costly. CashMoney, a popular payday lender in Ontario, charges $22 for every $100 loaned. That works out to an annual percentage rate of interest (APR) of 575 percent. If you borrowed $1000 at this rate, you'd owe $5,750 after just one year!
There's a catch for the industry too, and it's a big one: Canada's Criminal Code prohibits an APR greater than 60 percent.
That's why Canada's payday lenders charge less than this interest rate - at least, for the part they call interest. They also charge fees that they claim don't count as interest.
In CashMoney's case, for example, the $22 is a fee, not interest, according to the woman I spoke to on the phone. According to them, CashMoney doesn't charge interest at all.
If that sounds like mere word juggling to you, maybe you should consider a career as a judge, because that's exactly what the Supreme Court in British Columbia recently decided.
In a class action lawsuit against A OK Payday Loans, Justice Brenda Brown ruled that fees and late charges are interest - and so the rate the company charged for the loans was criminal.
She also called the fees "unconscionable" and "inequitable". It is this kind of criticism - that payday lending is an unfair practice that harms borrowers, especially those who can least afford it - that drives the controversy over payday lending.
Three Main Defenses
The people who take out payday loans are typically those who are economically disadvantaged, a fact acknowledged by defenders of the industry.
Tom Lehman, assistant professor of economics at Indiana Wesleyan University and author of In Defense of Payday Lending, writes that "payday borrowers are more likely to have poor credit histories and to have worked with credit counselors in the past", "are more likely to have had one or more bounced checks in the previous five years", and "are also more likely to have been called by a collection agency for overdue bills".
High interest rates and the encouragement of bad borrowing habits are the main concerns of consumer advocacy and anti-poverty groups.
The business model of the industry is based on cyclical borrowing - paycheque to paycheque - and this practice combined with high interest rates drives financially vulnerable people into a spiral of debt, they believe.
The payday lending industry responds to these criticisms in three main ways. First, since their clientele is high-risk, they need to charge a higher "risk premium". This risk premium is extra money to make up for the loans that are never repaid.
However, according to a study (PDF) by Chris Robinson at the School of Administrative Studies at York University, the "lending portfolio" of payday lenders is "very diversified in the form of many very small loans, and hence the loss rate is reasonably stable". He points out that the risk for traditional banks is much greater: "A single corporate default can cost a bank far more in loan losses than the total loan losses of the entire payday lending industry in Canada for a year."
Payday lending opponents also argue that it is precisely because the clientele is high-risk - i.e. they are poor, financially uneducated, or both - that they need protection.
Second, the costs associated with giving a payday loan, like paying the rent, the bills, and the employees, are the same as they are for a large loan taken out from a bank. Payday lenders argue that they need to charge higher rates simply to cover these costs, which banks recoup over the long terms of their loans.
It's true that payday lenders could not survive if they were forced to comply with an annual interest rate of 60 percent or less, although I find it difficult to feel much sympathy for a business model that is incompatible with the law.
As well, the actual cost associated with each loan is estimated by Robinson, in a highly detailed analysis, to be $6.87 in 2005, making current rates extremely profitable.
The third defense of payday lenders is that they provide a valuable service which ought to be legal. This appears to be the main reason why the CPLA is lobbying for provincial regulation of the industry. Without new legislation, payday lending in its current form is doomed in Canada, because it's against the law.
Uncertain Motivation
The motivations of the CPLA in pushing for provincial regulation, however, may not be quite that simple.
Dr. Lehman is adamantly opposed to regulation of the payday industry. I contacted him and asked him why the CPLA would press for regulation, since he believes regulation is bad for business as well as consumers.
After disclaiming that he "cannot claim familiarity with Canadian banking regulation or laws governing payday lending", he offered this interesting explanation:
[One] possibility is that the CPLA is asking for regulation of the industry as a means of insulating their members from non-CPLA competition in the market. The market for payday lending has grown rapidly in the past decade. Typically, as competition grows in an industry, the "established" firms (perhaps those in the CPLA) begin to feel pressure on their market shares due to new competitors. This almost inevitably leads them to seek help from government through regulations that limit entry into the industry.

Of course, this is not how they would explain it. [CPLA members] argue that they are "protecting payday loan consumers" from upstart rivals in their market who do not "play by the rules" or who do not abide by the CPLA's "Best Practices". Some of this could be desired by CPLA members as a way to "clean up" the industry and improve public perception (which competition would do eventually anyways). But, most often this is code for protecting their own market shares from new entrants into the market.
(CPLA president Michael Thompson denies this, saying, "it is the position of [the CPLA] that new regulations be geared towards allowing the maximum number of entrants to the market".)
Dr. Lehman also believes that regulation will eventually lead to higher prices, because there is "less downward pressure on prices and fees from competition". Regulations "end up harming consumers by making them pay higher fees than they would otherwise pay if competition were more open and less regulated".
In Canada's currently unregulated market, however, prices have increased. Money Mart raised its fees two years ago. The Cash Store also raised its rates. On June 2nd of 2005, a two-week $360 loan from Money Mart cost $52.09 in interest, today, that amount is $60.16.
Regulation to the Rescue?
Will provincial regulation help Canadian consumers? It might, but it's interesting that the industry is seeking provincial rather than federal regulation in the first place.
Dr. Lehman speculates, "they may believe they have a greater probability of influencing regulations and legislation passed at the more local provincial level than would be the case at the national level".
The approach has worked in the United States. Writing for Slate, Brendan Koerner reports that "[s]ince 1990, the industry has convinced legislators in 24 states to exempt their storefronts from the strict APR ceilings that govern banks and credit cards".
Mr. Thompson says that provincial regulation makes sense because smaller financial institutions like credit unions are provincially regulated (unlike federally regulated banks), and because "most of the issues are related to consumer protection".
However, Bruce Cran, President of the Consumers' Association of Canada, says provincial regulation will create a "hodgepodge" of regulations. He believes the current federal legislation, which mandates a maximum APR of 60 percent, is sufficient. "The only thing lacking right now," he said in a telephone interview, "is enforcement of the law."
He is convinced that provincial legislation will fall short of the protection consumers need. Recent workshops held by the government of British Columbia with payday lenders and consumer advocacy groups were "segregated," he said, "so we never actually got a chance to talk to the payday lenders."
Mr. Cran has some interesting advice for consumers who owe large amounts of interest to payday lenders: "don't pay it".
"Recent court decisions have made it clear that the rates charged on these loans are criminal," he said, which means companies can't collect it.
---
If you would like to speak up on this issue, contact Vic Toews, Minister of Justice, or your local Member of Parliament.
Post a Comment
You must be logged in to comment.