Downtown Update
Jason tracks the ups and downs in the downtown.
By Jason Leach
Published November 08, 2006
Construction has begun this week on a new five storey residential complex on Strathcona Ave North. The site houses one of Hamilton's oldest firehalls built in the 1800's and pictured here. (if anyone can track down an official date, pass it along).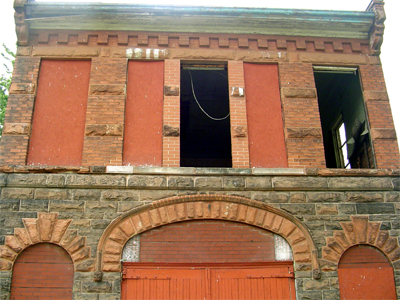 Forget elevators: the new building should preserve the pole
The plans call for a new building to be built adjacent to the firehall with the old hall then being revitalized and incorporated into the project. The original plans provided by the Hellenic Community of Hamilton proposed to demolish the firehall, but after Councillor McHattie received feedback from the residents of the Strathcona neighbourhood, he began to work with the Hellenic group. Thanks to the creative work of Ken Coit at city hall, the new residential building will be able to proceed as planned without demolishing one of the city's oldest buildings.
As a resident of Strathcona, much thanks goes to the Hellenic Community of Hamilton, architect Ken Coit and Councillor Mchattie for once again showing that there is a better way to develop real estate in our city than simply to demolish our built history.
Let's hope the Lister Block also becomes a similar example of adaptive reuse instead of needless demolition.
The resurgence of Corktown continues, and a new loft project is now moving forward. The Augusta Lofts is a sharply designed building being carved out of an old, empty warehouse. Units start at $99,000 are there are only 18 available.
Construction tenders have now gone out for two more downtown residential projects, the five storey city housing building at King and John and the 15 storey condo/retail project at King William and Jarvis. Also, Deninngers is moving forward with plans to add residential units into their upper floors on King East in 2007.
Work is also progressing on adding a ten storey Hilton Hotel into the HMP building at Main and Bay. LACAC is evaluating the project and construction should begin in the spring.
Great news from King William Street – Plan B Organic Farms is going to begin operating a farmers market out of the Sky Dragon Centre on Saturdays from 9-3 during the winter. This will be a great spot for downtown residents to pick up locally grown, organic foods without leaving the city.
Many folks remember the local media coverage of the Tivoli Theatre collapse a couple of years ago. One morning an erroneous Spectator headline said that the theatre had been demolished. Many folks, including myself, flew over there to see for ourselves.
What we found was exactly what we went to bed with the night before – the lobby building was gone, but the theatre was still standing. Whew. Everyone breathed a little easier. That error was never corrected in the media, so perhaps there are still some of you today who think the Tiv is long gone.
If so, you'll want to click on this link. The photo was taken on November 2, 2006.
Recently the Canadian Ballet Youth Ensemble announced plans to rebuild the entrance to this beautiful theatre. Let's hope they can raise the necessary funds so all Hamiltonians can once again stroll these aisles and sit in the plush seats during a performance. We've lost most of our historic downtown theatres over the years, but if all goes well, the Tivoli will back up and running in a few years. In the meantime, it's nice to see photos like this every so often as a reminder of what lies behind those boarded up walls facing James Street.
Gee, big surprise in a hotly contested Oakville construction project that will cut down some of the last oak trees in the city: the developer is from Hamilton.
The Government of Ontario Advanced Light Rail Transit, or GO-ALRT, program sounds wonderful, but information has been sketchy until now. A great article on the Transit Toronto website provides a wonderful history of the failed project, including details on the stymied efforts to extend it into Hamilton. Back when they were willing to invest millions here we ran them out of town – again, great leadership from city hall.
In other transit-oriented news, we may finally be getting those bike racks installed on those buses. In 2001, considerably ahead of the sustainable transportation curve, the City purchased a number of bike racks, only to discover that buses equipped with the racks would not fit in the HSR's new garage on Upper James. Since then, the racks have stagnated in Hamilton and other cities, including Burlington, have gone ahead and installed racks on their buses.
HSR Director Don Hull has maintained that the HSR has higher priorities than finding a way to install the racks, but in response to a recent letter from Transportation for Liveable Communities, Hull responded, "you will be pleased to hear that Council has directed that staff submit a request for Capital funding for bike racks on the buses for their consideration during their 2007 budget deliberations, expected to begin early in the new year."
In a city like Hamilton with a major geographic divide between the lower and upper areas, bike racks could significantly improve the city's cycling connectivity.
Post a Comment
You must be logged in to comment.