Rapid Transit in Hamilton
With BRT/LRT and better pedestrian streets, Hamilton could become a model city in the fight against congestion and poor planning.
By Jason Leach
Published December 13, 2006
Over the past few years, a shift has slowly taken place in Hamilton, one that recognizes the importance of a balanced transportation system and strong pedestrian environment in creating a healthy, livable, prosperous city.
RTH is a strong voice for safer streets and successful neighbourhoods in Hamilton. Recent discussions on our Hammerblog have shown the passion that exists in many corners of Hamilton to see the gradual shift in philosophy at City Hall translate into a shift in reality on the ground.
For several decades Hamilton's transportation planners have had one goal in mind - a city that allows for high speed car travel everywhere. Highways, major roads, downtown streets, retail streets, residential streets, it didn't matter. The ultimate goal was to shave every possible second from a trip across town.
The problem has now begun to show up in alarming fashion. Traffic congestion is growing rapidly in Hamilton and we're flush out of room for more highways or roadway expansions.
Current planners at City Hall have finally taken notice and are developing a Transportation Master Plan for the future that talks a great talk about getting more residents to walk, cycle and use transit as part of their daily lives.
Before I go any further I want to clarify two things.
Not every citizen wants to become a 'multi-modal' citizen. I realize there are some reading this article who will never step foot in a bus or train, regardless of how progressive Hamilton's transit system gets. That is your choice and I have no problem with it.

There are those who, upon hearing of transit and cycling improvements automatically assume that the goal is to create a gridlocked nightmare and get rid of cars altogether. Again, not true. Cars are here to stay. I own one and I use it. More importantly, gridlock is here to stay and will only get worse unless we fix the problem, and quickly.
Clearly the status quo is not an option. Without making any noticeable improvements to transit, cycling and walking options in recent years, our traffic is quickly congesting.
Those who oppose a balancing of our transportation system are actually a voice for more congestion, yet they speak as though balancing the system will create congestion. Hamilton has built new highways, widened roads and timed lights, yet congestion grows worse. Clearly that method is not working.
The recent transportation open house had a great piece of planning that was a welcome sight to people in attendance: a Bus Rapid Transit (BRT) system for Hamilton.
I believe that BRT, and eventually Light Rail Transit (LRT) is going to be a major component of Hamilton's future growth and prosperity.
This article is meant to stimulate discussion and ideas around implementing a full-scale, proper BRT system in Hamilton with an eye to a future LRT project being integrated into the system.
More Than Just Transit
It is important to note three major benefits of developing a proper and efficient transit system.
Economic

Cities with comprehensive transportation systems always attract better jobs and of course, the employees that come with them.

The potential for high quality Transit-Oriented-Development (TOD) in both urban and suburban locales is almost always geared around rapid transit and proper urban planning principles (such as Westdale Village in Hamilton).


Transit Oriented Development

Urban revitalization. Cities have long been built around walkable communities with easy transit access. Hamilton's downtown core and neighbourhoods stretching east and north over towards Centennial Parkway would benefit greatly by an influx of new development.

Portland, Oregon has built a modern streetcar line in their downtown core to inter-connect with their light rail system. Since opening the streetcar line in 2001 it is estimated that over $2.3 billion has been invested in business development along the route. Not a bad return for a $54 million investment.

Kay Dannen of the Portland Development Commission: "since the streetcar opened for service, it has also helped facilitate over $2.3 billion worth of development and business. It's not only used as a transportation option" Dannen emphasized. "It's a huge economic development tool."

Health

Western nations are the most car dependent on earth. We own the most cars and drive them the most. Unfortunately, the sedentary lifestyle along with bad eating habits and polluted air and waterways has made us the most obese people on earth with very high rates of cancer, heart disease and other major ailments. Pollutions from our vehicles is a leading cause of our unhealthy air and water. We need to balance our options and not be completely dependent on cars as our only source of transportation.

Image

Image probably belongs in the same category as economy, but I'm putting it in its own category because I really believe it is that vital in attracting new residents and jobs to our city.

I recently met a young couple in my neighbourhood who had moved here from Quebec. Their image of Hamilton wasn't great, but upon arriving they both mentioned how the city's green cart composting program really gave the city's image a boost in their minds. The town they were from in Quebec barely recycled, let alone composted.

This is a small example, but still shows the importance of getting a fresh, new image of our fine city out to the rest of Canada. Safe, walkable communities with various methods of getting around are near the top of the list for many people, especially the coveted 24-35 age group that holds the keys to the future of our cities.

Image, as you will also see, plays a huge role in developing a new transit service in a city like ours. Buses have their image firmly planted in people's minds. The new era of BRT and LRT takes that old, dirty image and destroys it!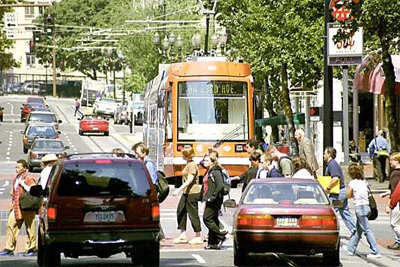 Light Rail
A New Transit System in Hamilton
The Hamilton Street Railway has a long history of, well, street-level railway service. Much destruction of our transit system took place through the mid- and late-1900s; otherwise we might not be having this discussion today.
What's done is done and it's time to look to the future.
As I said earlier, the city's transportation master plan now includes a comprehensive BRT system. BRT is designed to act, look and feel like a LRT system, but obviously costs much less to build.
Standard components are:
Exclusive lanes
Modern, train-like vehicles
Stations, not bus stops
Route Structure and Schedule. Again, like Light Rail, it's on-time and reliable.
Fare Collection, usually involves pre-boarding payment like trains
Advanced Technology - GPS systems give accurate info to stations and personal handheld devices with arrival and departure times. Traffic light priority allows the buses to 'talk' to traffic lights so that they receive priority with their own signals upon approaching an intersection.
Bicycles allowed onto buses
Wi-Fi ready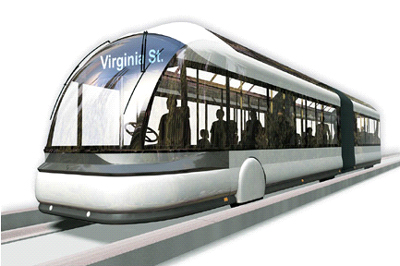 A nifty subway train? Nope. A modern BRT vehicle.
A BRT system in Hamilton would be comprehensive and include service across the entire city, including many suburban areas.
The city's long term strategy looks like this: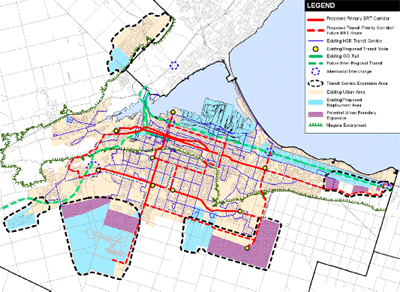 Red lines indicate BRT system
The first priority is the east/west corridor from McMaster to Eastgate Square. This corridor experiences incredible ridership levels, although there is much room to grow the service by adding a high-capacity BRT line here.
This east/west line is also the route I would recommend with planned conversion to a Light Rail line as we expand our BRT service.
Hamilton's first BRT buses are currently being built and a recently held design contest brought us a new design for these vehicles. Dave Kuruc of Mixed Media on James North was the winner and his design is sure to be a hit with the public when these new buses roll out in February 2007.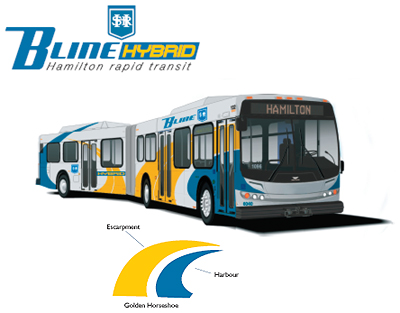 Hamilton's new BRT bus design
I believe we should work quickly to develop a basic BRT system consisting of three main lines:
McMaster to Eastgate corridor
A three-pronged line from the waterfront to Hwy 53 and 6 via Upper James, over to 53 and 20 via Rymal and down to Centennial and QEW via Hwy20/Centennial.
East/West Mountain line - Meadowlands to Hwy 53 and 20 via the Linc and Rymal.
All BRT service must be developed with full BRT components mentioned earlier.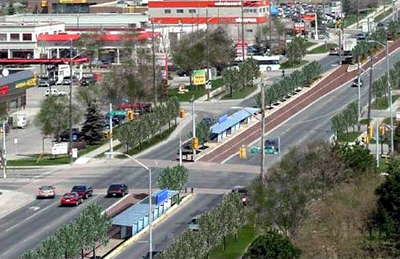 Imagine Upper James with BRT
But It's Not Rail!
A major component of modern BRT projects is the underlying fact that streetcars and light rail systems are far superior at moving large numbers of people than buses. Also, the image of rail travel is far superior to that of bus travel.
The economic spinoffs and TOD projects mentioned earlier have been far more successful in cities that invest in LRT. You'll recall Portland's numbers showing the level of private investment along a new streetcar route. Numbers like that are tough to find along bus routes.
That's where BRT comes in. BRT developers know and understand that rail is superior to buses and are responding with a host of brilliant initiatives aimed at giving BRT riders a rail-like experience.
In Hamilton, I would strongly recommend the following design of our Mac-Eastgate BRT corridor.
Purchase modern vehicles that look like trains.

Design stations with raised curbs so entry and exit is just like that of a train (see above photo of Upper James simulation)

.

Have our BRT system become an electric system using overhead wires. This infrastructure can seamlessly be used with light rail in the future.


Rapid Bus in Austin, Texas

Routing and traffic flow: the envisioned BRT A-line would be most effective if both east and westbound service could be accessed on the same street for much of the route.
The only exception to this would have to be between Dundurn St and Macklin St until the King/Main 403 ramps can be rebuilt to accommodate two-way traffic.
Hamilton's A-Line
Commencing at McMaster up the new front entrance and onto Main St using a median station design like the Upper James simulation above.
At Haddon Avenue the tracks would consolidate into one track and head through Westdale, with a stop in Westdale, to Macklin Street. Here the eastbound tracks would head south to Main and over the 403 to the Dundurn stop. The westbound tracks at Dundurn and Main would go north on Dundurn and west on King into Westdale.
Back on Main, both lines would travel in the centre of the roadway with median stations. There would be stops at Queen, Hughson, between Wellington/Victoria, Sherman, Gage, Ottawa, Kenilworth, Parkdale and Eastgate Square.
Main Street and King Street would become two-way streets with Main having two eastbound traffic lanes and one westbound traffic lane through the downtown area. East of the core where Main is currently four lanes there would be one lane in each direction. King would have one westbound traffic lane, one eastbound lane and on-street parking along both curbs.
The morning rush hour could see street parking banned in the westbound curb lane to allow for two travel lanes. Same would go for evening rush hour. All local bus routes that currently use King and Main would be routed both ways on King.
The exception to this could be the #5-Delaware which could remain in its most common route using Stinson, Delaware and Maplewood.
Hamilton is blessed with an abundance of streets to move around the city. Having King and Main two-way would provide more options for travel and would allow for special events downtown on King St without disrupting the BRT service.
Cannon, Wilson and Barton are also major east/west streets within a few blocks of King and Main. Automobile traffic flow would be slightly slowed down on King and Main with this plan, but would end up dispersing across both streets with the two-way system in place.
Right now Main has between three and five eastbound lanes through the city. King has between two and four. This plan still allows for between two and four eastbound lanes with two or three (rush hour) westbound lanes.
We're losing a grand total of one lane each way, but adding in the all important rapid transit system we so desperately need.
Remember, the goal is not to get rid of cars or cause congestion. The goal here is to provide comfortable, reliable, convenient options for Hamilton commuters.
Hamilton is blessed to have a very compact urban corridor in the lower city. Exact figures aren't easy to come by, but I have no doubt that a rapid transit system in this east/west corridor would result in less east/west car trips being made by folks who live in the Westdale-Eastgate corridor.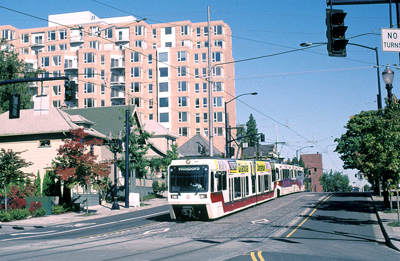 Main Street LRT - 1 lane westbound, 2 LRT lanes, 2 lanes eastbound.
On To Rail
The beauty of developing a full and proper BRT system as proposed here is the ability to lay track and convert the lower city A-line to our first A-Train. Extensions could be built southeast into downtown Stoney Creek and westward along Main West from Mac to Dundas.
Austin, Texas is currently planning a new light rail along with many new BRT lines as a well-planned, comprehensive transit system. Hamilton should do the same.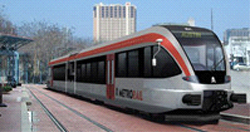 LRT vehicle in downtown Austin
Station design along Hamilton's BRT route would be more than suitable for use as LRT stations in the future as both modes of transit are very similar and aiming to achieve similar goals.
Perhaps in the future, BRT technology will equal that of rail, but for now, rail is still far superior and would have a greater impact on Hamilton's urban neighbourhoods.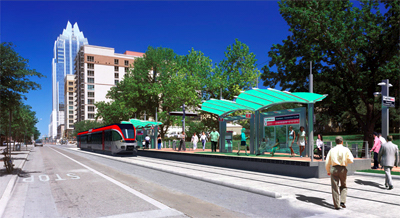 LRT station in downtown Austin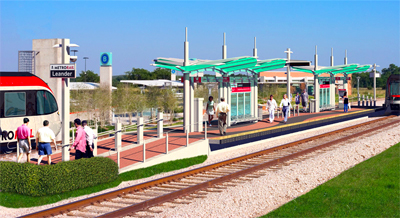 LRT Station in suburban Austin
As you can see from the above photos, LRT/BRT stations are not large and can easily be accommodated in the urban environment.
Building raised platforms like this along Main Street would allow for easy conversion to LRT in the future.
Cost
Using cost estimates of $25 million per mile for LRT systems, Hamilton could build the 8.5 mile light rail system between Mac and Eastgate for $200 - $250 milliion. BRT of course, would be much cheaper.
For comparison sake, the Red Hill Expressway Project is now budgeted to cost $440 million. Also, by building proper stations for our BRT system we will be spending a big chunk of the money up front.
The next large cost down the road would be for adding track. This is doable for Hamilton and the senior levels of government would be large funding partners.
Ottawa is currently building a light rail system and has 95 percent of the cost covered by the province, feds and gas tax monies. Hamilton, with a sound plan, could also receive significant government money for such a project.
The Future
The future seems to be endless for this sort of transit system. Sleek new BRT vehicles are becoming more and more common. Along with better pedestrian streets and more bike lanes throughout the city, Hamilton could become a model city in the fight against congestion and poor planning that plagues so many cities.
Our new mayor had very specific and timely campaign promises regarding balancing our transportation system. There will always be a few naysayers who would rather see Hamilton remain stuck in a slow (or even 'no') growth mode with many of our young, bright minds leaving for better cities. But proper planning and sustainable city-building have long been proven to work in any city, any climate and any nation.
The time for looking back and longing for the past is gone. We can learn from our past as Hamilton looks forward to build a top-notch transit system that can become the catalyst for renewed urban growth, redevelopment and prosperity in our city.
Hamilton could eventually see a 'loop' line running along Hwy 403, Main St, Hwy 20 and the Linc with stylish, Wi-Fi, comfortable, speedy 'bus-train' vehicles zipping through our city and drastically improving the quality of life and economy for everyone.
More Info
Post a Comment
You must be logged in to comment.