Art School Confidential and An Inconvenient Truth
Matt Van Allen reviews a new rental about greed, envy, rejection, acceptance, and love, and also a film about art school.
By Matthew Van Allen
Published December 13, 2006
Art School Confidential (2006)
Director: Terry Zwigoff
Writer: Daniel Clowes
Starring: Max Minghella, John Malkovich, Angelica Huston, Sophia Myles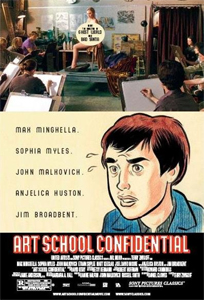 Art School Confidential
The creators behind Ghost World (2001) * are back and they deliver a refreshingly, brutally honest (okay, sometimes far-fetched) journey into the 'art world'.
Max Mingella plays Jerome, a gifted yet awkward teen who sees his artistic gift as a ticket out of a normal life. After becoming infatuated with a (nude model inside a) Strathmore Art institute flier, Jerome enters the school.
We soon become fully equipped with a colorful cast of characters and a list of themes no doubt ripped from the pages of the devil's notebook. Themes include obsession, greed and envy.
Think of a fine cup of Goethe's Faust, add a generous spoonful of the crossroad blues myth (served of course by Mr. Johnson) and stir.
You'll have no problem picking out the tortured psyche, the starving artist or the madly insane beautiful mind. What you may have trouble picking out is the murderer!
Yes, between Jerome's quest for acceptance, recognition and love is a looming presence which hangs over the institute in the form of the notorious Strathmore strangler.
It's no longer a simple slip of the tongue for the young artists, they may in fact eat their words and 'die for their art'.
To see or not to see: Please see. Cut through the fine line of pretentious art snobbery and enjoy this film for yourself. If you haven't already discovered the talent of Daniel Clowes, here's a great opportunity. And as if that's not enough, Steve Buscemi shows up for a nice little cameo or two.
* Also of note is Terry Zwigoff's Documentary "Crumb", now widely available and highly recommended.
---
An Inconvenient Truth (2006)
Director: Davis Giggenheim
Starring: Al Gore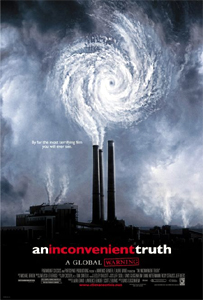 An Inconvenient Truth
One of the most important films you will see in your entire lifetime. Global Warming just doesn't say enough and you need not read this review any further. You need to see this film for yourself, now!
To see or not to see: This really is the question.
Post a Comment
You must be logged in to comment.