Bad Intensification Hurts Good Intensification
The Chedoke development proposal amounts to more residential development within a uniformly residential area.
By Ted Mitchell
Published September 28, 2007
You've heard it before. We need intensification, that is, increased population density in our cities. In general, it is impossible to rationally disagree with that. But the devil is in the details.
One proposal seeks to build 750 condominium units on the site of the old Sanatorium near Chedoke Hospital on Scenic Dr. Many nearby residents have posted signs opposing the project, advertising the website www.chedokebrow.ca.
The site includes two plan option maps [PDF] for the development area.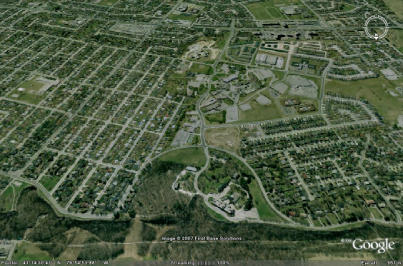 Chedoke Sanatorium area. Note the surrounding land use. Development plans involve building condos on the west side of the half circle contained by Scenic Drive and the escarpment edge, with preservation of the woodlot to the east. View is oblique from the north. (Image Credit: Google Earth)
My concern is not for the positions of the developer, Deanlee Management, the seller, Chedoke Health Corporation (Hamilton Health Sciences), or the opposing neighbours. What is worrisome is the City of Hamilton's interpretation of what constitutes desirable intensification.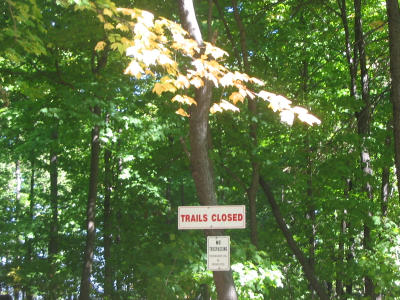 Woodlot at east end of the property. This is to be preserved. There is no explanation why it is signed "no trespassing" and fenced on the north side.
The city has scheduled several meetings to discuss this plan, the first of which occurred on Sept 11. By the looks of things, it follows the same old story of other city proposals: "This is what we are going to do, please make a few minor comments so we can say there was public input, but otherwise shut up".
The city website has copies of the presentation [PDF] given on Sept 11, 2007 to promote this developer's proposal.
It looks like a PR job. Although it appears to be an informational document, there is nothing contained within to evaluate how well this proposal meets the guidelines of the various legal governing acts it so boldly plugs: Provincial Policy Statement, Places to Grow Growth Plan, Greenbelt Plan, and Niagara Escarpment Plan.
Wait, there are more: the local ones are Hamilton-Wentworth Regional Official Plan, VISION 2020, GRIDS, City of Hamilton Official Plan, and City of Hamilton Zoning By-law.
All of that sounds really impressive.
But few other areas in Hamilton that are not in the middle of sprawl are as isolated from employment and institutional lands. Without mixed use, there is little to benefit from increasing residential density, except preserving farmland.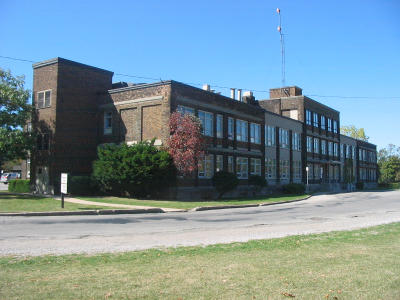 Brow Infirmary, 1916. Proposed development will partly or fully retain this structure.
On the plus side, parkland is abundant around the Sanatorium, even though some of it will be compromised by the development. Chedoke Hospital is a significant employer, located a five minute walk to the south. Two bus routes currently serve the site, although connections with downtown are circuitous.
Otherwise, commercial activity is almost nil within two km from the Sanatorium site. There are only a few scattered businesses on Mohawk road, fewer still of use to the pedestrian or cyclist.
Mohawk College is a 2.5 km walk on a route which provides easy cycling. The euphemistic Meadowlands is 3.5 km to the southwest, but the section of Mohawk road crossing the Linc is one of the most dangerous cycling routes in the city.
The escarpment provides a serious impediment to the lower city, especially in the uphill direction. My cycling time to Locke Street is 13 minutes downhill by taking the most direct route, an unofficial rocky trail nearly straight down the escarpment to the radial trail, while going up takes a grueling 20 minutes.
McMaster University, less than two km by air, stretches to almost four km by the shortest walking path, 11.5 km via the 403, and eight km via already very congested Beckett access.
The shortest bus route uses the West 5th access, and requires transfer at King St, also racking up 11.5 km. Bring a good book. (distances estimated using Google Earth path tool)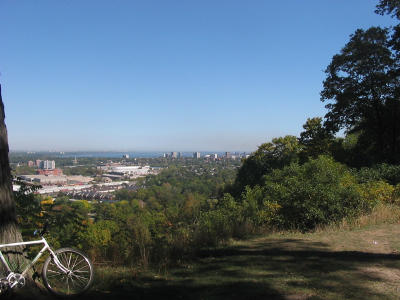 View from the brow looking northeast over the City. So close and yet so far...
Let's look at a few examples from the planning acts to evaluate the proposal. Here I quote Places to Grow goals from the presentation, with my comments about how well this specific project meets the criteria in italics:
Direct 40 percent of new residential development to built-up areas through intensification:
In Urban Growth Centres - NO
In intensification areas and corridors - NO
Generally, throughout the built-up area - YES
Note: Brow Lands are within the built-up area - WEAK
Rationalization:
Develop mixed use, transit supportive, pedestrian friendly urban environments - NO
Develop complete communities:
Diversity of land uses - NO
Range and mix of housing types and prices - MINIMAL
Mix of employment opportunities - DISTANT
High quality public open spaces - YES, BUT COMPROMISED BY THIS DEVELOPMENT
Easy access to local stores and services - NO LOCAL STORES AND SERVICES
GRIDS has a similar list. The very last point is this:
Additional intensification across the built-up area.
Note the key word is "additional", you don't start there.
There are similar lists in the presentation, so it is educational to go through it and jot down comments. By the end, you have a pretty pathetic example of how intensification will contribute to a better Hamilton.
What this proposal boils down to is more residential development within a uniformly residential area. More of the same. More cars, more congestion, more pollution.
Contrast that with the intent of all the Plans I have listed above. More residential density is good, but only in the setting of mixed use: commercial, institutional, and residential close together so we can build a healthy, walkable, community-minded city with a return to the concept of quality of life.
The goal must be to get away from the harmful car-dependent planning model which rubber stamps every developer's short term agenda.
If the city cannot find brownfield lands to convert to residential and must destroy historical / parkland, then I have a couple of better suggestions. Auchmar, and the Century Manor at the Hamilton Psychiatric Hospital.
Both are similar properties. Both are much more closely situated to "nodes" of commercial and institutional land uses. Both have better transit access and proximity to the lower city.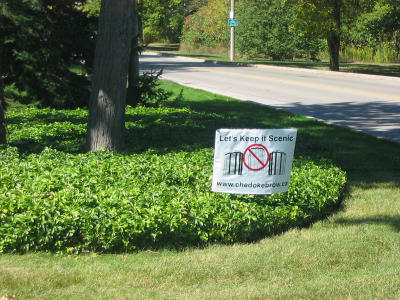 Example of lawn signs appearing frequently on Scenic Drive.
I am not defending the residents opposing this proposal. One can guess from their monster houses, lush lawns, luxury marques in the driveway and signs like the one above that their opposition is mostly aesthetic in origin.
I consider that to be a superficial argument. More legitimately, some may actually fear losing the area slated for development, and it is truly a gem.

East Pavilion, 1917. Slated for replacement by condos.
If the City is willing to go to battle to push through this development, you have to worry about the damage it will do to the intensification movement. This project has too little upside and will be a poor example of where we want to go.
Post a Comment
You must be logged in to comment.