A Big Victory For Downtown Hamilton
Despite the swath of trendy cafes, and restaurants, and art galleries downtown, people still spend all their time talking about Lister.
By Jason Leach
Published May 16, 2005
Well, the news finally arrived - the historic Lister Block on James St North will be redeveloped within two years. We hope.
I'm sure I'm not the only one who is elated about this decision, but still in the back of my mind have those thoughts of "I'll believe it when I'm walking inside it."
Granted, this is the most solid proposal we've ever seen for the site and with the city's agreement to pay $30 million in rent over 15 years, there should be no problem with the developers acquiring the necessary financing to move forward with the project.
For some reason, this building has become the icon of downtown Hamilton. Despite the swath of trendy cafes and restaurants that have popped up on King William St. in recent years and the even newer phenomenon of James St. North becoming a hub for artists and their galleries, people still spend all their time talking about Lister.
Some have called it the single most important site in our entire city. Its redevelopment would signal that Hamilton has turned the corner. Its vacancy and decrepit appearance a constant reminder that this is still the same old Hamilton. Now, I'm not entirely fond of the way in which the deal went down and was saddened to hear that the entire building and neighbouring building to the north will be demolished, although I think Lister may have been in danger of coming down on its own.
A couple of years back I accused the city of having different standards for different people. For example, the owners of the failed loft building on Dundurn Street South have had non-stop notices postered on their front door by the city demanding that every window be boarded up and the building be made secure.
This is supposed to be common practice with all empty buildings, but as we've been able to observe with our own eyes, the owners of Lister didn't come close to complying with this city bylaw and I've never once seen anything posted on the outside wall of the building.
The issue of democracy always seems to come up when dealing with city hall. You and I pay their salaries, yet we are completely left out of the loop when a major decision like this is to be made. Democracy doesn't just give us a voice once every four years. It's supposed to give us a voice. Period. No matter the issue. No matter the buddy-buddy developer involved.
That will always be a thorny issue with me until the city begins to include the public in these types of debates. Look at The Big Idea series that ran recently in the Spectator. There was more creativity jumping off the page from average citizens then you'll see in five years from our city council.
Having said all of that, this project looks good. Actually it looks great. A much needed boost for our downtown and entire city image.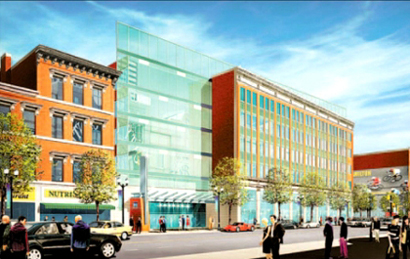 Artist's rendition of the new Lister Block
Here's hoping we will turn that symbolic corner in the next two years when the 'new Lister' is built. A thousand new dwelling units have been created downtown in the past few years, with many more about to apply for funding under the city's 'convert to residential' loan program.
Head downtown for youself and walk the streets. You'll be amazed at the increasing number of middle aged couples, young couples with children and urban 'hipsters' that are becoming a common sight strolling streets once reserved for folks who lived on them. The mix of people is getting quite healthy.
I am not one to say "we need to get the homeless out of there" or "the young punks with black nail polish and coloured Mohawks are scary." I love the mix of people. From all walks of life and all corners of the planet. It's how cities have always been and how they function the best.
With the positive momentum now growing with the Lister announcement I think it is only fitting to offer my suggestion to city council for the next move that is a critical piece of the downtown puzzle - turn the south leg of King at Gore Park into a pedestrian-only zone.
The timing is perfect for this area of downtown to be allowed to reach its full potential. We have a European-style streetscape with cobblestone and the wonderful Gore Park fountain sitting in the heart of our city. Think of the life that could form on this stretch of King from John to James - buskers, musicians, artists, street performers, children's entertainers, etc. This area of Hamilton could become so much different and so much more fun in a short time if city council will take this next step.
The HSR can easily be re-routed so the buses don't need to turn around here. In fact, they should be going straight up to the waterfront and turning at Burlington Street or the Marine Museum.
With the newly renovated Art Gallery of Hamilton, a new Lister Block with street facing retail space and a pedestrian-only zone from James to John at Gore Park, our city would suddenly have an influx of new life and a new sense of urbanity and culture out on the streets.
Being downtown would become an experience with constant entertainment, festivals, parades, music, art and just simply sitting on huge patios all along the Gore enjoying the heartbeat of Hamilton as it grows stronger and stronger.
Council has made a great decision by moving the Lister project forward. Now is the time to take the next steps, not to sit back in comfort. We have an opportunity to seize this momentum and literally make history in our city. Let's go for it!
Post a Comment
You must be logged in to comment.