New Centre Mall Locks In Sprawl Development
If the city wants to shift development to the urban model, it needs to help investors and builders make the jump away from the sprawl model with which they're already familiar.
By Ryan McGreal
Published November 26, 2008
Many defenders of the new Centre Mall development have defended its big box format by arguing that the investors and developers are just trying to maximize their profits, and that they picked the big box model because it is the most profitable format, despite the aesthetic objections of urbanists.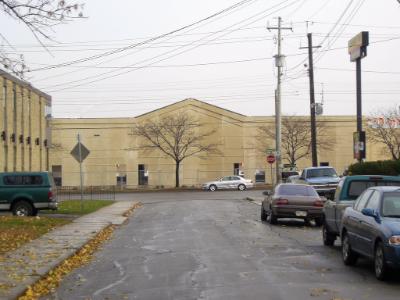 Centre Mall big box store from Barton Street (Image Source: Flickr.com)
However, I'm not persuaded at all that a more urban development format would be less profitable at all.
Classical economists assume that all markets tend toward an optimal equilibrium or balance, the idea that because people respond to incentives and pursue rational self-interest, an unregulated marketplace will always produce the optimal equilibrium.
However, the evidence just doesn't support the over-simple assumption that a single optimal equilibrium even exists. Real dynamics are far more complex and offer more possibilities.
Multiple Equilibria
A sustainable, profitable business or collection of businesses represents an equilibrium in the economic system: an arrangement of inputs, processes and outputs that generates enough revenue to keep the business running.
However, it would be a big mistake to conclude that any shift away from that equilibrium is a movement away from sustainability or profitability. Complex systems have more than one possible equilibrium - more than one arrangement that enables sustainability and profitablility.
The car-dependent box format is one such equilibrium, but the dense, urban streetwall format is another. Whether the market tends toward one or the other is not a straight function of market forces.
Other influences, from network externalities to path dependence to the regulatory framework itself, will push the market toward one equilibrium or another.
Suburban Lock-In
One equilibrium is not necessarily more or less profitable than the other for the businesses directly involved, but there are definitely big differences in utility for the neighbourhood as a whole.
The car-dependent box format helps to "lock in" car dependence - low density land use, single-use buildings, lots of land reserved for driving and parking automobiles, unfriendly pedestrian environment, less convenient transit, and so on. The very presence of this equilibrium, in turn, encourages subsequent development to follow the same pattern, because the dynamic itself becomes more valuable as more people and more places adopt it.
This is called a network effect. It's the reason everyone today uses QWERTY keyboards (even though the easier, more efficient Dvorak keyboard layout was invented in 1936). It's why VHS won over Betamax and why almost every consumer uses a Microsoft operating system rather than a UNIX- or Linux-based system. It's why sales of fax machines, which were invented in the mid-19th century, suddenly tipped in the late 1980s and grew exponentially for the next several years.
These are examples of positive network effects, when each additional user of a network increases its utility for every other user. There are, of course, also negative network effects, in which additional users reduce everyone else's utility. If you have ever sat in traffic congestion, you have witnessed a negative network effect at work in our car-based transportation network.
Urban Lock-In and Productivity
But just as car-dependent developments help to "lock in" the car-dependent model, dense, urban developments likewise help to "lock in" the urban model - higher density or people and destinations, multiple-use buildings, more compact built form, friendlier pedestrian environment, more convenient transit, and so on. Again, the existence of a dense, urban equilibrium encourages more such development.
In fact, economists studying cities have discovered that when cities intensify, energy and infrastructure costs grow more slowly than the population, but the rate of innovation grows more quickly than the population.
In other words, cities that choose urban intensification rather than sprawl simultaneously enjoy an infrastructure productivity boost (more efficient use of existing infrastructure) and a boost in the rate of creative economic output.
Path Dependence
If left to their own devices, however, investors and developers tend to stick with what they already know and seek to recreate the familiar equilibrium in new developments. They avoid the dense, urban equilibrium not because they have rationally assessed that it won't be as profitable but merely because they're already locked into an existing model.
The city enables (and even encourages) this tendency through its planning framework. An urban plan (like, say, the King-Spadina Secondary Plan in Toronto) encourages businesses to lock into the urban dynamic equilibrium, while a suburban plan (single use zoning, box stores and parking requirements) encourages businesses to lock into the car-dependent dynamic equilibrium.
Both the developers and the city planners are subject to path dependence, a limitation of options and horizons based on the outcomes of previous choices. For example, developers who are experienced building big box stores will have an easier time getting financing and putting together teams of contracters to build more box stores.
Don't underestimate the pernicious influence of path dependence at locking in a given business model. Look at the Big Three US automakers, who are stuck on an economic path of irrelevance and dissolution but don't even seem to recognize their own responsibility for their disastrous economic performance.
They actually went begging to the government for an infusion of money to allow them to go on following a business model that has spectacularly failed them. (To the credit of the US Congress, they ordered the automakers to go home and develop business plans on how to transition away from their current failed model before receiving any public loans.)
An Urban Regulatory Framework
Investors and developers, like everyone else, tend to stick with what they know, and they are only interested in ensuring their own profitability. In Hamilton, that means single family homes in the suburbs and big box stores with huge parking lots.
The city, on the other hand, has an obligation to encourage economic development that benefits the community as a whole, not just the developers themselves. The best way the city can ensure this is through planning rules that encourage higher densities, mixed uses, pedestrian access, good transit connections, and coherent streetwalls.
The conventional argument is that forcing developers to follow a more urban design amounts to demanding that they sacrifice profitability for the public interest. However, an urban equilibrium is not just an incremental shift away from an optimal suburban equilibrium: it's a different balance altogether, with its own optimal arrangements and its own network effects.
If the city wants to shift investment, land use and transportation to the urban model, it needs to help investors and builders to make the jump away from the sprawl model with which they're already familiar. That involves three inter-related steps:
Set clear planning rules and enforce them consistently;
Educate investors and developers on successful urban shifts in other cities; and
Lower the risks and barriers to entry by investing in public infrastructure that supports the urban form: better pedestrian and cycling amenities, better transit and a long-term commitment to urbanism.
In its approach to the Centre Mall redevelopment, the city failed all three steps. City planners promised, "It's going to create a friendly, pedestrian-oriented design, rather than a commercial island in a sea of parking along Barton Street," but clearly this didn't happen.
Instead, the city allowed the developers to go ahead and build what they already knew: retail warehouses turned away from the street around a sea of parking. Now the Barton and Ottawa neighbourhood is locked into that car-dependent form for at least the next two decades.
As global oil production goes into decline and economies that depend on cheap oil become more and more volatile, this represents a tragic mis-allocation of resources that could have been spent on a coherent, forward looking investment that profits its investors and benefits its community.
Post a Comment
You must be logged in to comment.